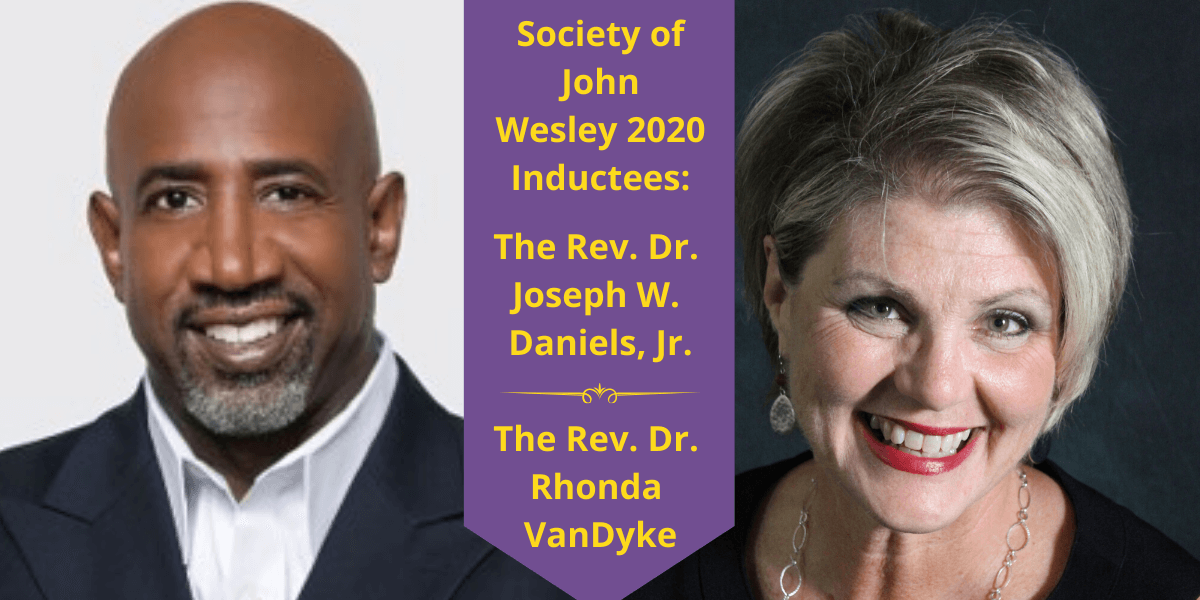 ALUMNI REV. DRS. DANIELS AND VANDYKE AWARDED 2020 SOCIETY OF JOHN WESLEY AWARD AT WESLEY THEOLOGICAL SEMINARY ONLINE RECOGNITION OF THE CLASS OF 2020
 In a year disrupted by global pandemic, Wesley Theological Seminary maintained the traditional rhythm of its 138th academic year by conferring degrees on the Class of 2020 via a video released online, and inducting exemplary alumni into its prestigious Society of John Wesley Award (SOJW).
Two things were unique this year: the induction of two Wesley alumni for the first time — The Rev. Dr. Joseph Daniels, Jr. and the Rev. Dr. Rhonda VanDyke — and that Wesley celebrated and conferred degrees upon the Class of 2020 via a video broadcast May 11, 2020. The seminary's 138th Commencement, usually held at The Washington National Cathedral in Washington, D.C., was postponed due to CDC recommendations for social distancing and D.C. stay-at-home orders during the coronavirus outbreak.
The Society of John Wesley Award recognizes and honors the significant contributions of alumni through sacrificial leadership to God, the church, and Wesley Theological Seminary. Any Wesley alum who graduated at least five years prior to the date of presentation is eligible for the award, and nominators must also be a Wesley graduate.
 "These two award winners for 2020, together, so perfectly represent the fruits of Wesley's mission," said Wesley President David McAllister-Wilson in his tribute to the inductees. "Both have been recognized as among the best local church pastors in their generation, both have also served the greater church and the world through their ministries, and both have been blessings to Wesley itself, helping many people hear and answer their call to ministry and mentoring seminary students along the way."
The Rev. Dr. Joseph Daniels, Jr., is Lead Pastor of The Emory Fellowship in Washington, D.C. for over 25 years and a former District Superintendent of The Baltimore-Washington Conference of The United Methodist Church. He earned his Doctor of Ministry degree from Wesley (Class of 2000).
A community leader aware of the needs of his surrounding community, Dr. Daniels co-founded The Emory Beacon of Light, Inc., the non-profit mission arm of The Emory Fellowship. Through Beacon of Light, his congregation and a coalition of government and business partners built Beacon of Light Center, 99 units of affordable housing for people living in Ward 4 in the District of Columbia on the property of the church. Opened in 2019, this $58 million initiative provides housing for 260 and 300 people, and space for commercial and congregational development projects. He provides leadership in the wider D.C. community, serving as a co-chair and a founder of the Washington Interfaith Network, a 50-member church, synagogue, mosque and labor union social justice organization in Washington, D.C. 
An author and consultant, Dr. Daniels writes and teaches on topics surrounding vision and call, leadership development, diversity training, and congregational, community, and economic development.
Dr. Daniels serves his alma mater as adjunct faculty and by providing a field education site for Wesley seminarians. He also contributes to the building of Wesley as a donor but also by encouraging students to consider Wesley while discerning and answering their call to ordained ministry and contributing he financially donates each year and rarely misses Commencement.
His nomination for the award reads:
| | |
| --- | --- |
|   | Dr. Daniels loves people and is always looking for ways to build a bridge between church and community. He is a pastor's pastor and constantly mentors young pastors and clergy, facilitating training regarding congregational, community and economic development for pastors, and a partner in ministry to many. |
In receiving the SOJW award, Dr. Daniels noted he was "honored and humbled."
"I rejoice in the opportunity that the Wesley experience has given me," said Dr. Daniels. Being recognized by the seminary's SOJW as a "sacrificial leader" is the fulfillment of a call he sensed while attending the seminary. "In my first year of seminary, I sensed God wanted me to teach, to be a pastor to pastors. I hadn't even finished a semester yet, and this clarion call was ringing in my ears. My Wesley experience and studies have allowed me to fulfill that call, and have helped prepare me to do ministry with people and in places I'd never imagine, and in ways I'd only dreamed of, " said Dr. Daniels.
To be seen as an exemplar of John Wesley by his fellow alumni is a "huge affirmation" of all the ministry he has sought to do through Emory. "John Wesley, amongst many things for me, was counter culture and counter church culture. He sought to do church differently. Like Jesus, he sought to be in ministry with people that the institutional church often overlooked, " he said. "I give thanks to God for the privilege to serve people, particularly the marginalized, disenfranchised, and as Howard Thurman puts it, 'the disinherited'".
The Rev. Dr. Rhonda VanDyke is Vice President for Student Life at Shenandoah University in Winchester, Virginia. She has also served as the Dean of Spiritual Life and Co-Director of the Institute for Church Professions at Shenandoah University, positions in which her nominator stated, "she was able to guide university students in their religious and spiritual life and provide them with direction and guidance for discerning their calling to church professions and other ways to serve God, God's people, and the world."
Dr. VanDyke received her Master of Divinity from Wesley (Class of 1983) and a Doctor of Ministry degree from Baptist Theological Seminary in Richmond, Virginia. Dr. VanDyke is a ministry innovator, having created numerous programs to help young people at discernment crossroads in their lives, such as: Calling 21, a summer internship program for college students as they explore their calling in the church and world, and the Elizabeth Project, a mentoring program for at-risk pregnant teens. She also created Harvest of Hope, a national hunger education and gleaning program now in its 35th year. The program teaches young people about the root causes of hunger and global responsibility while they work in fields salvaging surplus produce for the hungry. For such work, Dr. VanDyke was invited to participate in and graduated from Duke University's The Royce and Jane Reynolds Program in Church Leadership development.
An ordained Elder of the Virginia Conference of The United Methodist Church, Dr. Van Dyke served churches in Annandale, Norfolk, and Richmond, Virginia, for 25 years prior to moving to higher education, which was an extension of her ministry of discernment of call for young people.
"I did not feel a call to higher education," said Dr. VanDyke. "What I felt called to was to call, form, and nurture a new generation of leaders. Being able to do that in a university setting has frankly given me access to the experiences and life stories of young people of different economic backgrounds, of different racial backgrounds, and different identities that I may never have had, had I been in a pulpit on Sunday morning."
When notified that she was to be a SOJW inductee, she felt "immediate gratitude that someone took a moment to make that nomination." Sensitive to the nature of call, she said, "I'm aware that, working with young people, calling is a voice-activated system and I've always thought that the role of aligning with God's calling in young people's lives — that we needed to notice and name and then nurture that which we could name. It was so touching to me that, in the midst of my trying to notice and name and nurture an emerging generation, that someone noticed me."
Dr. VanDyke does find a kindred spirit in John Wesley's early ministry while he was a student at Oxford. "I am very aware that John Wesley was about the business of youth ministry and campus ministry and so I resonate with that," said Dr. VanDyke. She also feels that her work and his were "a bit of an underground movement and frankly, after 25 years of pastoring local churches, my move to higher education 15 years ago was kind of an underground movement."
For more information on the Society of John Wesley Award, visit https://www.wesleyseminary.edu/Alumni/society-of-john-wesley-award-nomination-form/ .