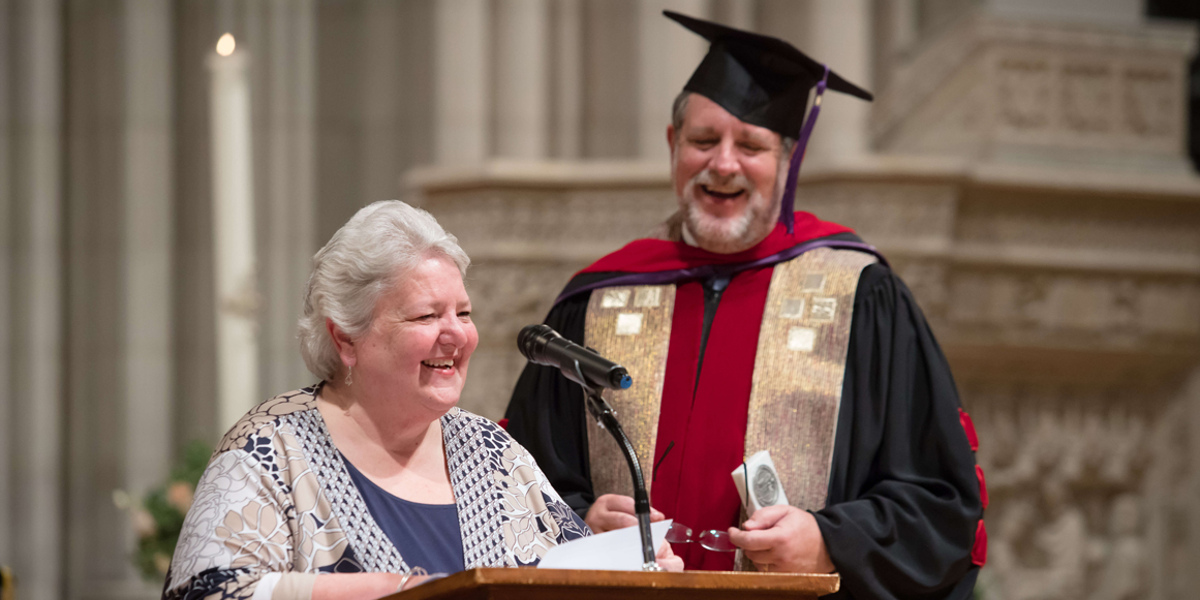 Rev. Karen Bunnell inducted into Society of John Wesley at 2018 Commencement
The Rev. Karen Frances Bunnell  (M.Div., Class of 1987) has been named the recipient of the 2018 Society of John Wesley Award. She received the award from Wesley President Rev. Dr. David McAllister-Wilson at the seminary's 136th Commencement May 7 at The Washington National Cathedral in Washington, DC.
"Hers is the record of service the alumni had in mind when they created this award 60 years ago," said McAllister-Wilson during the award ceremony. In highlighting Bunnell's "remarkable ministry" achievements as a local church pastor for 31 years, McAllister-Wilson observed, "Karen never says she accomplishes these things. She always credits the people of the church. Of course, that's what servant leadership looks like."
The Society of John Wesley Award recognizes and honors the significant contributions of alumni through sacrificial leadership to God, the church and Wesley Theological Seminary.
An ordained elder in the Peninsula-Delaware Conference, Bunnell was the first woman to serve as Chair of the Peninsula-Delaware Conference Board of Ordained Ministry. She has also served as a General and Jurisdictional Conference delegate, co-chaired the Philadelphia Area Episcopacy Committee and chaired the Wilmington District Superintendency Committee.
But the heart of Bunnell's 31 years in ministry has been focused on the local church, where she has served as pastor at Aldersgate UMC in Wilmington, Delaware, and Elkton UMC in Elkton, Maryland.
Bunnell grew up in the church, yet entering the ministry never entered her mind. She had never met a clergywoman, she recalled. That all changed when her senior pastor took her to lunch one day.  
"He asked me if I thought God might be calling me to ordained ministry, "said Bunnell. "He said everything you are doing in the church is fruitful. The more he talked, helping me to see how God was working in my life, and the more I prayed after our lunch, the more I realized he was right – and thus the journey began!"
Another conversation — with Wesley graduate, the Rev. Dr. Edwin Lasbury — led her to Wesley.
"My years at Wesley were three of the best years of my life and helped to make me who I am today… the experience transformed my life… and that is why I keep encouraging people to attend Wesley"
Bunnell feels Wesley prepared her well for her call to serve the local church, especially the teaching aspect of a pastor.
"I served as Student Pastor at Forest Memorial UMC," she said. "They were a wonderful congregation who taught me so much…. Also, Professor Kriewald gave me the love of teaching, and that is so important in ministry."
Bunnell was appointed in 2000 as Senior Pastor at Elkton UMC. That appointment continues to bear fruit: a major building project and overall renovation of the church, and doubling the church's mission giving.
Another fruit: Bunnell has mentored numerous candidates for ministry, three of whom are Wesley graduates.
"I encourage candidates to go to Wesley. There's no other choice. If you're United Methodist, Wesley is where you need to go," said Bunnell.
Bunnell admits to being "totally shocked" upon receiving the call from President McAllister-Wilson and learning she would be inducted into the Society of John Wesley.
"I've just done what I've been called to do, and I guess other people have seen something better. To be recognized like this…. it's overwhelming."
For more information on the Society of John Wesley Award, visit https://www.wesleyseminary.edu/Alumni/society-of-john-wesley-award-nomination-form/