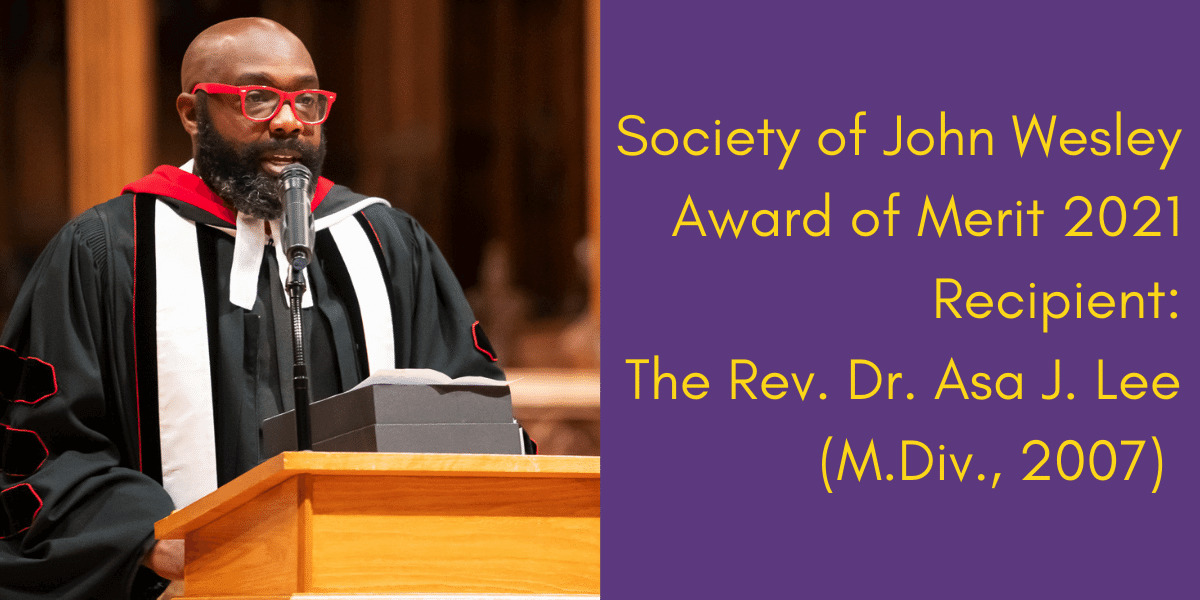 THE REV. DR. ASA J. LEE AWARDED 2021 SOCIETY OF JOHN WESLEY AWARD AT WESLEY THEOLOGICAL SEMINARY COMMENCEMENT
WASHINGTON (May 11, 2021) –Wesley alumus and Wesley Associate Dean for Campus Life, The Rev. Dr. Asa J. Lee, is the 2021 Society of John Wesley Award inductee. Wesley Theological Seminary President Rev. Dr. David McAllister-Wilson presented the award May 10 at the seminary's 139thCommencement, held at The Washington National Cathedral in Washington, DC.
The Society of John Wesley Award recognizes and honors the significant contributions of alumni through sacrificial leadership to God, the church and Wesley Theological Seminary. Any Wesley alum who graduated at least five years prior to the date of presentation is eligible for the award.
Dr. Lee has recently been appointed as the new president of Pittsburg Theological Seminary, a role he will assume in June 2021.
"Asa was a natural choice for the John Wesley Society Award," said President McAllister-Wilson in his remarks during the presentation of the award. "It was only a matter of time before another seminary would see his leadership potential. Wesley is a place that prepares leaders for the church and for theological education. President-Elect Lee has been a central part of this work. His experience on our senior leadership team makes him an ideal candidate. I congratulate Asa on receiving this honor from our alumnae and look forward to working with him as a colleague in the Association of Theological Schools."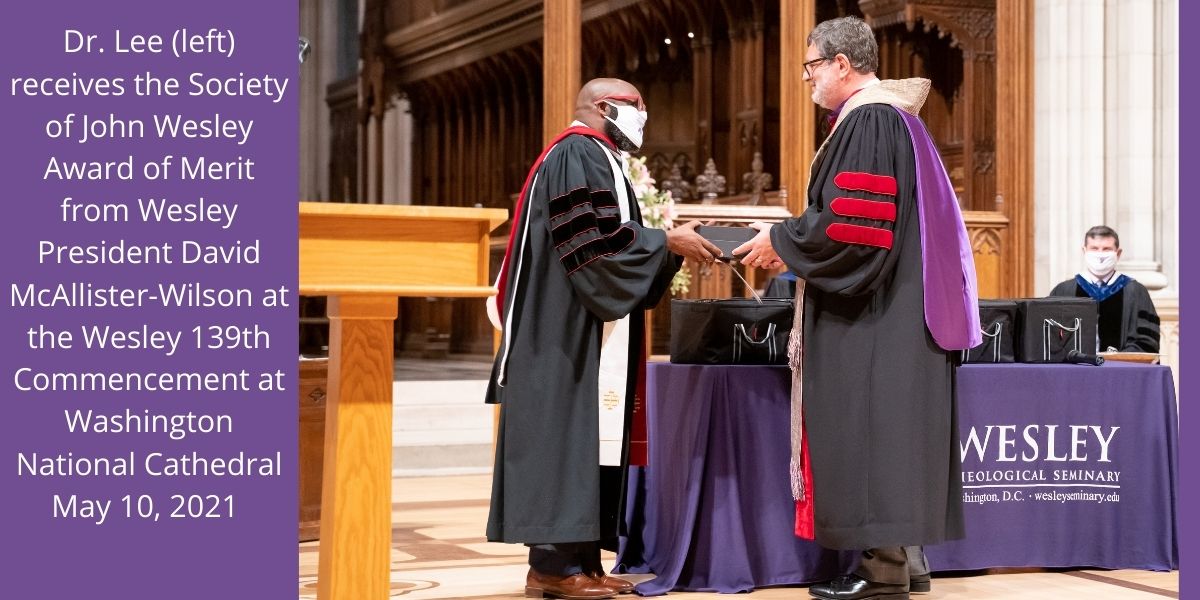 Dr. Lee earned his Wesley Master of Divinity cum laude degree in 2007. Additionally, he holds a Doctor of Ministry degree in educational leadership from Virginia Theological Seminary in Alexandria, VA, and previously earned a Bachelor of Arts in music education magna cum laude from Hampton University in 2001.
 Dr. Lee has served in a myriad of roles in Wesley administration since his graduation. In addition to his visioning for Campus Life, as Wesley Vice President of Administration, Dr. Lee's leadership served the whole campus through challenging times, overseeing and leading the seminary's response to COVID-19.
 Throughout his tenure as associate dean for community life, Dr. Lee sought to build programming and services that supported Wesley's mission of equipping leaders for the church and beyond. He devised new programs that strengthened student advising, resourced the writing center, and assisted with student learning outside the classroom. Dr. Lee also worked closely with student organizations to make sure the interests of students were being met across Wesley. His innovative approach to led to his pioneering efforts in establishing and serving as the founding director of the African American Church Studies Program at Wesley.
Prior to his current administrative roles, Dr. Lee served as assistant director for programs at Wesley's Lewis Center for Church Leadership and as its program and research assistant. As part of the Wesley adjunct faculty, he has taught spiritual formation and courses for the seminary's Course of Study.
Earlier teaching experiences included his role as adjunct professor of religion at Nova Community College in Annandale, Va. and as a teaching assistant at Wesley. Previously, Dr. Lee served as minister of music at Saint John Baptist Church in Columbia, Md., and as a music teacher at Prince George's County Public Schools in Landover, Md., and Denbigh Christian Academy in Newport News, Va.
 Dr. Lee is licensed to preach the Gospel through Faith Shepherd Baptist Church and ordained by Mount Olive Baptist Church, currently led by Wesley Board of Governors member TheRev. Dr. James Victor. He served as a member of the Restore Together Advisory Board and served as president of the Community Based Academic Skills Foundation.
He is married to a Wesley alumna, The Rev. Chenda Innis Lee. They have four daughters.
 "I am honored to receive this award from my alma mater," said Dr. Lee, in learning of his selection for this award. " I learned how to pursue my vocation and be faithful to it at Wesley. In all the places I have served and the people to who I have sojourned with, I have found that the greatest joy of my life has been participating with the Spirit's work of shaping the journey toward faithfulness in others. Whether in the parish, at a community college, or in a seminary classroom, I am grateful to continue to be of service. "
For more information on the Society of John Wesley Award, visithttps://www.wesleyseminary.edu/Alumni/society-of-john-wesley-award-nomination-form/.
###
Seated in the nation's capital and centered in the Christian tradition, Wesley Theological Seminary equips exemplary teachers, preachers and leaders to be prophetic voices in the church and the world.