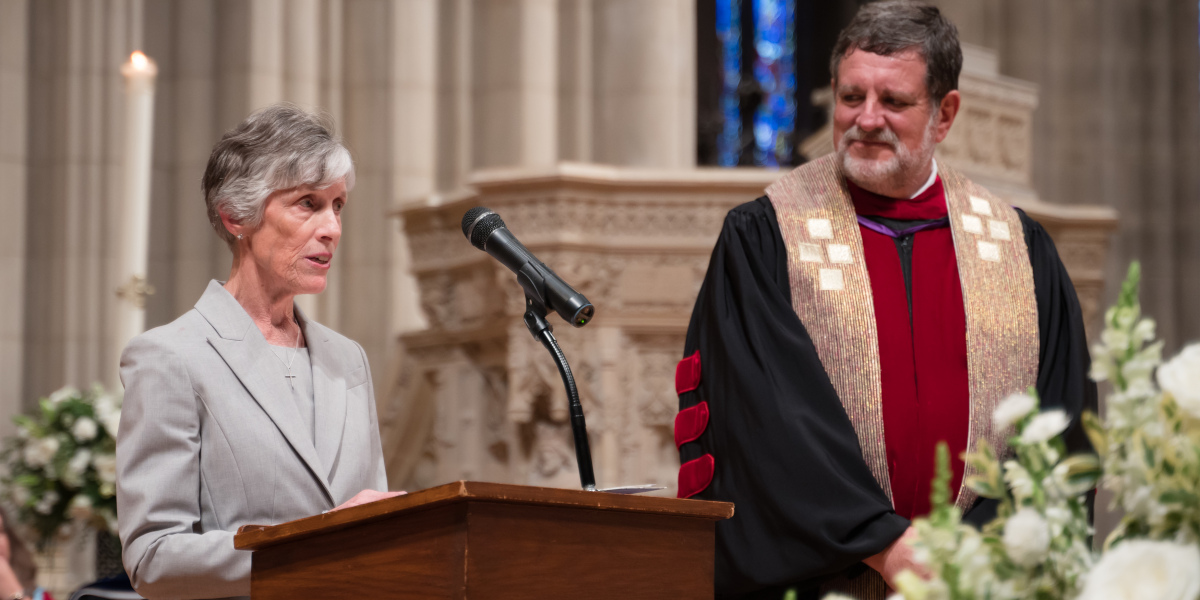 Jane Deland Awarded 2019 Society of John Wesley Award of Merit At Wesley Seminary Commencement
Wesley alumna Jane Deland is the 2019 Society of John Wesley Award of Merit winner. Wesley Theological Seminary President Rev. Dr. David McAllister-Wilson presented the award May 13 at the seminary's 137th Commencement, held at The Washington National Cathedral in Washington, DC.
The Society of John Wesley Award of Merit recognizes and honors the significant contributions of alumni through sacrificial leadership to God, the church and Wesley Theological Seminary. Any Wesley alum who graduated at least five years prior to the date of presentation is eligible for the award.
Deland holds a Masters of Theological Studies from Wesley (Class of 1996). Following graduation, Deland devoted many years of committed service to Wesley. A key member of the seminary's Office of Development staff for more than 15 years, she served in various roles, including chief development officer and special assistant to President David McAllister-Wilson. Deland joined the Wesley Board of Governors in 1997. Relocating to Boston, MA upon retirement in 2015, Deland continues to serve, now as an outreach and social justice ministries volunteer with Trinity Church and in the local public schools.
"We talk about 'servant leadership' here a lot. Jane Deland is the model," President David McAllister-Wilson said. "First as a student, then an alumna, staff member, and member of the Board of Governors, we have all come to know Jane as an extraordinary woman for whom family, faith, friendships, her country and vulnerable people everywhere are her concern. She helps people do better and makes us want to be better."
Deland, an art historian, originally came to Washington, D.C. with husband Mike, an appointee of the George H.W. Bush administration. A particularly powerful Good Friday worship service moved her to seek a deeper understanding of the Bible. Seeking instruction, her church rector recommended Wesley for her studies.
Her commitment to Wesley arose from its welcoming spirit that "celebrates the diversity of the body of Christ," and intimate class sizes where professors and students form a respectful and inclusive community of learning. "Diversity in community is cherished and celebrated, and knowledge and vital piety are joined together in a common quest to build God's beloved community," said Deland. "In the classroom, each voice is heard and valued; in chapel, different forms of worship are lifted up; in the visual arts, drama and music, students are encouraged to express their individual talents."
Deland admits to being "deeply humbled" when she learned she would receive the Award. "When I reviewed the list of very distinguished graduates who have received the Society of John Wesley award, I have known or know many of them personally – as my professors, members of the Board of Governors, administrators, and staff members – all people who have made extraordinary contributions to this seminary and to the wider faith communities they serve," Deland said. "I never expected to join their company."
For more information on The Society of John Wesley Award of Merit, visit https://www.wesleyseminary.edu/Alumni/society-of-john-wesley-award-nomination-form/
Are you looking to deepen your understanding of the Bible? Consider a summer course at Wesley – registration is now open! Learn more here.