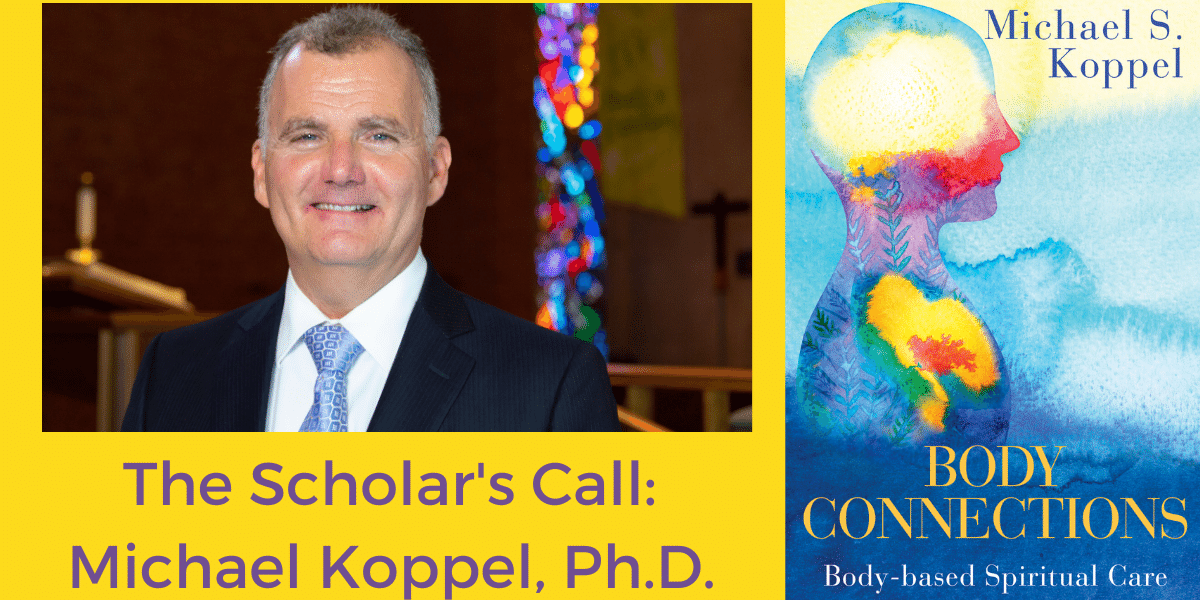 The Scholar's Call: In this irregular series, Wesley faculty members discuss their vocational path as seminary scholar-professors and how they are living fully into their multiple calls as teachers, researchers, ministers and more.
We hear first from Michael S. Koppel, Ph.D. , Wesley's Associate Dean for Academic Affairs and Howard Chandler Robbins Professor of Pastoral Theology and Congregational Care.
Dr. Koppel earned a B.A. from the University of California, Davis,  his M.Div. from Yale University Divinity School and his Ph.D. from the Claremont School of Theology. A teaching elder in the Presbyterian Church (U.S.A.), he has been on faculty at Wesley since 2002. He is the author of four books, two co-authored with fellow Wesley faculty member Denise Dombkowski Hopkins,Ph.D.. His recently released monograph, "

Body Connections: Body-based Spiritual Car

e

," printed by Abingdon Press, is a book he wrote for his students.
WTS: What led you to become an academic?
Dr. Koppel: Over the years I have grown and lived into my call as a minister/teacher/scholar. All components of this identify are important to me. As an academic who teaches in a theological school, I see myself as a reflective practitioner who explores the intersections between faith and care practices with individuals and communities. Ten years into my role as teaching elder in the Presbyterian Church (U.S.A) and while a third year Ph.D. student supervising chaplain interns in the hospital, I had an epiphany moment; I sensed a strong inner prompting to live more deeply into the practices of writing and teaching.  I would say God's Holy Spirit led to me to become an academic, and I am still learning what that identity entails.
WTS: How do you balance the priorities and time demands of the dual vocation of scholar and teacher? How does your research inform your teaching and vice versa?
Dr. Koppel: Teaching at Wesley  has been an incredible learning experience that has informed my research and writing. I envision teaching as  an advanced practice of learning. The school provides sabbatical research leave opportunities for core faculty. This enables extended time for research, reflection, and writing. I also attend to research and scholarly questions during the academic year at professional conferences and more intensively during the summers.
WTS: Wesley's mission states one of its priorities to be "advance theological scholarship." How does Wesley support its faculty to fulfill this mission statement?
Dr. Koppel: Sabbatical research leave time is one significant way in which Wesley advances theological scholarship. The school has a long tradition of supporting creative faculty endeavors. Having the space and time to reflect deeply on theological concerns that affect the church and ministry is one of the great joys of working at Wesley. My newest book and all the others began or were significantly developed during a period of sabbatical research.
WTS: The new book you mention, entitled "Body Connections: Body-Based Spiritual Care "  was recently released. You have described the book as " my gift to the students I have taught over the years" – why?
Dr. Koppel: When I first started teaching at Wesley in 2002, I heard the request of seminarians who are often practically minded in their approach. They wanted tools that would help them practice effective care ministries in their congregations and communities. That is why this book is my gift to the students I have taught over the years. This book along with a book coauthored with Dr. Denise Dombkowski Hopkins (Grounded in the Living Word: The Old Testament and Pastoral Care Practices) also addresses the gap that thankfully is not the case at Wesley but can occur in theological school curricula (a division between so called 'classical' and 'practical' disciplines).
WTS: What does this book offer as a "practical" theology resource?
Dr. Koppel: The book is not a "one-size-fits-all" guide that tells people how they ought to live.  It is, rather, an exploratory invitation for people to connect with their own bodies as a way to grow in relationship with God. The book offers practical tools for self-care and ministry. It includes stories, individual and group practices, prayers for care and points of reflection. The book helps people get in touch with God's presence and call to wholeness as they listen and respond to their own body story and the body story of others.
WTS: The jacket cover notes say "Body Connections takes a different approach, teaching us to see the connections between our embodied experience and faithful spiritual care…the book is a new articulation of pastoral theology, care, and counseling" because you focus on "… the human body and its relationship to faith and spiritual care." Why the disconnect between the body and the mind and spirit for so long in pastoral counselling? Is it that old body-shaming tradition from the early Church Fathers? 
Dr. Koppel: Many of us in the Christian tradition have lived with and continue to wrestle through the problems created by the division between body and spirit. Pastoral care and counseling, and the theory and practices in this book, endeavor to heal the unfortunate split. God created and loves the whole of who we are. Helping readers to get in touch or back in touch with this reality is the heart of my writing.  Our bodies have a story to tell, I show in this book. As we tune in and respond we contribute to our own and others' healing by embracing our wholeness.
WTS: In this time of pandemic, brown and black bodies have suffered most, revealing the systemic racism that is found in inequalities of access to health care, jobs, housing and so much more in American society. In such an experience of embodied injustice, does your book on embodied pastoral care offer any ways forward?
Dr. Koppel: The double pandemics of COVID and systemic racism create a cascade of immense suffering that affects individuals and communities in differing measures depending on social location and systemic injustice.  Suffering is not an abstraction; it is real. Our bodies suffer and are in need of care. This book helps readers engage spiritual care that honors our bodies as beloved creations of God by hearing the suffering and responding with healing practices.
As a professor of pastoral care, I teach that trying to 'fix' people (including ourselves) is not the goal. We need caring and loving attention to our own and others' suffering. One way to alleviate suffering is to slow down and tune into the stories of our bodies.  Over time, we learn to listen in an attentive and open way. This gift of listening offers space to connect with feelings and thoughts. Over time, we come to embrace our bodies as companions on our faith journey. The book helps seminarians, pastors, and lay leaders experience this reality for themselves. It also encourages congregations and communities of faith to engage and advocate for practices of healing and justice in our common life.