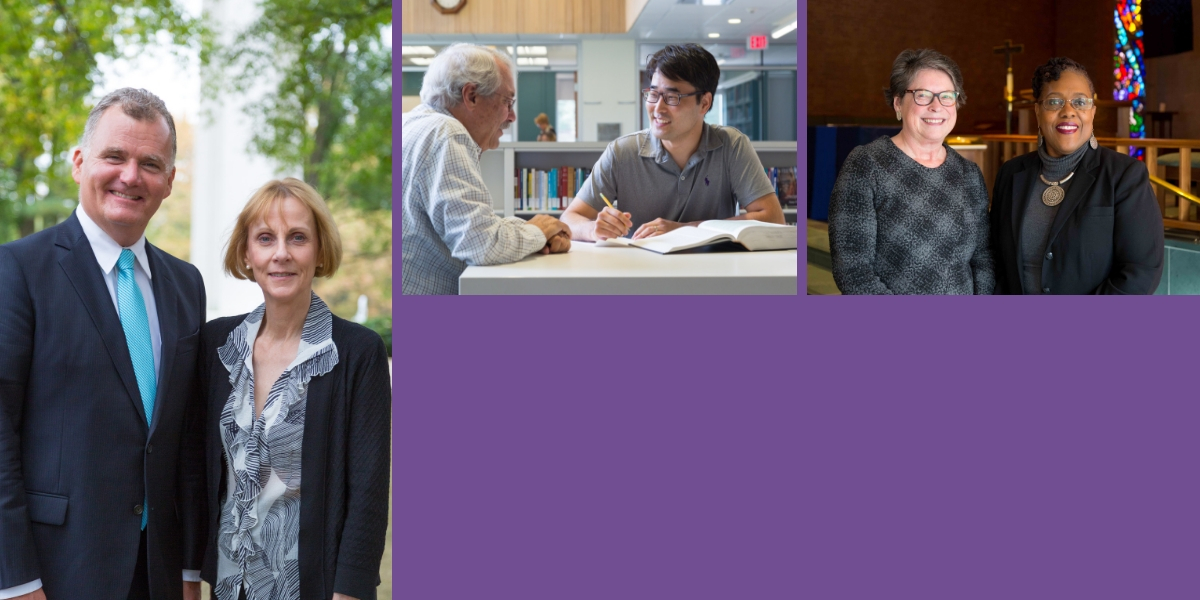 Learning Together: Wesley's Collegiality and Collaboration Experienced by Faculty
The sense of community experienced among Wesley's students is closely reflected by the faculty's sense of collegial camaraderie. Professors collaborate within and across disciplines, working together to uphold academic standards that are a hallmark of the seminary.
Dr. Lucy Lind Hogan, professor of preaching and worship, and Dr. Veronice Miles, associate professor of preaching, began their professional partnership with a focus on collaboration. "Dr. Miles and I were able to get to know each other when she arrived on campus in the fall of 2016 by teaching two classes together," Hogan said.
Their team spirit extended to Dr. Deborah Sokolove, professor of art and worship; Dr. Eileen Guenther, professor of church music; and to newly appointed Dr. Anna Adams Petrin, assistant professor of worship and chapel elder.
"We bring a variety of experiences to our teaching,"
Hogan said, noting that her colleagues come from Baptist, Episcopalian, non-denominational, and Methodist traditions.
"Together we are wonderful conversation partners seeking to prepare Wesley students and graduates for serving churches and communities in the 21st century."
Dr. Paul Cho, assistant professor of Hebrew Bible, encourages his students to take one semester of Introduction to Hebrew Bible with him and the other with colleague Dr.
Denise Dombkowski Hopkins, Woodrow W. and Mildred B. Miller Professor of Biblical Theology. While the content remains consistent, Cho noted that each course reflects the professor's own interests and passions. He credits Dombkowski Hopkins with helping shape his work and that of his colleagues.
"Dr. Hopkins is a gifted teacher whose practice of the art is a model and challenge to all her colleagues," he said.
"I've had the privilege, as her junior colleague in Bible, to benefit most. Every aspect of my teaching, from the way I've come to think about certain topics and issues, to readings I assign my students, bears the gentle mark of her guidance."
Dombkowski Hopkins and Dr. Michael Koppel, Howard Chandler Robbins Professor of Pastoral Theology and Congregational Care, have become a model of cross-discipline collaboration on campus. The two co-teach multiple courses and co-authored a text in 2010 titled Grounded in the Living Word: The Old Testament and Pastoral Care Practices.
Too often co-teaching means, 'you take the first two classes and I'll take the next two'" Dombkowski Hopkins and Koppel said together.
"This is not partnered teaching but rather sequential teaching, and in our view, not as effective."
When done well, co-teaching offers the opportunity to model collegiality and civil discourse.
"We have two very different teaching styles and the students appreciated the contrasts and delighted in the times when we disagreed about a certain point" they said. It helps that Dombkowski Hopkins and Koppel share a common pedagogical approach.
"We're both good listeners as teachers. Our view is that teaching ought to be dialogical, question-filled, and challenging. We believe that we all learn from one another in the classroom."