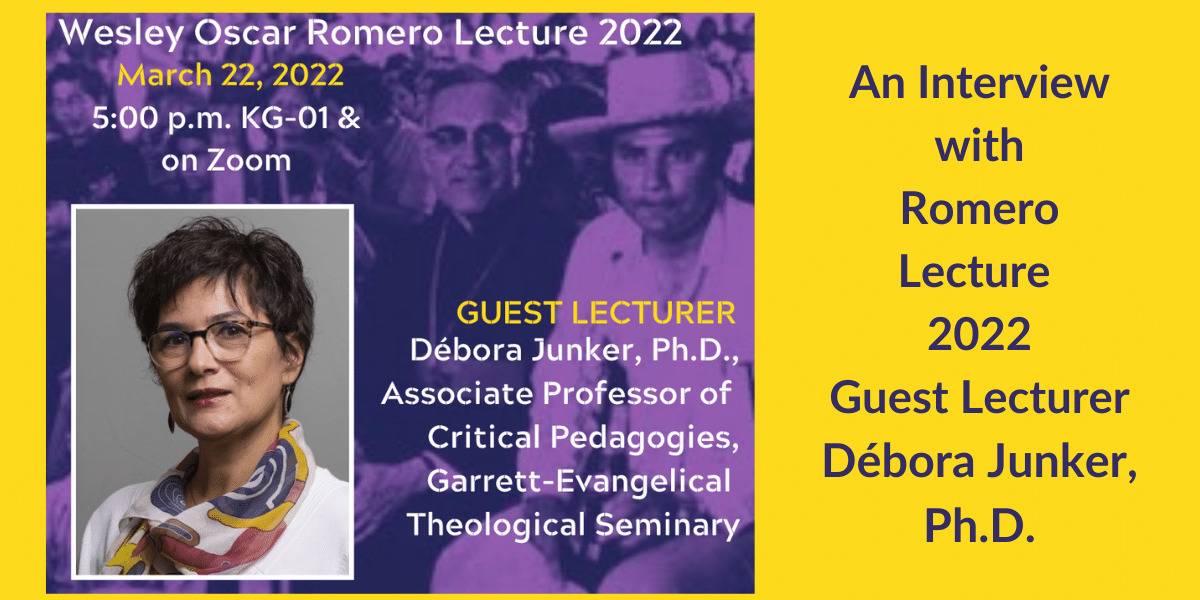 Dr. Débora Junker received her doctor of philosophy degree in 2003 from Garrett-Evangelical Theological Seminary in education and congregational studies; she also holds a master of arts in Christian education degree from Christian Theological Seminary (1999) and a master in religious science (practical theology) degree from the Methodist University of São Paulo - Brazil (1996). Dr.Junker also received post-graduate specialization in the psychopedagogy of early childhood and adolescence from the Methodist Institute of Higher Education of São Paulo – Brazil (1992) and a licentiate in letters from the Methodist Institute of Higher Education of São Paulo – Brazil (1985).
In this interview, Dr. Junker, a scholar of fellow Brazilian and pioneering educator Paulo Freire (author of the 1972 seminal work "Pedagogy of the Oppressed"), elaborates on the theme of her Romero Lecture, and offers contextualized insight into Freire's "process of conscientização (consciousness raising)," and its modeling in the life and ministry of Archbishop Oscar Romero. 
WTS: You serve at Garrett as Associate Professor of Critical Pedagogies. What are "critical pedagogies"? How can critical pedagogies help the church address the major challenges our society faces today?
Dr. Junker: Before answering what critical pedagogy is, it is necessary to define what pedagogy means.
Over the centuries, pedagogy has expanded as a field of knowledge that studies education in its complex and multidimensional aspects. Pedagogy, as a discipline, studies and analyzes the educational phenomena seeking to support education, systematically and intentionally, in all its dimensions: cultural, philosophical, psychological, biological, historical, and social. Unfortunately, a simplistic understanding sometimes reduces pedagogy exclusively to methods and techniques.
Although pedagogy is concerned with the educational and methodological processes within the learning environment, it includes more than the technicalities of the educational process. It implies the socio-political and socio-historical dimensions of education that influence how the methodological actions necessary to contribute to human advancement are organized. Without understanding the social and political implications embedded within our pedagogical approaches, we will be unable to transform the existing relations of power and inequality. Consequently, we will not work toward a more equitable and just society. As Henry Giroux contends, pedagogy is a form of cultural production that implies the construction and organization of knowledge, desires, values, and social practices that should expand the principles of human dignity, liberty, and social justice.
Critical pedagogy aims to develop students' critical capacity to make them aware of inequalities and injustices in society while looking for alternatives for their transformation. As such, critical educators signal a paradigm shift from traditional notions of schooling to emancipatory forms of education. One of the contributions that critical pedagogy can offer the church would be to challenge the church to recuperate its prophetic vocation by becoming a site of resistance to all kinds of oppression, not only in words but in deeds.   In a current context of hate-filled rhetoric, authoritarian regimes, and fundamentalist ideologies, we need more than ever critical consciousness to build a fairer world for all.
WTS: The title of your Romero lecture is "Collective Indignation: the prophetic duty of our times." How do you see that we should experience and act on "collective indignation"?
Dr. Junker: The complex social, political, economic, and environmental problems, exacerbated by the Covid-19 pandemic, have caused great anguish among people in all corners of the planet, exposing long-standing injustices and dehumanizing actions towards the most vulnerable in our societies. As new threats to human dignity arise daily, robbing people of their right to land, territory, and cultural identity due to the greed and arrogance of the powerful, we are called as a community of faith to face the tragic circumstances of our time with courage. In my perspective, we certainly can't do it in isolation. Our survival depends on nothing less than a collective effort. But that's what I want to address in my talk.
WTS: You have said, "We need to engage in what Freire calls a process of conscientização (consciousness raising)." In your opinion, was Archbishop Romero a good example of conscientização, for both himself and for the people of El Salvador?
Dr. Junker: The word conscientization (translated from Portuguese conscientização) is a central concept in Freire's thought. It is a process that involves going beyond the spontaneous sphere of apprehension of reality to reach a critical understanding of it. It consists in helping people name the multiple conditions in their lives, identifying the limits imposed by their situation, and acting to transform those conditions. This process allows people to question the nature of their historical and social circumstances and read the world (its reality) to change their experience as historical beings.
For Freire, conscientization does not occur outside of praxis, that is, without the action-reflection that prompts a transforming act. Therefore, it is simultaneously a historical commitment and a historical conscience. Critical consciousness invites us to assume a utopian position before the world because it invites us to denounce dehumanizing structures and announce humanizing approaches.
Indeed, Archbishop Romero is an excellent example of a person who has incorporated the concept of conscientization into his life and ministry, a true prophet in the biblical sense, but also in Freire's description of prophetic action. Freire contends that only those who are permanently engaged in a radical process of denouncing and announcing, seeking the transformation of the world, can be prophetic.
WTS: Coming from Brazil, what was your experience in that cultural context of conscientização ?
Freire reminds us that conscientização is a continuous process of reading reality and confronting dehumanizing situations. Therefore, the socio-political-cultural context that inspired the need for critical awareness in Brazil in the 60s and 70s bears similarities with the current context of alienation, suffering, violence, and abandonment, especially the most vulnerable people in Brazilian society and elsewhere are subjected. As in the past, we are called today to continue this path of unveiling the oppressive reality and structures that deny the most susceptible people the possibility of living with dignity while announcing humanizing processes to construct a fairer world for all. Dreaming, for Freire, does not mean escaping the world but bringing into reality the good that is desired for oneself and others—a world that we dream of collectively.
Wesley Theological Seminary invites all to attend our 2022 Archbishop Oscar Romero Lecture on March 22, 2022 at 5:00 p.m. EST in KG-01, on our DC campus or online via Zoom.
Registration is required for both Zoom access and for the on-campus event - register at http://ow.ly/yxma50I56pm.
We hope you will join us for this annual Wesley tradition honoring the witness of the life of Archbishop Óscar Arnulfo Romero y Galdámez, Archbishop of San Salvador, El Salvador. Defender of the marginalized, Archbishop Romero challenged those in power who violated the human rights and dignity of the poor. For his outspoken demands for an end of military violence towards the citizens of El Salvador, Archbishop Romero was assasinated while saying Mass on March 24, 1980.