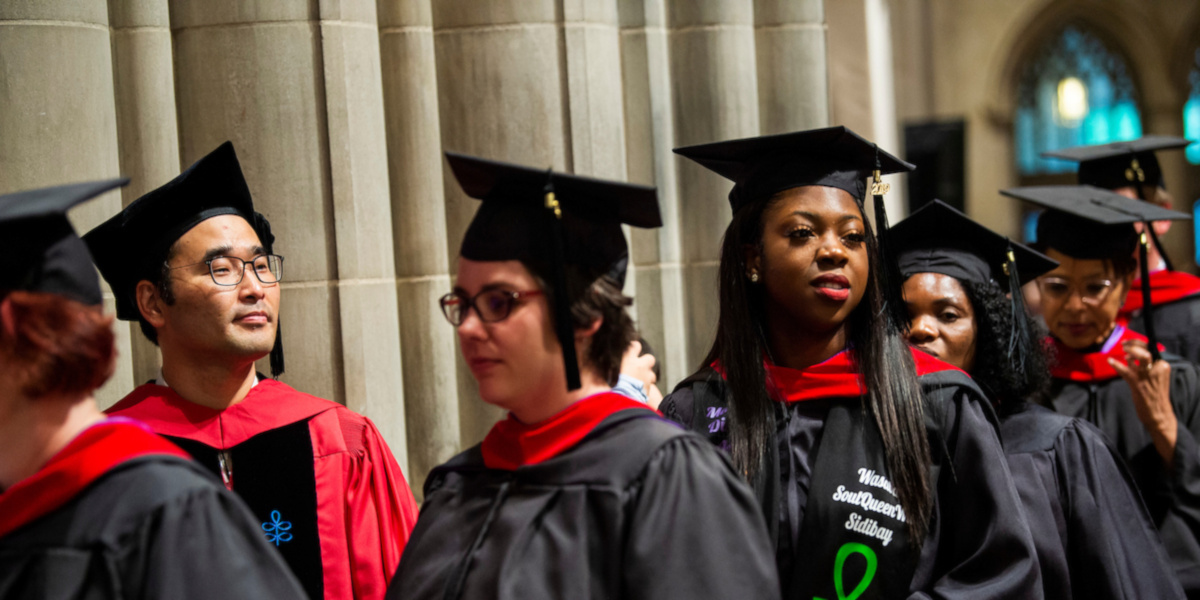 Wesley Theological Seminary Offers 10 New Full-Tuition Scholarships With the Rising Generation in Ministry Award
Wesley Theological Seminary, committed to preparing prophetic Christian leaders for the church, announces the new Rising Generation Awards which will provide 10 full-tuition scholarships for new Master of Divinity candidates.
These new scholarships seek to support the future church envisioned by young United Methodists in their statement released at the recent Special General Conference of The United Methodist Church in St. Louis, MO.
These scholarships are announced as the seminary held its 137th Commencement May 13 at Washington National Cathedral in Washington, D.C., where 150 graduates from 11 countries around the world, 18 Christian denominations and 38 United Methodist conferences across the US received their graduate theological degrees.
"Wesley found a potent message of hope in the Young Peoples' Statement," said Wesley President David McAllister-Wilson. "In 11 hours, more than 15,500 young United Methodists signed a petition calling for unity amidst the church's diversity. They represent a rising generation committed to a church that is diverse and inclusive, committed to personal and social holiness, with a heart for how God's kingdom is realized now and in the future. Wesley wants to support that rising generation by offering 10 full-tuition scholarships to prepare young people for ministry in that future church."
Wesley's Associate Dean of Admissions, the Rev. Dr. Chip Aldridge, echoes support for this scholarship at this critical time. "Wesley wishes to reiterate our support for those still discovering where God will be calling them at this time – and helping those called to stay the course."
The 10 new full-tuition scholarships will be for new students admitted to Wesley's Master of Divinity degree program.
Preference for this program will be given to candidates who receive endorsement from one of the following:
Alumni of Wesley Theological Seminary
Directors of service organizations such as Epworth League, Project Transformation, Carolina Cross Connections, Sierra Service Project, or Appalachian Service Project
Young Adult Missions directors such as Global Mission Fellows (GBGM/UMC)
A Christian Ministry in the National Parks or Interfaith Youth Core
Faith-based camp or recreational center Camp Director or Program Director
Campus Minister, Chaplain or Wesley Foundation Director
Questions or nominations for these scholarships can be sent to Rev. Dr. Chip Aldridge, Associate Dean for Admissions, at Caldridge@wesleyseminary.edu or 202-885-8686.
Wesley Theological Seminary is committed to complying fully with all applicable federal and District of Columbia non-discrimination laws. In accordance with this commitment, the seminary shall not discriminate against any individual in the provision of educational services (admission, financial aid, etc.), student housing or employment, including but not limited to, by reason of that individual's actual or perceived race, color, national origin, sex, age, marital status, personal appearance, sexual orientation, gender identity or expression, familial status, family responsibilities, genetic information, disability, or political affiliation.
 Learn more about this and the many scholarships available to Masters of Divinity students. Contact admissions@wesleyseminary.edu or click here to learn more.