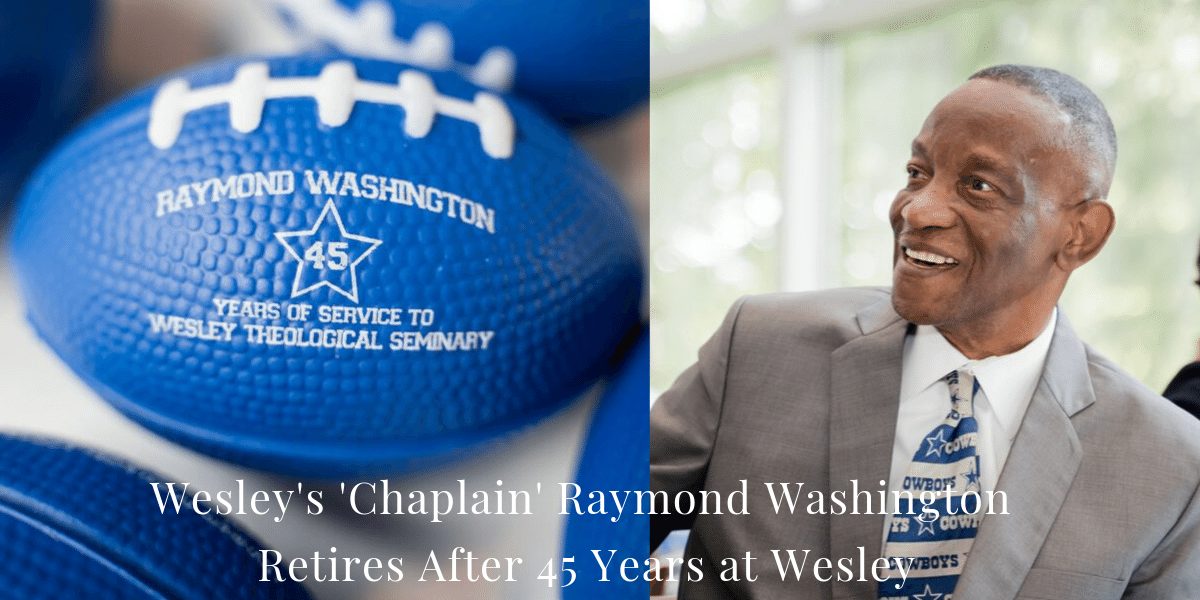 Anyone who knows anything about Wesley Theological Seminary knew that something was different on July 1, 2019. They might not have been able to put their finger on it right away, at least not until they stopped by the mailroom. That's when anyone who has ever spent more than a day on campus would have known that something…or, to be precise, someonewas missing.
June 2019 saw the retirement of Raymond Washington, Wesley's long-time manager of the mailroom and copy center. Mr. Raymond (as he is affectionately known) spent 45 years on the campus of Wesley Theological Seminary. For many students, Mr. Raymond was a quiet, supportive presence who was always ready and willing to listen. A man of faith and great humility, Mr. Raymond was Wesley's unofficial "chaplain" and much beloved by generations of students, faculty and staff, who knew there was always a welcome awaiting them as they picked up their mail.
A celebration to honor Mr. Raymond was held Friday, September 6, 2019 in Wesley's Refectory, where he was a regular attendee at the faculty/staff table most lunchtimes over the years. The event was attended by well over 200 faculty, friends, family, current students and alumni.
The room was decorated in Mr. Raymond's favorite colors – blue, silver and white – reflecting his well-known love of the Dallas Cowboys. There were even blue and white mini-footballs distributed at the tables in honor of his favorite team.
Following a buffet dinner, there were a stream of testimonies and tributes to honor the man who was one of Wesley's biggest supporters.
"There have been many important events in the history of Wesley Seminary," said President Emeritus G. Douglass Lewis, "but none more important than tonight. There's not a one of us here who hasn't been touched by Raymond." Dr. Lewis added, "there's nothing that I've missed more at Wesley than my regular visits to the mailroom."
Among the many tributes to Mr. Washington, Dr. Denise Dombroski Hopkins echoed the sentiments of many when she said, "Raymond models a humble humility that is deeply centering. He has been our chaplain and has presided, these many years, over his chapel – the mailroom."
Dr. Dombroski Hopkins shared another commonly held sentiment. "I've never heard him utter a single disparaging word in all the years I've known him.  He is one of the wisest God fearers that I've ever met."
Speaking for Mr. Washington's family, his son-in-law, Omo Esemuende, shared "he has always been there for me and for his daughter. If you meet him the first time, or the 100thtime, he's the same steady person."
Tributes abounded, both at the celebration dinner and at the semester's opening chapel service where, in addition to words of praise, a special dance offering was presented in Mr. Washington's honor by Dr. Josie Hoover, WTS Director of Human Resources, along with her colleague and fellow Adjunct Professor of Liturgical Dance, Kathryn Sparks.
The dance was centered around a poem created by Hoover and Sparks as a celebration of Mr. Washington's many contributions to Wesley.  When asked about the inspiration for the poem and the resulting powerful dance, Dr. Hoover said "I think his life and the way he carried out his life and call to ministry in this institution was the most influential in the crafting of the prayer and dance. The personal interactions I had with him on a daily basis for at least 10 years were influential. I mean, EVERYTHING about Mr. Raymond was influential in the creation of the prayer."
Dr. Hoover also shared that in her early days of teaching dance, Mr. Raymond was not a big supporter of liturgical dance. However, over time, he began to understand its place in worship.
After many conversations about liturgical dance, Mr. Raymond admitted that he had "learned something new…he eventually warmed up to dance and began to see it through a different lens, " said Dr. Hoover. "Knowing that there are many people out there who look at movement in the church the way that Mr. Raymond used to, he was one of the reasons why I chose to pursue the D.Min degree in the Arts & Theology."
That openness and a willingness to learn and grow was a hallmark of Mr. Raymond's time at Wesley.  The Sumter, SC native came to Wesley during a summer break from school and impressed his supervisors as a level-headed, dedicated worker. When he later returned to the DC area, he was hired by Bob Green, long-time Wesley Superintendent of Buildings and Grounds, to assist in the maintenance and upkeep of the campus. 
Several years later, when the former mailroom manager retired, Mr. Raymond was immediately recognized as someone who could more than fill the role. Soon, he became the familiar presence that so many generations of Wesley students knew and loved.
An example of that was what happened one time when Mr. Raymond walked into the Wesley Seminary Alumni Luncheon at the Baltimore-Washington Annual Conference."Raymond walks in and the room BURST open with applause and everyone was on their feet giving him a standing ovation.  I remember that President McAllister-Wilson said something to the effect 'that Raymond Washington is the only person he knows that can command that kind of attention, '"said Dr. Hoover.
President McAllister-Wilson offered similar words of praise at the celebration dinner when he shared that "Raymond held court from the physical center and the spiritual heart of this institution and, that while much has changed in 45 years, Raymond Washington has remained a constant. He is the most recognized face and has been a beloved mentor to over 3,000 alumni of Wesley."
Tributes at the celebration included a powerful spoken piece, "Da Onyame Ase (Praise The Lord" by Wesley Class of 2019 graduate Nila Curry, a beautiful musical selection by soloist Siera Grace and a comic dialogue harkening back to Mr. Raymond's days as the Wesley baseball coach executed perfectly by Wesley faculty member Dr. Beverly Mitchell and Wesley graduate Diane Wogaman.
Mr. Raymond was true to his nature when at the end of the evening, he was invited to the podium amidst a standing ovation, and humbly shared, "It was easy to give 110% because of the team that I was a part of."
And, while Raymond Washington will be sorely missed, his legacy lives on with his daughter, Dolores, who is taking over her father's duties as mailroom manager.
And it will be impossible for all future generations of Wesley students, faculty and staff to ever forget Mr. Raymond: President McAllister-Wilson announced at the end of celebration that the mailroom and copy center will be henceforth known as The Raymond Washington Business Center.