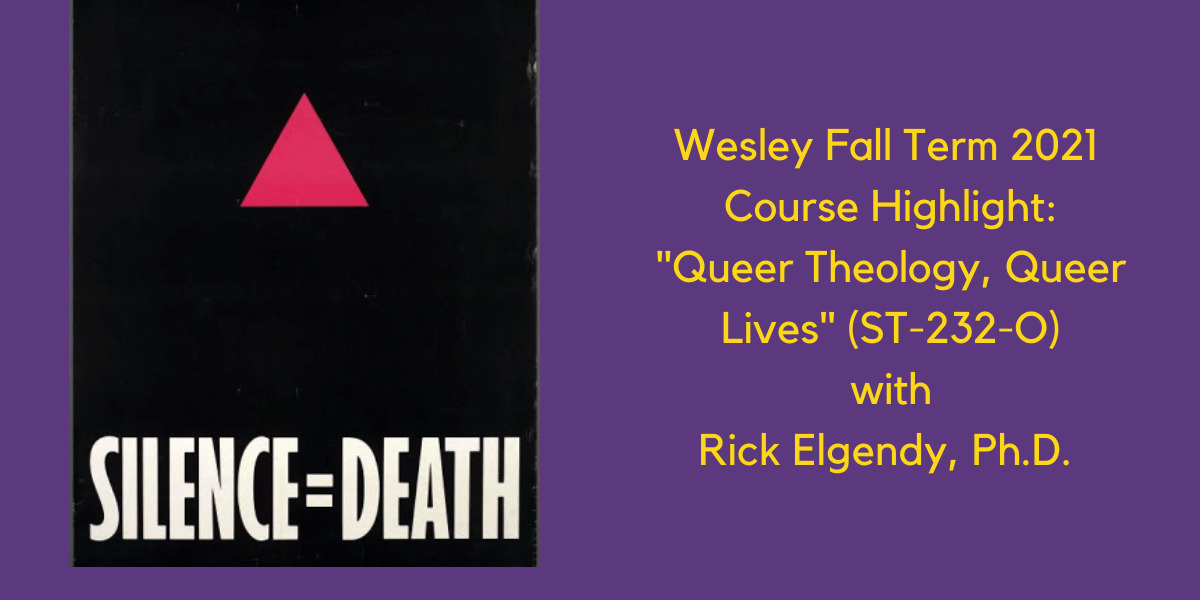 Dr. Rick Elgendy, Associate Professor of Christian Ethics and Public Theology, offered insights into his new upcoming Fall course, "Queer Theology, Queer Lives" in the following Q & A interview.
---
WTS: What is Queer Theology? And why a course now at Wesley?
Dr. Elgendy: There are many definitions of "queer theology" that we're going to talk about in the course!  And part of the difficulty is that many queer theologians instinctually challenge strict definitions, given the forms of perception and action that queer thought encourages.
Nevertheless, I think it's fair to say that queer theologies take their departure from the experiences of those who do not conform to what's widely perceived as "normal" or "natural" in relation to gender and sexuality, but then also use their insight to imagine social transformation in relation to many forms of social difference, marginalization, and alienation.  What queer theology adds to, for example, queer theory is an explicit sense of how God is at work on these margins, empowering us not to be conformed to the patterns of this world but to be continually renewed, ever called into deeper, living, and dynamic communion.
Wesley has had courses exploring pastoral care with and for LGBTQ+ folks, reflecting on sexual ethics, and thinking about gender and sexuality in relation to the institutions of the church - and these are crucial topics!  This course differs from those a bit: it works from the assumption that God is revealed in and through queer lives, and that Christians can learn about God, themselves, and the world by bearing witness to that revelation.
WTS: What will be your approach to exploring Queer Theology in your class this Fall? 
Dr. Elgendy: We're going to be thinking about queer theology historically as a conversation partner of academic queer theory, a form of narrating social movements ranging from Stonewall and ACT UP (with all of their historical antecedents and legacies today), and a mode of reflection on the lives of queer Christians.  To do that, we're going to consider long-influential thinkers, such as Marcella Althaus-Reid and Mark Jordan, as well as contemporary work from Linn Tonstad, Patrick Cheng, Pamela Lightsey, Susannah Cornwall, and many others.
WTS: How does Queer Theology differ from Liberation Theology?
Dr. Elgendy: Queer theologies tend to be a form of liberation theology in that they incorporate emancipation from structures of sin into their portrayal of the gospel!  It's additionally the case that the best, most vibrant, and most trenchant queer theologies also attend to the connections among gender and sexuality and other kinds of social identity, like race and class.
I think that queer theology contributes to the conversation not only by introducing new and serious analysis of gender and sexuality, but by emphasizing how social differentiation works to structure our relationship to ourselves and to inflect our thinking about our intimate lives, complicating the distinction between "public" and "private."  In doing so, queer theologies tend to underscore and provide a new angle on social dynamics that concern many liberation theologies.
WTS: For some, this theology, or the thought of such a course existing, is controversial. Where does this theology fit into the history of theological development that was once controversial but now mainstream, such as Liberation Theology?
Dr. Elgendy: Controversies about social identity are profoundly dangerous when entangled with domination, but under some conditions, they can also be the crucible in which new insight is forged and coalitions across difference are formed.  Queer theology presses us to see how the gospel calls us to modes of relationship that aren't normative in the wider world or mediated by the practices that one assumes shape a "normal" life.  In doing so, it can help us to perceive the call of God - including in many of the hard sayings in Scripture! - in a way that is deeply faithful to Chrisitan sources and that claims a new future. 
I think future generations of the church will see how queer theologies put us in touch with more abundant faith, hope, and love.
WTS: Who is this course for?
Dr. Elgendy: This course is for anyone who is ready to set aside the usual framing of institutional church debates - at least for a moment - and approach queer theology itself with some curiosity and a willingness to be challenged in how one relates to oneself, to others, and to God.