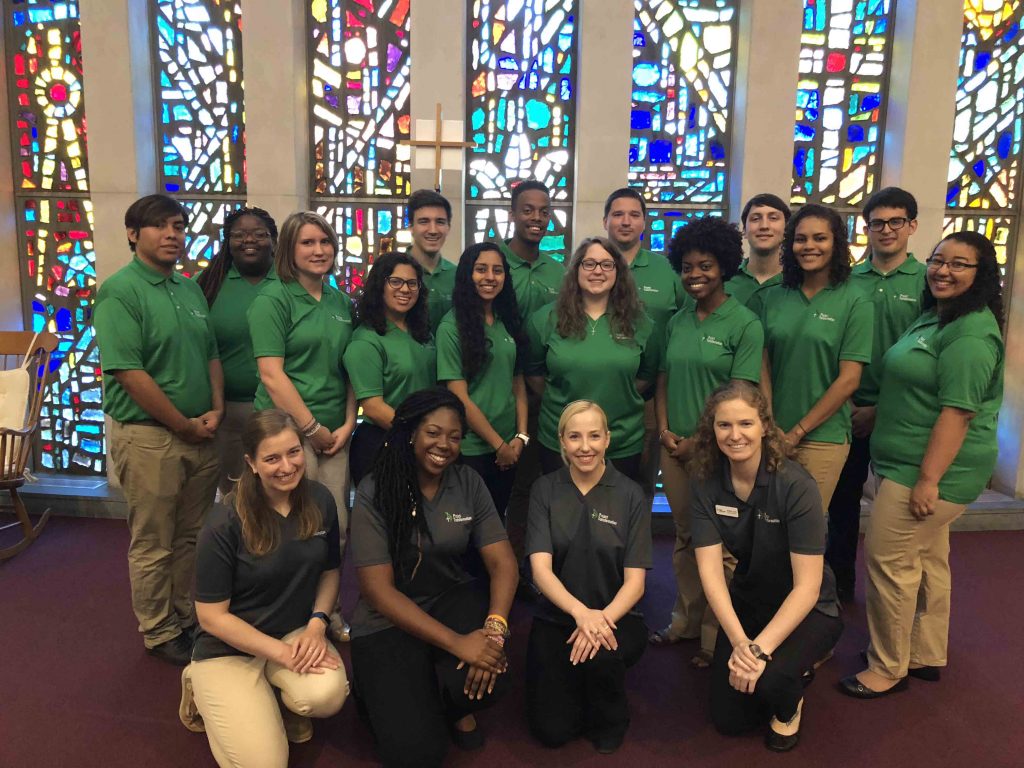 Wesley Theological Seminary was not part of Rachel Luna's (MTS, 2017) original life plan, but an unexpected encounter with a remarkable organization set her on a course that eventually led to Wesley and its Community Engagement Fellows program, formerly called the Missional Fellows program. 
With an undergraduate degree in social work, Luna began looking at graduate school options. "I felt like God was calling me to something and, the more I researched different schools, seminary kept popping up," Luna said. It was through a friend that she was introduced to Wesley. 
"He was thinking about going to Wesley and he found the Missional Fellows program and called me and said 'this is for you. This program, this is you!' she said. When she did her own research, she realized Wesley was where God was calling her. 
Yet even before studying at Wesley, Luna was introduced to what has become a passionate pursuit of God's calling on her life. In 2009, a chance encounter with a friend at her home church in Franklin, Tenn., led Luna to apply for and be accepted as a Mountain Biking Coordinator at Project Transformation in Dallas, Texas. 
Founded in 1998 by Sarah Wilke and Leighton K. Farrell in Dallas, in collaboration with several groups including the North Texas Conference of The United Methodist Church, Project Transformation was designed to develop the leadership and ministry capabilities of college-aged adults through summer and one-year service internships. The organization works by allowing young adults to gain hands on experience through high-quality, community-oriented, after-school and summer day camp programming for children and youth from low-income neighborhoods. In addition to providing a service and teaching children, interns learn valuable life lessons. 
Learning life lessons was especially true for Luna, who has spent the past eight years in various roles serving children in Dallas and Tennessee.  The experience blew her away, she said. The stories shared by the children and youth she worked with every day had a profound effect on her and changed how she viewed her future. While not called to pastoral ministry, Luna was convinced she was to use her talents to serve God.
After hearing about Wesley and the Missional Fellows Program, Luna committed to following her call.  "I'm someone who, when I feel that God is calling me to do something, I jump headfirst into it," she said. "I didn't apply to any other grad schools. I only applied to Wesley and I was only going to Wesley if I was going to be a part of the Missional Fellows Program." 
Once she became a member of the Wesley community and Fellows program, Luna was required to participate in a field educational experience in a ministry setting that allows students to design a community engagement project.  A discussion with Dr. Sam Marullo, Wesley's former director of research on missional communities, helped Luna chart the next steps on her journey.
"I was really struggling with what I would do for a project," Luna said. "I met with Sam and he asked me to tell my story. He sat there and listened and Project Transformation is a huge part of my call story and it is the turning point in my life." As they continued to talk, they realized that Project Transformation could be incorporated into her project, but Luna was not sure how. "My initial thought was to go back to Dallas or Tennessee and develop some programs but he [Marullo] really encouraged me to think about D.C.," she said. 
As Luna continued her coursework, which included assignments that could directly relate to Project Transformation, she began to realize there was a need for a program like Project Transformation in Washington, D.C., particularly in the area of education. "It kept hitting me in the face, but I didn't want it to because starting a Project Transformation chapter in D.C. would be a lot of work and I wasn't sure I was up for that." Luna's initial reluctance gave way to the realization that the need was great at schools in the city. "When I saw the reading scores for Malcomb X Elementary School, it was like God telling me, 'meet with people and start having discussions,'" she said.
With the help of many people within the Wesley community, the Baltimore-Washington Conference of The United Methodist Church and an advisory team, Luna applied to charter a Project Transformation chapter in D.C. On June 18, 2018, 14 interns and several community volunteers began working with 100 children and youth for the first summer of Project Transformation Washington, D.C. Luna is now the executive director of the chapter. 
For Dr. Marullo, there is no doubt that there would not be a Project Transformation Washington, D.C. without Luna's dedication and commitment.  "I am most pleased and proud to say that Rachel has made the most of her Fellow's experience and has translated it into practical and transformational ministry," he said.
Luna found the program to be equally transformational. "There would be no Project Transformation D.C. without the Missional Fellows Program," she said.
Editor's Note: To learn more about Wesley's Community Engagement Fellows program at the Institute for Community Engagement, visit here. Readers can email Executive Director Rachel Luna for more information about getting involved with Project Transformation Washington, D.C., by giving financially or volunteering.