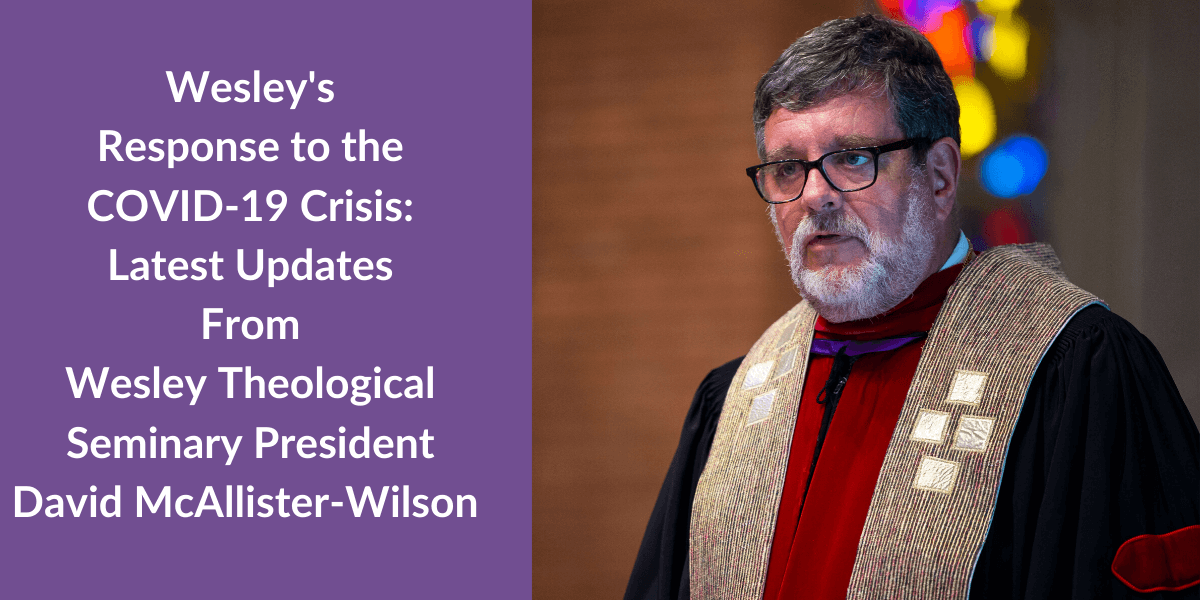 May 5, 2020: Update from Wesley President David McAllister-Wilson
What will Wesley do in the fall?
Often over the last two months, I've been asked about our plans for the future.  I think of two phrases.  One is from 1 Corinthians 13, "For now, we see as through a glass, darkly." Like walking in the thick morning fog when I was a boy growing up near the ocean in Southern California, we can't see what's ahead.  We keep going, carefully, trying to see ahead.  
The campus will open in the fall if the regional governments say it is safe, and medical experts agree, and if other institutions of higher education do so.  But it will not be just like it was last fall.  Nothing will.  Instead, the faculty is designing a variety of options for courses because we recognize both the anxiety and the hope for the prospect of getting together again.  I, for one, could live the rest of my life without attending another Zoom meeting.  It is not the same.  But one way or another, the full course schedule will be available.  And despite of the severe economic effect on Wesley, we have increased our scholarship aid and are adding and enhancing technological resources for both online and hybrid classroom experiences.
That passage from Corinthians is better known for another verse in the same chapter: "Love bears all things, believes all things, hopes all things, endures all things.  Love never ends."  It's more than a wedding vow, it's the way a Christian community works, especially under stress.  So, out of care for the community, we closed the campus early.  Now the students we are caring for in the dorm and the faculty and staff are all symptom-free.  Students and faculty are creative and resilient, making the best of the online classes which began immediately.  For example, Professor Lucy Hogan tells me her class has produced some of the best sermons she's ever heard, and Professor Sathi Clarke has experienced a kind of caring community in his class he didn't think was possible.  And, Summer School enrollment is up over last year!
At the same time, Wesley is fulfilling our primary mission to serve churches as they walk through the crisis.  Here are links to resources we have prepared through our Lewis Center for Church Leadership and our Heal the Sick program.  I am preparing to launch a series of conversations about how the church can think about and prepare for life on the other side.
The second phrase that keeps coming to me is "Next year, in Jerusalem."  For centuries, Jews in the Diaspora have sung this at the end the Seder meal as a reminder of living in exile yet looking forward. Now, our students are dispersed around the globe, including the graduating class of 2020.  We will mail them their diplomas, and we have prepared a short program to be broadcast at 2:00 p.m. Monday, May 11 as a foretaste.  But next May, all are welcome back to a great ingathering of the Wesley community at the National Cathedral to celebrate in person.  Now, through daily prayer and continued courses, we remain connected as a community.  But as soon as possible, we will be back in the classrooms, the Refectory, the quad and Oxnam Chapel.  Next year, in Jerusalem. 
David McAllister-Wilson
President, Wesley Theological Seminary
March 19, 2020:  Update from Wesley President David McAllister-Wilson
Wesley Theological Seminary will hold the remainder of the spring semester courses online.  All offices are on the job at a distance.  We are continuing to maintain room and board for our many students for whom this campus is home.  I am pleased to report we are aware of no one in the Wesley community who has been diagnosed with COVID-19.  We are taking these steps both to continue to help our students stay healthy and to reduce community transmission in our neighborhood and in Washington, DC.  I am grateful to the faculty and staff who working quickly and creatively to make all this happen.  I am sorry to report that the 2020 Commencement service, scheduled for May 11, has been postponed.  We will find another time to recognize the class of 2020. 
These days are counterintuitive for Christians who instinctively gather and reach out in crisis. For example, after 9/11, attendance at worship surged and people volunteered for public service in large numbers.  But now, churches are empty and the way we serve the community is to stay home.  But our faith includes a recognition of the power of prayer and the wisdom and courage gained in the wilderness and in exile. 
In the meantime, we believe the Holy Spirit is not constrained and finds a way to work through us.  My niece, Emily, is in graduate school in Barcelona, Spain.  (Ironically, she is studying international security).  The city is in virtual lockdown.  She reports that every morning at 8:00 p.m. everyone goes out on their balconies or opens their windows and claps their hands demonstrating their resilience and solidarity.  A distance Vespers liturgy. I know the extended Wesley community, including our alumni, are looking for ways to do the same in communities they serve across the world.  And, those of us with financial resources can help support those who will not have a paycheck for weeks and maybe months. 
I think we will emerge with a yearning for physical community and congregational worship.  And a renewed appreciation for character in our leaders.  And belief in science.  And a reminder of our interconnectedness through institutions ranging from public health, to schools, to the marketing supply chain that makes simple things like toilet paper available.  Also, a celebration of the inescapably global interdependence of our world as we in the United States are learning from other nations, such as China and South Korea, how to better deal with this kind of threat to the common well-being.   
Therefore, since we are surrounded by such a great cloud of witnesses, let us throw off everything that hinders and the sin that so easily entangles. And let us run with perseverance the race marked out for us.  (Hebrews 12:1).
David McAllister-Wilson
President, Wesley Theological Seminary
March 13, 2020: Update from Wesley President David McAllister-Wilson
I want to report on the steps Wesley Theological Seminary is taking to respond to the COVID-19 crisis. 
Classes were cancelled March 12 and 13 and, beginning Monday, March 16, all classes will be online until further notice.  All essential services on campus will remain open with only those staff members necessary.  All others will be working from home.  All employees will continue to receive their wages. 
Offices and classrooms are being sanitized.  Everyone is being reminded, repeatedly, of the measures recommended by the Center for Disease Control to control the spread of the virus.  
The administration is not aware of anyone on the Wesley campus who has been exposed directly, no one who has tested positively, and no one who has symptoms.  We are taking these measures in an abundance of caution because we have a responsibility for the health and safety of the seminary community.  And because we have a responsibility to others to reduce the chances of community transmission in the greater Washington area.     
These days have caused me to remember Wesley on 9/11.  It is very different.  For one thing, there are very practical steps we can take this time.  But just as in those days, the Wesley faculty and staff are responding with calm, compassion and professionalism.  Faculty were already prepared to teach online, and they are reworking their classes now to be ready by next week, and the staff is working hard to see that the residential students have all they need.  I am very grateful to these dedicated people. 
And, once again, the Christian community is called to lead.  One of our professors, Kendall Soulen, was driving by the Pentagon as the plane passed over his car and crashed into the building.  He arrived on campus stunned.  And then set about to write about the problem of evil – why bad things happen.  He listed a number of possible philosophical answers to that problem.  But he concluded that the Christian faith is really focused on what we do about evil.  Another president in Washington said once, "All we have to fear, is fear itself."  Wesley, its staff and students and alumni are in the business of countering fear offering comfort and hope in obedience to Jesus' commandment to love God and neighbor. 
David McAllister-Wilson
President, Wesley Theological Seminary