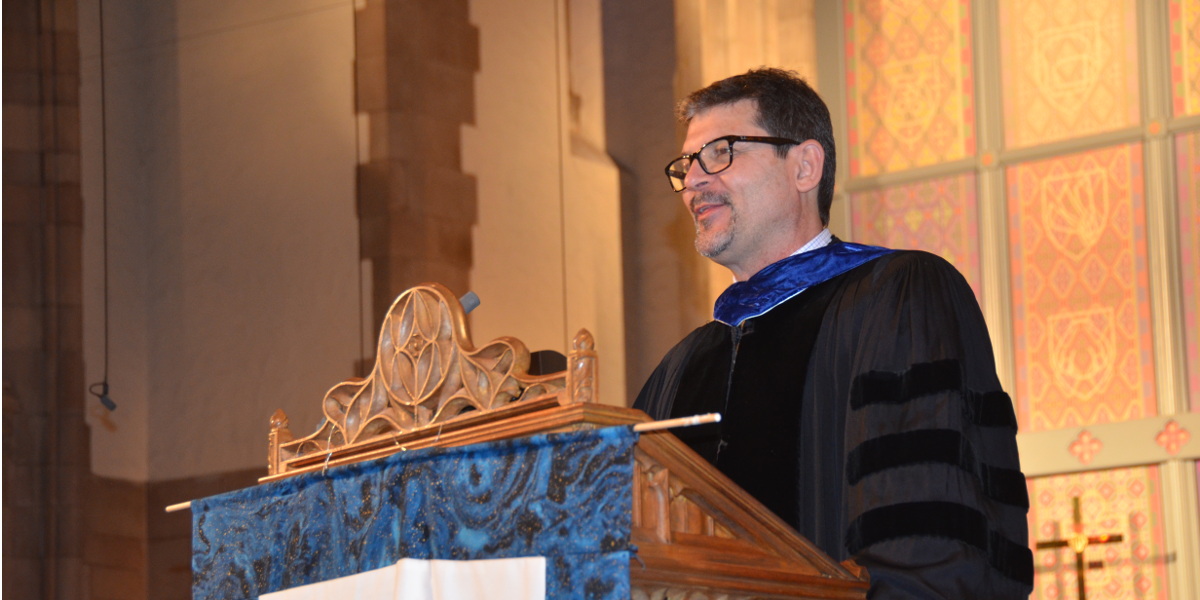 Wesley Theological Seminary is proud to announce that a record number of its distinguished faculty presented academic papers at the internationally renowned Oxford Institute Of  Methodist Theological Studies at Pembroke College, Oxford University, England, August 12-19, 2018.
The by-invitation-only academic conference is the pinnacle for those in the Academy engaged in theological Methodist studies. The theme of this 14th gathering is "THY GRACE RESTORE, THY WORK REVIVE": Revival, Reform, and Revolution in Global Methodism."
Wesley's dean, Dr. Philip Wingeier-Rayo (pictured above), presented a paper entitled "The Context of John Wesley: Mission Models of the 18th Century," and  returned to the Oxford Institute for the fourth time.
"I have found it an incredibly rich opportunity for the global Methodist scholarly community to gather and discuss important theological trends—in its very cradle. While there are similar regional gatherings, it is quite unique to have Methodist scholars from North, South, East and West meet and discuss current theological themes in the Wesleyan tradition."
Dr. Ryan Danker, Wesley's Assistant Professor of History of Christianity and Methodist Studies, enjoyed his second Oxford Institute. He presented his paper, "Benevolent Opposition: Early Methodism as a Laicized Challenge to the Church of England" as part of the Wesley Studies working group.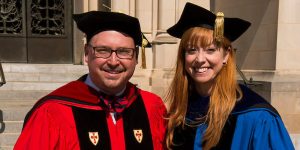 Danker (pictured here with Dr. Carla Works) appreciated the inter-disciplinary aspect of this special academic conference. "Most conferences are not as integrative as the Oxford Institute. We have the opportunity there to engage Methodist scholars from other fields than our own. The ability to do this at the same conference is what makes the Oxford Institute so rich."
Danker feels an added richness is how the Wesley faculty brings a unique perspective to this international scholarly gathering.
"We are all so different and bring different interests to the table. However, we do have the unique perspective of coming from the U. S. capital, and so we are often called upon to engage a political context through a theological lens. This approach better equips us for social engagement, issues of religious freedom, the persecution of Christians around the world, and other highly charged topics. You could say that the Wesley faculty's context forces us to think of not only the "why" of Christian theology but the "how" on a national scale. Taking that to an international context is where it gets even more interesting."
In addition to Dean Wingeier-Rayo and Dr. Danker, Wesley Theological Seminary faculty who attended included:
Dr. Douglas D. Tzan –Assistant Dean for the Doctor of Ministry Program, Course of Study Program & Assistant Professor of Church History
Dr. Sondra Wheeler – Martha Ashby Carr Professor of Christian Ethics
Dr. Carla Swafford Works – Associate Professor of New Testament.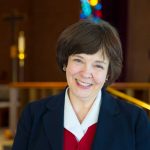 In addition, Dr. Sondra Wheeler, was the co-convener of the "Theology and Ethics" working group where she presented her paper, "Wesleyan Theology and Differences of Conscience."
As noted on the Oxford Institute's website, "most of the work on the conference theme is done in Working Groups, to which full members are expected to contribute a paper."
For example, Dr. Carla Swafford Works  offered   her paper, " "Finish Then Thy New Creation:" God's Promise to Inherit the World," as part of the Biblical Studies Working Group.
Dr. Douglas D. Tzan,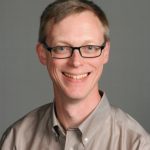 a member of the Evangelism and Mission Working Group, presented "William Taylor, 'Taylor' Missionaries, and Shifting Concepts of Holiness in Nineteenth Century Calls to Missionary Service."  
First convened in 1958, The Oxford Institute of Methodist Theological Studies has continued this international gathering of scholars and pastors engaged in Methodist scholarship over the years at the alma mater of both John and Charles Wesley. From the founding vision of Methodist pastors Rex Kissack (England) and Dow Kirkpatrick (United States), the Oxford Institute has grown, gathering every 4-5 years, under the auspices of the World Methodist Council. The institute's aim is to bring together "men and women, ordained and lay, from around the world and from many branch churches in the Wesleyan family. Each meeting provides opportunities for specialists in various theological, biblical, historical and ethical disciplines to work together on the selected theme, as well as plenary sessions and opportunities for inter-disciplinary discussion." (https://oxford-institute.org/about-us/ )
NEW: Read Dr. Philip Wingeier-Rayo's blog post on his experiences and learnings at this year's Oxford Institute.
"The Oxford Institute of Methodist Theological Studies is an affiliate of the World Methodist Council. Its mission is to foster and support disciplined theological study among professional scholars and scholarly ministers and laypersons within the Methodist and Wesleyan traditions around the globe, with a goal of undergirding and enriching the ministry of these traditions in their global settings. This mission is embodied most prominently in an extended residential institute, currently held once every five years at Oxford University." https://oxford-institute.org
Since 1882, Wesley Theological Seminary has formed generations of Christian leadership for the Church and world. At the centre of Wesley's mission is the advancement of theological scholarship, achieved through its tradition of noted scholarly published works and leading tenured faculty. Relocating to Washington, D.C in 1958, Wesley embraced its call be a prophetic voice in the public square by stressing innovation in theological education by "turning the church inside out" through the work of its centers, The Lewis Center for Church Leadership, The Center for Public Theology, The Institute for Community Engagement and the Henry Luce III Center for Religion and the Arts.
Take your seat - online or on-campus -  in the classrooms of our noted faculty at Wesley for a class, post-graduate work or one of our mission-focused certificates. There is still time to register for classes this Fall, or start the application process to begin your Masters of Divinity or Doctor of Ministry in 2019!  Time is running out - Fall classes begin August 27. Admissions will work with you to ensure you can fit your studies into your life and ministry. For more information, contact Admissions at admissions@wesleyseminary.edu or call 202-885-8659. We would love to help you find the learning experience that is right for you!