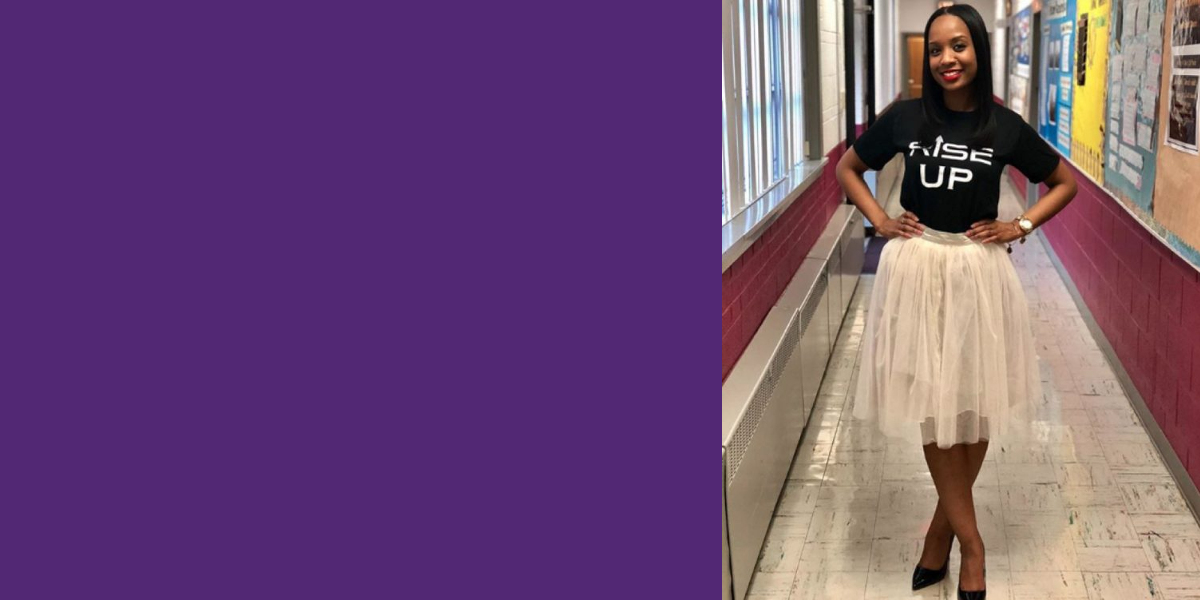 Wesley's 136th Commencement is Monday at the Washington National Cathedral and the Class of 2018 is anxiously completing their last finals week. In the spirit of Commencement, e-Calling caught up with 2017 Master of Divinity graduate Christian Brown to see how she was doing a year after leaving Wesley. If Brown's Instagram account and its nearly 2,000 followers is any indication, she is doing just fine.
Brown started the non-profit Rise in Christ while still a student and participant in Wesley's Institute for Community Engagement's Urban Fellows program. As stated on the About page of the non-profit's website: "RISE (Reclaiming Identity through Self-Empowerment) in Christ, is focused on creating a movement of individuals who desire to RISE above their obstacles in order to pursue their passion and purpose in life."
"It's essentially a business that focuses on holistic wellness and self-empowerment," Brown said.
She believes that individuals must care for the whole being — mind, body, and soul — to achieve the greatest and healthiest sense of self. "We are truly a trinity of the mind/body/spirit," Brown said. "There are a million different experiences. If one area is off balance the entire being is off balance."
This is not just a mindset she is coming to know now, after seminary. Brown studied nursing as an undergraduate and is currently working as a pediatric nurse as well as the youth and children's minister at Mount Moriah Baptist Church in Northeast Washington, D.C. 
Brown has been busy in the last year, scheduling speaking engagements, conferences, and workshops around her other job demands. There is also a for-profit arm of RISE, which she hopes to grow into different services and ultimately a brand that will promote healing of all types.
When she first heard the call to go into ministry, Brown was volunteering as a teacher in South Africa in the last year of her nursing program. She was confused about what to do next.
"'But I'm about to become a nurse! Going to seminary doesn't make sense!'," she recalled thinking. "At the time I didn't understand, but now I see that they work together to bring both the doctors and the believers to the table. There is a need for people to understand that you can talk about your health from the pulpit and you can talk about spirituality in the hospital."
Brown is grateful for her time at Wesley. In seminary she was able to better appreciate the value of diversity of opinion and stances toward God and ministry, she said. "Wesley gave me the vision to be creative in my ministry. Often I talk to my friends who went to other seminaries and they did not have the practicality in ministry that I had. As an Urban Fellow I was able to construct Rise in Christ in my class and get feedback and support."
The lessons learned at Wesley will stay with her throughout her life, Brown said. "The bond of Wesley goes beyond the classroom, beyond graduation. It's a lifelong commitment to one another. You don't have to sit in a box with ministry. Wesley allows one to creatively embrace their uniqueness."
Her advice to graduates this year who might be unsure about their next steps: "When starting your ministry, you may not always have all the answers, but if you have peace, God will connect the pieces!" she said. "We forget the power of being led by the Holy Spirit." 
What's next for Brown? Aside from growing her businesses and ministry, she is considering a doctorate in holistic practices. "But my ultimate goal is to get our world, our community, our nation to RISE," she said. 
Editor's Note: To keep up with the latest from Brown, follow her on Instagram and "Like" her page on Facebook.