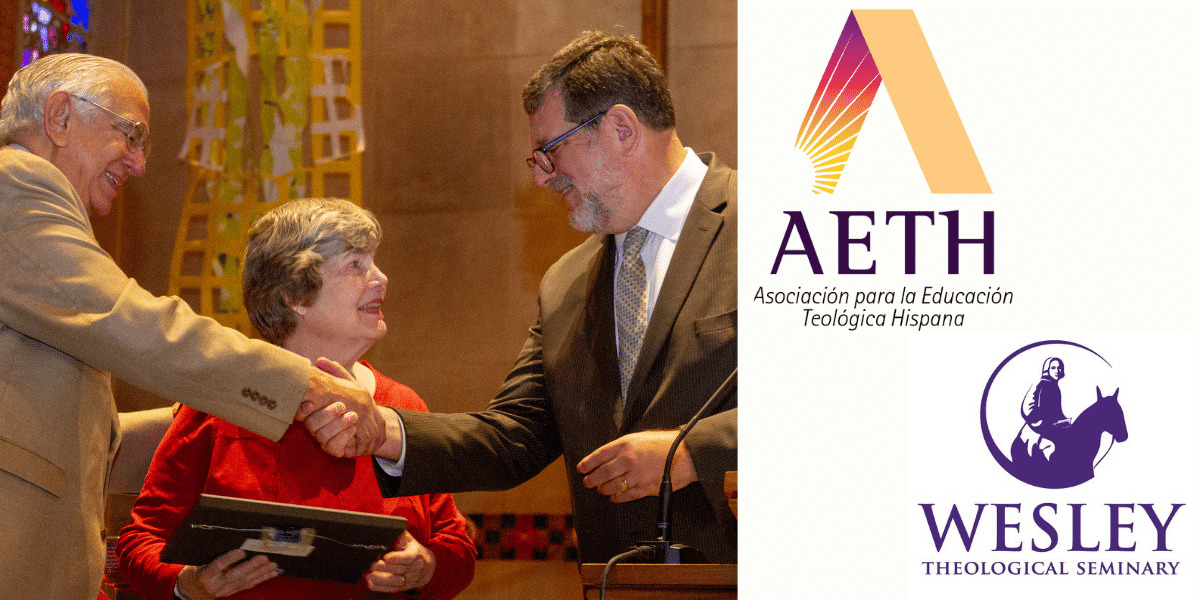 Wesley Theological Seminary and Hispanic theological education network forge partnership to serve Hispanic churches and leaders
(Photo: Wesley President David McAllister-Wilson makes a presentation to Justo and Catherine Gonzalez  at the AETH 2018 Lecture Series held on the campus of Wesley Theological Seminary. Photo by Lisa Helfert for Wesley Theological Seminary, 2018.)
WASHINGTON, DC and ORLANDO, Florida (January 20, 2022) — La Asociación Para La Educación Teológica Hispana (AETH - The Association for Hispanic Theological Education) and Wesley Theological Seminary have signed a memorandum of understanding to develop new initiatives and expand theological education opportunities in Hispanic-Latino/a communities.
The partnership is grounded in the understanding that the growth of Hispanic-Latino/a communities and their need for equipped ministry leaders requires creative collaborations and expanded access to theological education. The MOU has two main purposes: to create pathways for students at AETH-certified Bible institutes and other Latinx leaders to pursue master's-level degrees at Wesley, and to increase cooperation and opportunities for learning among faculty, staff, and students at Wesley and at Bible institutes.
"AETH is glad to be partnering with Wesley Seminary towards a future of collaboration that will make possible greater fruitfulness in theological education," said the Rev. Elizabeth Conde-Frazier, Ph.D., Executive Director of AETH. "This is an opportunity to learn from one another as we walk together – the type of learning that will hopefully bring about new frameworks of inclusion and definitions of quality theological education for a church that can truly bring about changes in the communities where they serve."
The agreement signifies a next step in a growing collaboration between Wesley and AETH.
"Wesley is delighted to sign this agreement with our colleagues at the Asociación Para La Educación Teológica Hispana," said Academic Dean Phil Wingeier-Rayo, Ph.D. "In 2018, Wesley hosted the Justo and Catherine Gonzalez Lecture Series on our campus, and our relationship with AETH continues to deepen. This partnership will allow Wesley to expand our network with Hispanic-Latino/a church leaders and welcome more Latinx students to study a master's degree in line with our mission 'to equip persons for Christian ministry and leadership in the church and the world.'"
As part of the collaboration, Wesley and AETH will seek to develop new collaborative programs and activities, share resources, strengthen Bible institutes and pathways to graduate-level theological education, pursue joint grant and fundraising opportunities, and build relationships among the diverse communities served by AETH and by Wesley.
About AETH
Since 1992, The Association for Hispanic Theological Education (AETH) has brought together a network of Hispanic-Latino/a leaders and theological institutions serving in the United States, Canada, Puerto Rico and, more recently, in Latin America and the Caribbean. AETH's mission is to promote the excellent and pertinent theological education of Hispanic-Latino/a leaders in their service to the church and the world.
AETH is an educational not-for-profit organization dedicated to the promotion and improvement of theological education and its impact on the lives of people, churches, and communities. It is a network of organizations and leaders who share a passion for promoting theological education in its greater ecological system that includes educational programs in congregations, denominations or church agencies, Biblical institutes, seminaries, and theological programs in colleges and universities.
Learn more here.
About Wesley Theological Seminary
Seated in the nation's capital and centered in the Christian tradition, Wesley Theological Seminary and its centers of excellence – The Lewis Center for Church Leadership, The Henry Luce III Center for Religion and the Arts, the Community Engagement Institute and the Center for Public Theology - equip exemplary teachers, preachers and leaders to be prophetic voices in the church and the world. For more information about Wesley Theological Seminary: www.wesleyseminary.edu.
###