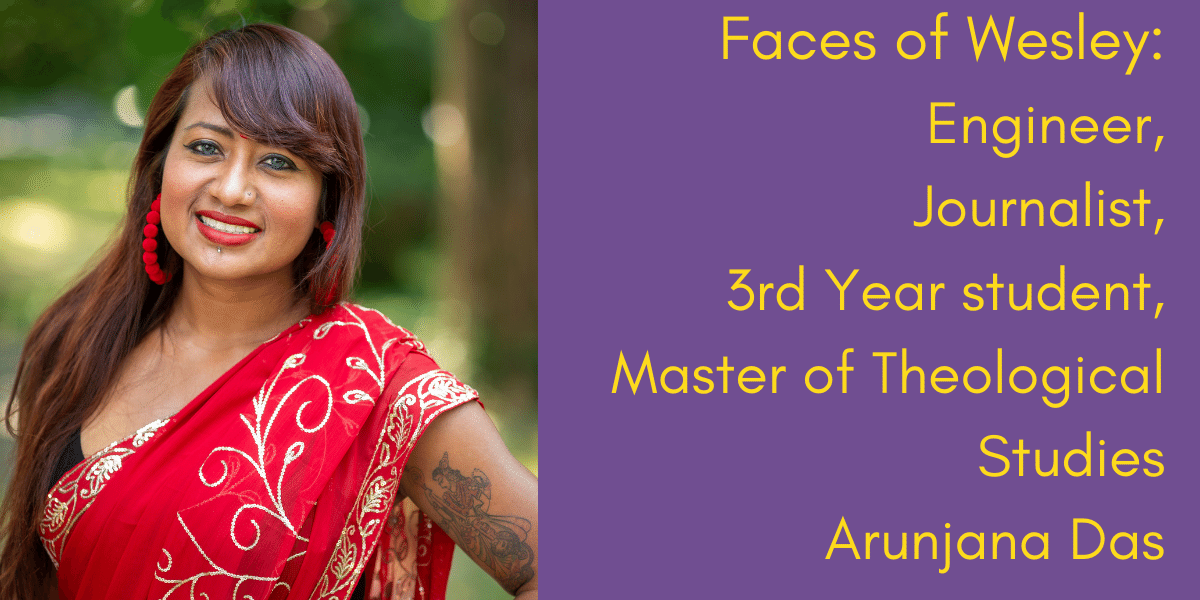 Meet 3rd year Wesley Master of Theological Studies student Arunjana Das.
Originally from Assam, the land of tea in India, Arunjana comes to Wesley after completing a B.Tech. in Mechanical Engineering from the prestigious Indian Institute of Technology in New Delhi, India, an M.A. in Journalism and Public Affairs from American University in Washington, D.C., and a  Diplôme d'Université  (University Diploma – equivalent to an M.A. in the US) in International Nuclear Law from the University of Montpellier, France.
What brought Arunjana to Wesley? "I chose Wesley primarily because Wesley encourages its students to cultivate a critical mind, a loving heart, and a faithful spirit. This is exemplified by the brilliant cadre of faculty and the exciting catalogue of courses that Wesley offers every semester," said Arunjana.
Wesley's diverse and welcoming community has deeply impacted Arunjana's journey the most during her time at Wesley.
"The most impactful component at Wesley has been the people – this includes the faculty, the administrative staff, the students, and others who have dedicated their time and energy to making Wesley a truly inclusive seminary!" shared Arunjana.
"During my time at Wesley, I have had the blessing of experiencing contextual theological teachings that have inspired me to read the Bible critically, but, at the same time, understanding the humanness of the writers and appreciating the divinity of the source. The combination of brilliance and compassion of Wesley's faculty is very difficult to find, especially in academic settings," shared Arunjana.
Fun Fact: Sometimes, Arunjana wishes she had Hermione Granger's Time-turner so that she could attend more than one course at the same time. 
What is something we don't know about Arunjana?
While busy with all that is required to be a high performing student at Wesley, Arunjana still finds time for running, swimming, and reading gothic horror. "I hope to also take up watercolor painting and podcasting," added Arunjana.
Arunjana is excited about what she would like to do after graduation. This is how she puts it: "I hope to bring world peace. No - I jest. That's the job for Jesus. My calling is to follow in His footsteps – my area of interest is peacemaking focusing especially on nuclear disarmament and the applicability of force in the international community". 
"After graduation, I hope to be able to draw from what I learn at Wesley towards the goal of formulating practical frameworks and strategies that are relevant for peacemaking in an international community in collaboration with relevant organizations, networks, and individuals, and other faith and secular groups," said Arunjana.
A quote that inspires Arunjana:
"Peace is not a utopia, nor an inaccessible ideal, nor an unrealizable dream. War is not an inevitable calamity. Peace is possible. And because it is possible, peace is our duty: our grave duty, our supreme responsibility"-  Pope John Paul II in his message to the General Assembly of the United Nations, Vatican, 7 June 1982.
#FacesofWesley
Faces of Wesley is a weekly profile of one of the members of our Wesley Community - faculty, students, alumni, staff, administration and other friends of Wesley.  You can read it on our Facebook or Instagram platforms or on our website's home page.