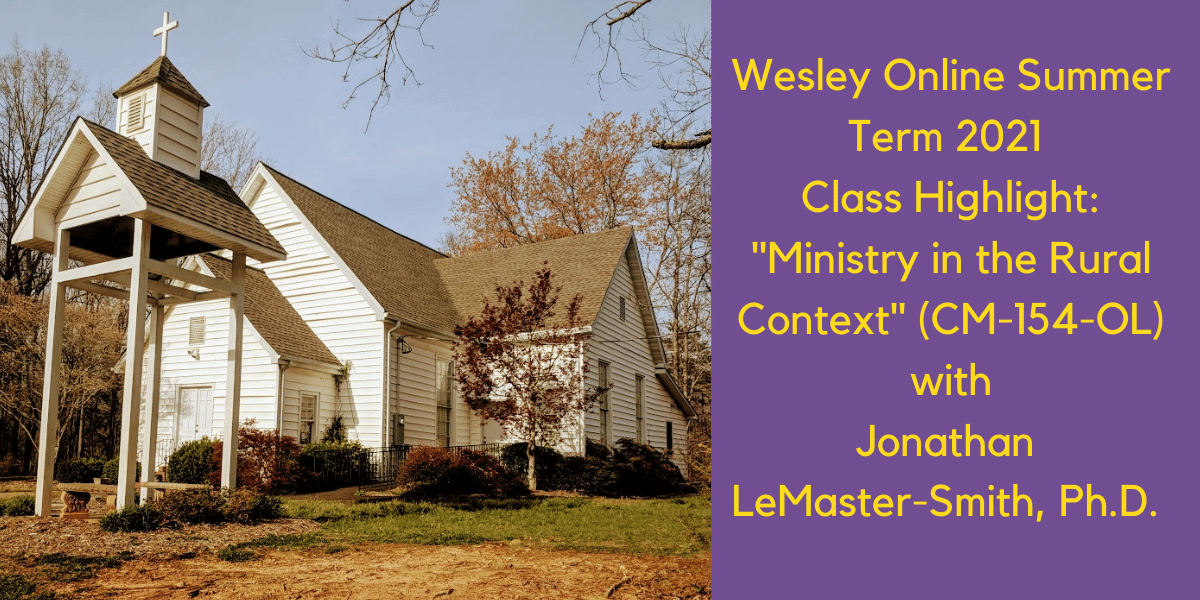 "Ministry in the Rural Context" ( CM-154-OL) explores the diverse range of rural life in the United States and the opportunities for ministry these settings hold. Through an exploration of the cultural and theological realities in rural ministry, this six-week course offers a framework of creativity and hope for ministry grounded in a collection of resources, stories, and media designed to support those serving in rural communities.
Wesley adjunct faculty Jonathan LeMaster-Smith, Ph.D., will be the instructor for this 2 credit online course, to offered June 20-July 30, 2021.
Dr. LeMaster-Smith discusses rural ministry and his course in the interview below. An additional resource provided by Dr. LeMaster-Smith is the course syllabus (click to access PDF). 
WTS: What are the unique challenges of ministry in a rural setting? What are the advantages? What are the disadvantages?
Dr. LeMaster-Smith: There are many unique challenges and opportunities in rural ministry. The most pressing of which is quite often the external stereotypes and stigmas, the media, the education system, and even denominational bodies place on rural ministries.
True, there are disadvantages to rural ministry. This might include lack of amenities, lower salaries, and an alternative pace of life.
However, the advantages far outweigh the disadvantages. The major advantages include long term institutional knowledge, a strong connection to place and community, and a sense of resilience and creativity grounded in both heritage and hope.
WTS: Many students' first appointments in the UMC will be to a rural church? What are the first 5 things they need to do, in your opinion, as they move into that first appointment?
Dr. LeMaster-Smith: I would say that students need to 1) Not complain about lack of the things they want. Rural people know they don't have a Target, Starbucks, or "that one restaurant."
2) Go for a drive. Learn the place you live in, learn the back roads, and where the parks, schools, and historic sites are. Even better, ask someone to drive you around.
3) Talk to everyone, learn their stories. Rural communities are often oral and relational in their ways of communicating, leading, and operating.
4) Ask for help with something, anything. Whether it's a recipe, directions, or a question about the history of the church, people are willing to share. This will help build social capital.
5) Do not focus on numbers. Focus on connections, stories, and community in ministry goals.
WTS: In your opinion, what are the "people skills" most important for working in ministry in a rural context?
Dr. LeMaster-Smith:"People skills" is not a phrase I would use for rural ministry. Rural ministry is not about management or strategy. Instead, it's about relationships, testimonies, and gatherings.
WTS: What creative forms of rural ministry are flourishing right now? 
Dr. LeMaster-Smith: Many creative forms of rural ministry are flourishing, but the ones I am most excited about are those that tap into the history of a community and form partnerships among many institutions to create hope from this history. I think of programs that go beyond homework help and canned food drives and explore relational ways to engage in the needs of the community. Ongoing life and educational enrichment partnerships between schools and churches with programs like cooking, nature exploration, and art on top of socialization and faith formation are some of my favorites.
WTS:  have heard that cooperative parish ministry is working well in rural settings  - what exactly is it? How do you get it started?
Dr. LeMaster-Smith: It is working well, and it's a move beyond the traditional multipoint charge for UMC pastors who serve churches that operate independently of one another. It is a collection of churches, sometimes the same denomination, sometimes different, who share a vision, resources, and passion for the community. My thoughts on starting this would be to look for ongoing partnerships and natural connections.
WTS: What are some of the myths/assumptions about rural ministry that will be addressed in your class? in both ministers and congregations?
Dr. LeMaster-Smith: There are many myths. A big one is the idea that everyone is racist, white, and uneducated. However, this just isn't the case for most communities. We have some rural counties with large Black, Latinx, Indigenous, and Asian American populations. Some of our most brilliant artists, engineers, and executives are in rural areas. Finally, many communities have active anti-racist and cultural immersion programs, many headed by churches.
However, the biggest assumption is that rural communities are dying, and this is just not the case. Rural communities may be transitioning and evolving, but very few are "disappearing."
In terms of congregations, you hear myths like they are stuck in the past, are just their for themselves, and are only focused on heaven. However, many congregations have strong mission and justice components, and have big opportunities for the future.
WTS: What will students learn in your class that will prepare them for ministry? 
Dr. LeMaster-Smith: Students will develop a framework and collection of resources ministry success that include a socio-cultural and spiritual understanding of the particularities of rural communities. This includes story sharing resources, ways of communicating in rural cultures, and methods of using the heritage and culture to build a new future together.
WTS: Who should be interested in your course - those new to these ministries, someone already experienced, or both?
Dr. LeMaster-Smith:This course is designed to provide an overview that allows for students to go deeper into areas they find most interesting. 
Open to degree and non-degree students, Wesley's 2021 summer classes may be taken for credit, audited or to fulfill CEU requirements. Some classes are short intensive courses, while others run through either the early part of Summer or begin in July.
Current students, register via WesleyWeb. New to Wesley or taking a non-degree course? Please contact Admissions at admissions@wesleyseminary.edu or find more info or apply at www.wesleyseminary.edu/admissions/try-a-class-2/