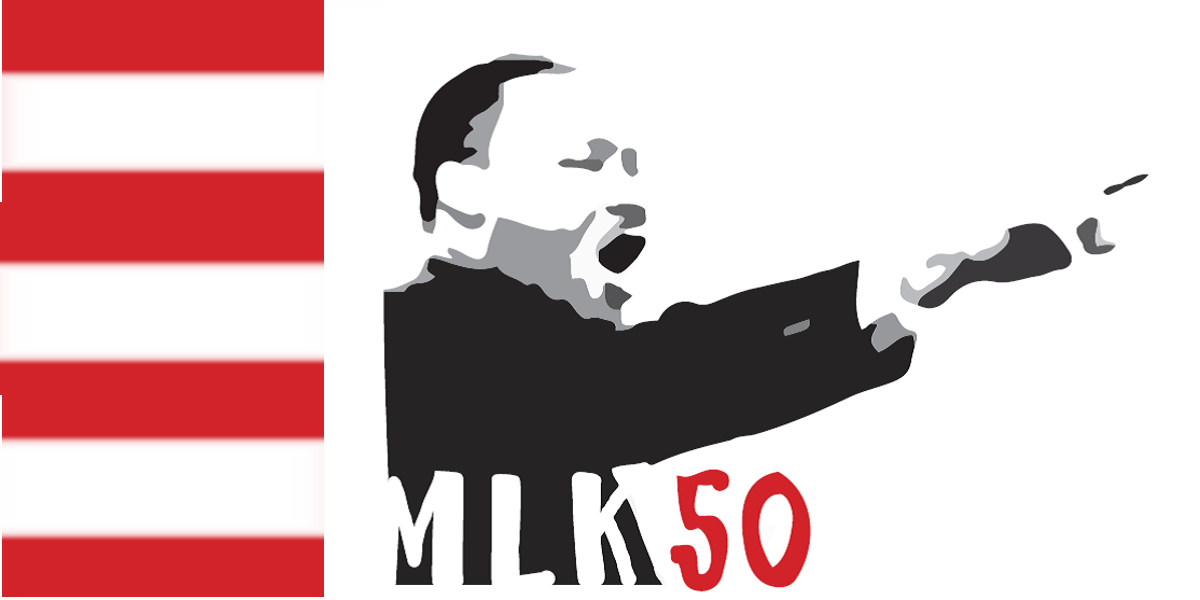 Trouble is in the land; confusion all around…but I know, somehow, that only when it is dark enough can you see the stars. And I see God working in this period…I've seen the Promised Land. I may not get there with you. But I want you to know tonight, that we, as a people, will get to the promised land!
These words, uttered by Dr. Martin Luther King, Jr. on April 3, 1968, would be among his last.  Twenty-four hours later he was struck down by an assassin's bullet as he stood on the balcony of the Lorraine Motel in Memphis, Tenn.  Fifty years later, King's legacy was honored in a series of events held in Memphis April 3-7. 
More than 30 laity and clergy, led by Rev. Claire Matheny, associate pastor of St. Paul's UMC in Kensington, Md., traveled to Memphis to join others in remembering Dr. King and to promote greater awareness of the issues of race and injustice that still exist 50 years after his death. The event was called "MLK 50: Memphis Sojourn."
For Rev. Matheny, this issue and the events of that April day so long ago are part of her heritage.  A fourth-generation Methodist pastor and native of Memphis, Matheny has a keen awareness of the issues surrounding Dr. King's death, and the sanitation workers strike that brought King to his unexpected end.
"My father graduated from Perkins (Theological Seminary) in 1971 and he and my mom, both Mississippians, made an intentional decision to move to Memphis shortly after King's death," Matheny said. "They worked in urban ministry with children in downtown and Midtown Memphis. Before going to seminary, my mom also taught at St. Mary's Episcopal School, an all-girls school I attended for 15 years. There I studied alongside the majority white wealthier families of the city, while in church neighborhoods I got to know folks of all races who were scraping by on little."
Having a foot in both places helped shape Rev. Matheny and prompted her to pursue the study of the intersections of social work and spirituality, fostered by a desire to bridge the divide between the world of privilege, where she spent much of her time, and communities confronting a long history of injustice
Pondering how best to respond to issues around race, the vision for the sojourn crystallized while attending October's reCall Summit, co-sponsored by the Baltimore-Washington Conference (BWC) of the United Methodist Church (UMC) and the Multi-Ethnic Center for Ministry of the Northeastern Jurisdiction of the BWC.  Centered around a Northeastern Jurisdiction Call to Action on race, United Methodists were challenged to be change agents for dismantling racism. Prior to the summit, she discussed MLK50 with Christie Latona, BWC director of connectional ministries, and Rev. Stacey Cole Wilson, director of congregational excellence and strategic partnerships.
"As I began to pray and try to discern more clearly where the Spirit was trying to lead me, I thought back to my hometown and the muted memory Dr. King's legacy and death has held on my racially divided city," she said. "With the approach of the 50th anniversary of King's assassination, I felt the need to return to walk my native streets. I knew I had to go to witness to the divides that still exist there, in Maryland where I currently serve, and across the country. I heard the Spirit insist, 'don't go alone.' As a result, what could have been a personal sojourn became a bigger pilgrimage, an MLK50: Memphis Sojourn. I felt God calling me to be a bridge to my hometown in an important season of remembrance for all of us."
The nature of the trip had broad appeal throughout the BWC and beyond with participants ranging in age from 20 to 76 years old, including Jeffrey Postall and Mary Robinson, two current Wesley students. 
Rev. Matheny invited Dr. C. Anthony Hunt, pastor of Epworth Chapel UMC (ECUMC),  to present his "Beloved Community Toolkit" to the Sojourners as a Conference event in February. He spoke of Dr. King's radical ministry and the lingering tendency to caricature, castigate, or canonize him. Hunt's toolkit helped fuel and shape the reflective time the Sojourners shared in Memphis.
As an adjunct instructor at Wesley, Dr. Hunt developed and implemented "Retracing the Steps of Freedom," a doctoral immersion course in Alabama. Through the course, 100 Wesley students have learned about the American Civil Rights movement and principles of Gandhian/Kingian nonviolence, peacemaking, conflict resolution, community-building and Beloved Community.
For Rev. Matheny, participating in this event further reinforced her desire to connect people who are passionate about racial justice ministry and the pursuit of King's Beloved Community. Consequently, a key component of the MLK Sojourn was hard work.  "This is not a tourist trip," Matheny said. "This is a journey where holy unrest should be felt and where we need to enter into these spaces in a spirit of repentance and, importantly, come away with a desire to confront the realities of current race relations and systemic injustice. We each carry a piece of our own reluctance given the gravity of the anniversary. However, we all carry a sense of commitment that drives us beyond our comfort. " 
Matheny's hope is that all who participated will better discern their own callings for promoting issues of racial equity and can partner in building the Beloved Community within their own lives and in the congregations to which they return.