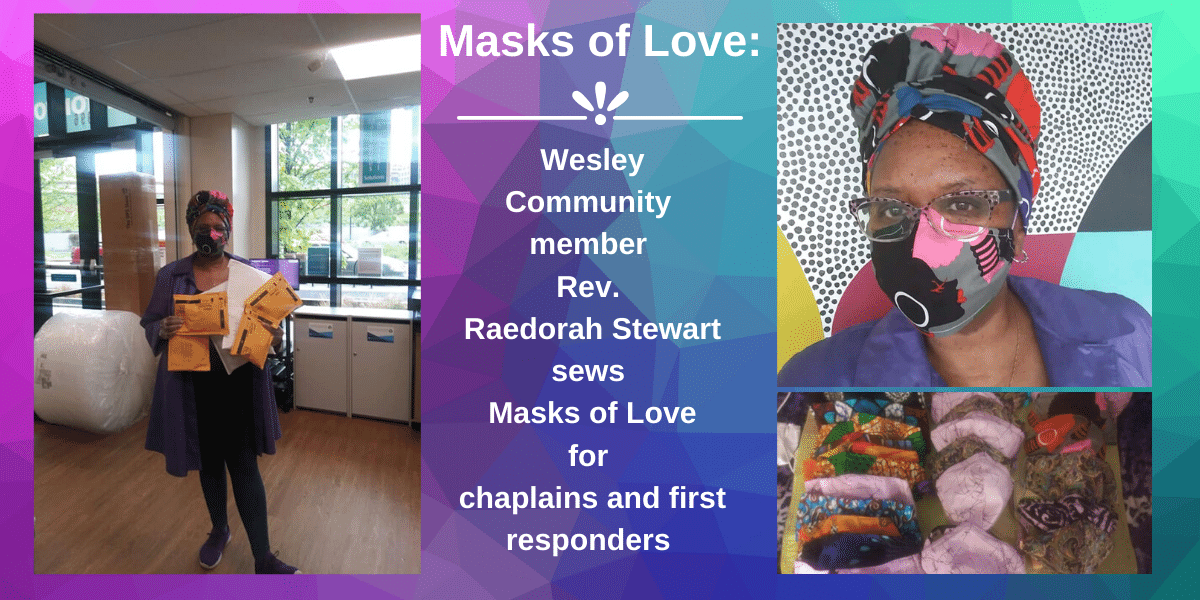 Photos above: (L) Rev. Raedorah C. Stewart mails her first shipment of Masks of Love to hospital chaplains and medical workers around the US; (R, upper) Rev. Raedorah models her head wrap/mask combo; (R,lower) a selection of her Masks of Love.)
As all are coping with the new realities that have come with a global pandemic, Wesley  Community members are finding ways to reach out and support medical workers, first responders and those who minister in this time of COVID-19.
Today we hear from a member of the Wesley Community that wears many hats: the Rev. Raedorah C. Stewart,  Faculty Director of the Wesley Writing Center, D.Min. student and artist. She is currently sewing what she calls "Masks of Love" for chaplains, medical workers and first responders. A cry for help from a Chicago hospital chaplain led to her creating Masks of Love, designed to not chafe the skin of those who must wears masks all the time. She is sending Masks of Love to chaplains, medical workers and first responders around the country. A social media post led us to her story, which she shares below.
WTS: What prompted you to start to sew Masks of Love?
Raedorah Stewart: News photos of nurses showing the raw rub behind their ears from endlessly wearing conventional masks. That coupled with a dear colleague in Chicago who is a Chaplain posting on social media that her ears and head were hurting from long hours in masks.
WTS: Who are you sending masks to?  How many have you made so far?
I sent my first batch to hospital Chaplains and essential hospital workers in the Bay Area (El Cerrito, San Leandro, San Francisco), Chicago, Atlanta, Houston, New York, and Bethlehem, PA!  Also, a  politician who requested one, in the Bay Area.
I have one dozen cut and ready for the weekend!  Now that others are requesting masks be sent to essential workers they know, I will keep making them out of gratitude. 
WTS: Did you create the design? The matching wrap and mask in the photo is very cool!
Raedorah Stewart: I studied mask making by doctors and nurses on YouTube.  Most defaulted to the ear loop.  I modified the patterns with channels for ties or with elastic bands that looped around the neck and head. 
The head bonnet is one of a dozen I made from cloth I received as birthday gifts last year!  I tested my patterns on remnants and ended up with coordinating sets! LOL. 
WTS: What are the masks made of?
Raedorah Stewart: 100% cotton.  I wash each piece before I cut the fabric; and iron it with a lavender infused fabric sizing.  This also prevents shrinking.
WTS: When you ran out of fabric, what happened next?
Raedorah Stewart: I posted to social media that I had four more chaplains I wanted to gift with masks; but that I was out of fabric.  I asked my village to buy a yard of fabric (about $20 for the Ankara patterns and lining); in exchange for my making them two masks. 
I actually expected one or two work-from-homers to contribute so I could make the next few dozen while awaiting my next payday.  Overnight I received $375 from kin, friends, and strangers!  
WTS: Are you still looking for donations? 
Raedorah Stewart: Yes!  In addition to getting donations, folk are sending me names of Chaplains (hospital, hospice, and military) to receive masks in their stead! 
Until there is no longer a request, I will keep making these to give away! I am not selling them; nor am I making them as a fashion statement.  I trust folk will not exploit the gift.
WTS: You mentioned " Brother cs6000i"  in your post - is this person the inspiration behind your mask making?
Raedorah Stewart: LOL.  No, this is the open box electronic Brother sewing machine I scored off of OfferUp for $190 (retailed for $700 last year)!  This story is in another whole different thread of #myDClife shenanigans!  My friends marvel at my online bargain shopping! I sanitized it and got to work!
WTS: As an artist, how has your creativity inspired your mask designs?
Raedorah Stewart: The first fabrics I purchased were Ankara (African wax prints) and a bohemian paisley--my spirit textiles!  To maintain variety, I purchase "fat quarters" from an African importer on Etsy.  As an artist and entrepreneur, I support quite a few Etsy shopkeepers.  
Sewing masks is a natural progression from my acrylic painting.  Inclement weather has kept me inside most of the quarantine; sewing masks is as relaxing as painting and is not negatively impacted by humidity and rain.  
If you would like to send a Mask of Love to a chaplain, medical worker or first responder, contact Rev. Stewart at rcstewart@wesleyseminary.edu