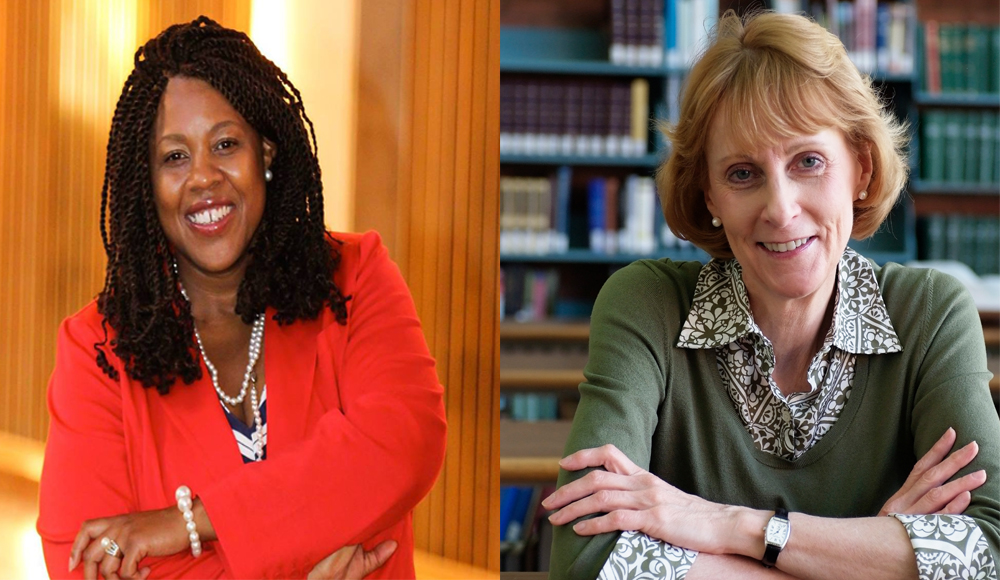 Help Light the Way: The Luminary Scholarship Effort
Yolanda Norton: "Receiving a scholarship from Wesley allowed me the freedom to fully pursue my calling...I don't know that I would have had the courage to pursue ministry if I didn't have certain financial support from Wesley."    
When Rev. Yolanda Norton (M.Div., 2010 & MTS, 2011) came to study at Wesley in the mid-2000s she felt called to parish ministry. But as she progressed through her first semesters of the Master of Divinity program, something began to change. She felt God calling her to a career shift, from the parish to academia.
Norton was a recipient of the Governor's scholarship while attending Wesley, a gift that paved the way forward for her studies. When she began her degree, Norton worked full time while also studying full time.
"Receiving a scholarship from Wesley allowed me the freedom to fully pursue my calling," Norton said. "I was gradually able to move from full-time employment to part-time and eventually leave my job to focus on my studies. I don't know that I would have had the courage to pursue ministry if I didn't have certain financial support from Wesley."
Norton's unique call to theological academia was supported and confirmed by her experiences with faculty at the seminary.
"I realized that the faculty at Wesley were more formative for me than any ministry leaders," she said. "I also realized that there are not many African American women in the academy. Those two things helped me realize that I could pursue a calling to academia and have a great impact on the church that way."
Part of Norton's understanding of her new call came through experiences with Dr. Denise Dombkowski Hopkins, Wesley's Woodrow W. and Mildred B. Miller Professor of Biblical Theology. Dombkowski Hopkins led Norton's colloquy class, as well as multiple independent studies over the course of Norton's time pursuing both a Master of Divinity and Master of Theological Studies. Norton worked as a teaching assistant in Dombkowski Hopkins' Introduction to Hebrew Bible classes and enrolled in her Bible and Pastoral Theology course.
"In the classes I taught, I watched Yolanda awaken to the power of the Bible to form persons for good or ill and to transform her own life," Dombkowski Hopkins said. "I was concerned that even with Wesley scholarship aid, she was burning the candle at both ends with part-time jobs for a time. Scholarship aid is so important to allow room for students to dig deeply into their studies without the distractions of sleep deprivation and financial worry."
In classes with Dombkowski Hopkins, Norton's understanding of the Bible and the role of biblical interpretation likewise evolved.
"Denise's classes helped me see the way the Bible really does impact people's everyday lives, both explicitly and implicitly," Norton said. The courses helped unpack some of the ways biblical texts are romanticized and often overlook voices of the marginalized, she said.
"When I started at Wesley, the Bible was just something I encountered," Norton said. "I thought the text was universally prescriptive, but what I learned was that it is more descriptive and doesn't have all the answers. That became really key for me."
Since graduating with two degrees from Wesley in 2010 and 2011, Norton completed studies for a Ph.D. in Hebrew Bible in the Graduate School of Religion at Vanderbilt University. She will defend her dissertation in spring 2018.
Norton's own scholarship as an assistant professor of Old Testament at San Francisco Theological Seminary applies a womanist perspective to the Hebrew Bible. The "messiness" of the Hebrew Bible and the need to contribute the voice of black women to its interpretation is what attracted Norton to this specific area of scholarship, she said.
"My core and how I approach scholarship was formed at Wesley," Norton said. "The idea of being free to be a scholar whose work can live in the world is rare. For me as a burgeoning scholar, I have a sense of pride that the faculty who formed me are formidable and yet, they are doing work that is relevant in the world and in the lifeblood of the church." 
Even after graduation, Norton and Dombkowski Hopkins' relationship continues as they exchange ideas and insights as biblical scholars.
"I would hate to think that a voice like Yolanda's might have been lost to academia without the scholarship aid she received from Wesley," Dombkowski Hopkins said. "She will make a difference in the lives of many."
*Students like Norton rely on scholarship dollars to make their education at Wesley possible. We invite you to consider making a gift today to this year's Luminary Scholarship Effort as we reach toward our goal of raising $60,000 in assistance to students. 
­­­­­