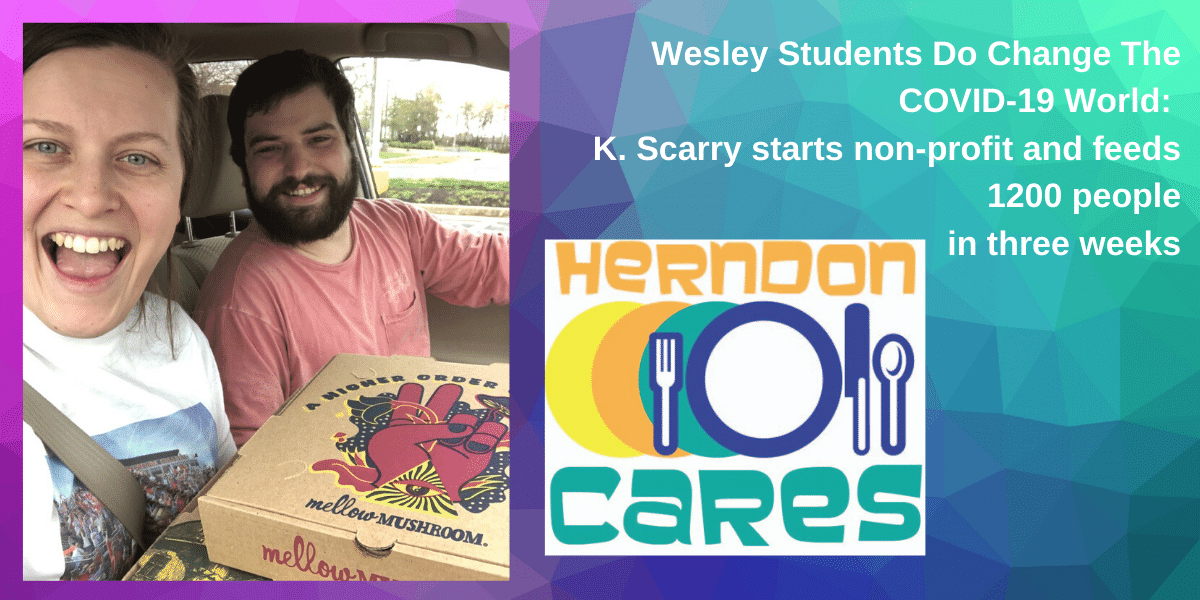 Making a Difference During COVID-19, One Meal At A Time
 Photo: K. Scarry (left) takes Herndon Cares' first food delivery to a family in need.
April 21, 2020 - Third year Master of Divinity student K. Scarry saw a need in her community in Virginia during COVID-19, and decided to meet it. Her three-week old non-profit, Herndon Cares, a partnership between area churches, restaurants and volunteers,  has delivered 1200 meals so far to area people in need. We asked her to tell us more about Herndon Cares.
WTS: What is the new ministry you have created to respond to the COVID-19 crisis?
K: We've created an organization called Herndon Cares, where we buy meals from local restaurants and distributed them to families in the community who don't have enough to eat. 
WTS: I understand your organization involves a partnership with local restaurants to offer take out meals for families in need. What was the inspiration for this much-needed ministry?
K: I think we were aware of all the projections of economic strain on folks, and the fear for local businesses, and we wanted to think of ways to meet both needs- taking good care of our neighbors. For me, I think of it as the work of relinquishing privilege for the sake of the whole community. I am a person who isn't worried where my next meal is going to come from. So, I can spend the time I'm not worried about that by helping to make sure that at least one night a week, others aren't worried either.
WTS: What communities are you serving with this ministry aka where are they located? 
K: In a technical sense, they are in the zipcodes: 20171, 20170, 20190, and 20194. The reason we chose these are that these are where the families from the Herndon High School Pyramid schools live. 
WTS: A initiative like this takes a lot of partnerships. Who are your partners (churches, restaurants, etc.)? How did you bring together all these partners? 
K: We have so many partners at this point. I am a member of the First Baptist Church of Herndon, where Herndon Cares is officially housed. We have had help and support from: Herndon United Methodist Church, Floris United Methodist Church, Washington Plaza Baptist, Trinity Presbyterian, Holy Cross Lutheran Church, St. John Neumann Catholic Church, Northern Virginia Hebrew Congregation, and Christ Fellowship Church.
Once I started to notice how many people were responding that they were in need, I reached out early on to the Herndon Reston Clergy group our church is part of, and offered a zoom call to explain what we were doing and how they could be part.
Churches have been really excited and active. We continue to have new churches jump on board regularly.
We have a group of 13 and counting restaurants on board, listed on our website.   Basically, a team of volunteers called restaurants to explain what we were working on, and to see if this would be helpful/if they'd like to be part of it. We tried to have those conversations as we were building the scaffolding for this work so that we would be able to make sure we were helping the restaurants as well.
WTS: How does it work? How do you connect with families in need who need your service? How is the food distributed?
K:  Yeah, so, it works in a number of ways actually. We have a Google Form that people can fill out to receive a meal: basically, it asks how many people are in their family, any dietary restrictions, and whether they can pick up their meal or if they need it delivered. Local businesses, schools, and faith communities have shared this. Then we have a window of time, between 4:00-6:00 on Tuesdays, where meals have been ordered and people can go say their name, and they'll receive a meal for their whole family that aligns with their dietary needs. If they need it delivered, we have volunteer delivery drivers who go pick up the meals for folks and take it to their homes.
We also noticed that certain low income apartment complexes have a number of people who live there and don't have access to transportation, so we have set up a distribution site for those families as well. We have volunteers pick up a bulk number of meals, and then we have a list of people who have signed up, and people can come get their meal.
We also have a sign up sheet there for anyone who needs a meal but wasn't already on our list. We distributed 65 meals our first week, 450 last week, and are distributing more than 800 meals tomorrow. 
WTS: Have you needed to engage volunteers? How did you arrange that? 
K: Similarly, we have a Google Form (I love the Google Form life) that volunteers could fill out, and we included a list of volunteer needs that they could select which they had interest/capacity for. We had 50+ people sign up to help, after this was distributed through community social media and through churches.
We send out a signup genius link each week and let people sign up to help us by translating materials, contacting families, doing delivery drives, assisting at the distribution site. We then send them everything they need to be able to do their particular role. We also have volunteers who are restaurant + delivery driver point people, to troubleshoot whatever might come up during our delivery time. 
WTS: How long has your ministry been in operation? Do you have any idea how many people have been served? Any unexpected outcomes from this initiative? Will this continue post-COVID-19?
We have been in operation about 3 weeks, and will have distributed 1,200 meals after this week. We have also served 10 restaurants.
I think there are residual affects as well here, needs we weren't intending to meet: like offering something meaningful people can give their time to, or something for those who have been laid off or furloughed that really matters.
Our plan is to serve meals this way until the current Virginia Stay at Home Order is lifted, on June 10. Then, recognizing that that will not be the end of the financial difficulties, we will pull together a team of volunteers, restaurant owners, meal recipients, and faith leaders to help us come up with the next iteration of this work that serves our community well. 
WTS: Do you need additional help? More restaurants? More ways to outreach to people in need? Donations? If so, how can people find out more about your ministry to access your services or to partner with you? Do you have a website or social media platform I can share?
K. Oh, we definitely could use donations, that's for sure. We are on Instagram and  Facebook (both are 'Herndon Cares') and our website is https://herndoncares.org 
On the website there is a button that says "volunteer here" that should work! Partners can fill out the contact form on the website or reach out to me directly at kescarry@gmail.com.
WTS:How has Wesley prepared you for this moment of service at a time of great need? 
K: I like to think of these last 3 years as a seminary without walls- so yes, Wesley is where I've been in school. I also consider my work at the non-profit The Dinner Party + The People's Supper a seminary of sorts (The Dinner Party is connecting folks in their 20s and 30s who have experienced significant loss to navigate life after loss in community. The People's Supper connects people across lines of difference for meal and story sharing.) 
All of this learning has contributed to the ways I am thinking about this work- helping me consider whose voice might not be heard, how to build real relationships in the community, and how to weigh the need for thoughtfulness in the work but also the need for urgent response. I think I also feel well prepared for this work in that it is being built as we go, in a sense- so the work of paying real attention, and shifting accordingly, has been significant here. 
Join K. and others who find in Wesley a seminary that supports students following their passion and unique way to serve God and others. Wesley prepares its students to innovate and  "think outside the box" when it comes to meeting the needs of the people of God wherever - in church settings, in non-profit agencies and the government sector.
One of our programs, the Community Engagement Fellowships, enables students to bring their dream of service alive while studying, with a $10,000 stipend to assist in this effort. Wesley students have started non-profits while still students, and continue their work beyond graduation.
As well, Wesley seeks to ensure your theological education can fit your studies into your busy work, family and professional life.
PLEASE NOTE: Due to the COVID-19 crisis, Wesley Theological Seminary announced on March 19, 2020 that all its courses will remain online for the remainder of the term, and will continue to offer online courses until further notice. Please check back at this website for further information on class status.
Courses are offered in ways to make study possible for all -  presently, Wesley has an all online Summer Term course selection. Registration is now open for both Summer and Fall term classes.
When able to meet on campus, Wesley also offers hybrid (on campus/online), weekends and evening classes. Learn more and apply by going to https://www.wesleyseminary.edu/admissions/try-a-class-2/
We are currently accepting applications for Master of Divinity, Master of Theological Study and Master of Arts programs, as well as our Doctor of Ministry degree programs.