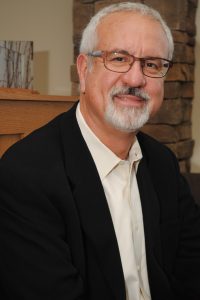 M. Daniel Carroll R. (Rodas)
Blanchard Professor of Old Testament, Wheaton School of Theology
Dr. Carroll Rodas is half-Guatemalan and was raised bilingual and bicultural. In his youth, he spent many summers in Guatemala and later taught at El Seminario Teológico Centroamericano in Guatemala City for thirteen years. The realities of Central America sparked Dr. Carroll's fascination with the Old Testament. The relevance of the biblical text for the challenges of poverty, war, and politics in those developing countries led him to a passionate focus on Old Testament social ethics and to a deep appreciation for the unique contributions that ethnic minorities, women, and the global church make to the interpretation of the biblical text. 
Before coming to Wheaton, Dr. Carroll taught Old Testament at Denver Seminary for many years and founded a Spanish-language lay training program there. Dr. Carroll has been teaching on the Bible and immigration for many years and has been involved in Hispanic church ministry. He has authored and edited fourteen books, including Christians at the Border: Immigration, the Church, and the Bible and a major commentary on Amos, and has published articles in both English and Spanish journals. 
M. Daniel Carroll R. (Rodas)
Blanchard Professor of Old Testament, Wheaton School of Theology 
El Dr. Carroll Rodas es medio-guatemalteco (su mamá era de Guatemala) y fue criado bilingüe y bicultural. Pasó muchas vacaciones de su juventud en Guatemala y posteriormente enseño por trece años en el Seminario Teológico Centroamericano en la ciudad de Guatemala. Las realidades de Centroamérica despertaron en el Dr. Carroll una fascinación por el Antiguo Testamento. La pertinencia del texto bíblico para los desafíos de la pobreza, la guerra y la política en esos países en desarrollo le llevó a que se concentrara en la ética social del Antiguo Testamento y a un profundo aprecio por el aporte único de las minorías, las mujeres y la iglesia global a la interpretación del texto bíblico. 
Antes de llegar a Wheaton, el Dr. Carroll fue profesor del Antiguo Testamento en el Seminario de Denver por trece años y fundó un programa en español para el entrenamiento de laicos. Ha estado enseñando sobre la Biblia y la inmigración por muchos años y se ha involucrado en el ministerio de las iglesias hispanas. Es autor y editor de catorce libros, incluyendo Cristianos en la frontera: La inmigración, la iglesia y la Biblia y un comentario académico sobre el profeta Amós. Ha publicado artículos en revistas en inglés y español.