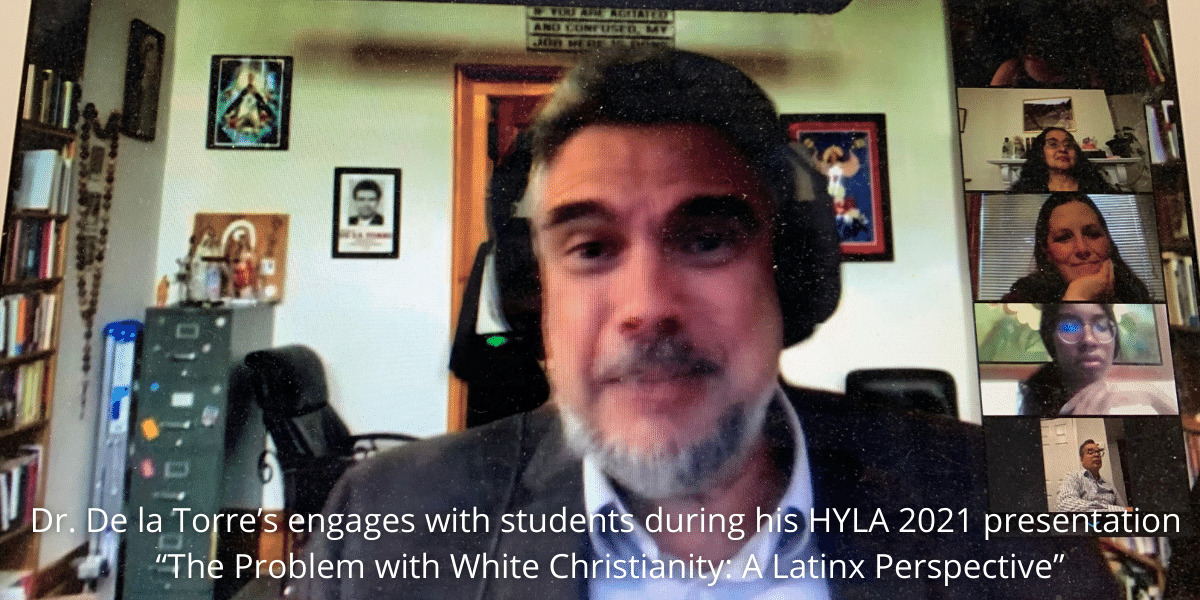 Wesley partners with the Hispanic Youth Leadership Academy to host 4-day workshop for college students and grade school students
For the third year in a row, Wesley Theological Seminary partnered with the Hispanic Youth Leadership Academy (HYLA) to host a group of Hispanic/Latinx young people.
HYLA's goal is to "support young Latinx to discern their calling to ministry through the pursuit of higher education, awareness of social issues, spiritual and mental growth, as they lead their communities". HYLA is a non-for-profit that was started at Perkins School of Theology by Dr. Cristian De la Rosa (a '89 Wesley alumnus) who now is on the faculty at Boston University School of Theology.
This year's sessions (July 12-15, 2021) were held via Zoom because of the pandemic. 35 young people participated over the four sessions with the theme: "Identity Formation for Young Hispanic/Latino/Latina/Latinx Within the Context of White Supremacy."
Small group break-out sessions, a  panel of Latinx young adult community leaders with Q & A, and a keynote address by Dr. Miguel De la Torre, Professor of Social Ethics and Latinx Studies at Iliff School of Theology were highlights of the event.
Dr. De la Torre's talk was entitled "The Problem with White Christianity: A Latinx Perspective" and he encouraged the young people to de-colonize their minds, to work for real change--not just a spiritual understanding of hope--rather to be "tricksters" willing to take on the system of domination.
De la Torre asserted that "people of color can learn how to see through white yes and in many cases could become the major defenders of white supremacy." He emphasized that to be colonized is to "see ourselves and interpret ourselves through the eyes and the definitions imposed upon our bodies by the dominant culture."  De la Torre encouraged the young people to decolonize themselves and challenge white Christianity.
He clarified that by "white Christianity" he was not talking about "skin pigmentation," rather he used this as an ontological term to refer to the powerful. De la Torre said: "So the first thing that I have to do, if I seek liberation, is the decolonization of my own mind."
Wesley Theological Seminary is currently accepting applications for Master of Divinity, Master of Theological Study and Master of Arts programs, as well as our Doctor of Ministry degree programs.
Our latest D.Min. track, beginning May 2022,  is"Fe y la esfera pública en el contexto Hispano/Latino - Faith and the Public Square in the U.S. Hispanic/Latino Context" - for more information, contact The Rev. Dr. Chip Aldridge at caldridge@wesleyseminary.edu.
If you would like to try a class, there is still time to take a Fall class online, on campus or in hybrid format, as the campus reopens on August 15.
Learn more and apply by going to https://www.wesleyseminary.edu/admissions/try-a-class-2/
For more information about any of Wesley's programs, contact Admissions at (202) 885-8659 or admissions@wesleyseminary.edu or chat with our Admissions staff via UChat on the Wesley website homepage, wesleyseminary.edu.