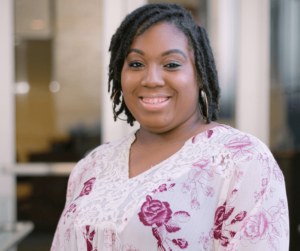 Meet 1st year Master of Divinity student and Community Engagement Institute (CEI) Fellow Janaye Page.
Janaye is a native of Capitol Heights, MD. She earned a Bachelor of Science in Rehabilitation Services from the University of Maryland Eastern Shore in 2011.
Janaye's journey to Wesley began early,  after she revealed to her pastor, Wesley alumnus Reverend G. Sylvester Gaines, that she also wanted to be a pastor. "Over the years he gifted me with Wesley paraphernalia which reminded me of my former declaration," Janaye shared. It was those reminders and nudges from God that led Janaye to pursue the Missio Dei.
The diversity of the CEI Fellowship and its kinesthetic learning environment was a draw for Janaye. "I was adamant about having a diverse seminary education experience and I knew that the program would offer tangible experiences both inside and outside of the classroom, while helping me to develop theologically. The Fellows program focuses on innovative ministry practices that help to transform communities and build bridges between the church and urban communities. This is the program for me as it prepares emerging leaders to engage complex issues that are facing urban communities today," Janaye said.
Meet the People of Wesley