The mission of Wesley Theological Seminary is to equip persons for Christian ministry and leadership in the church and the world, to advance theological scholarship, and to model a prophetic voice in the public square.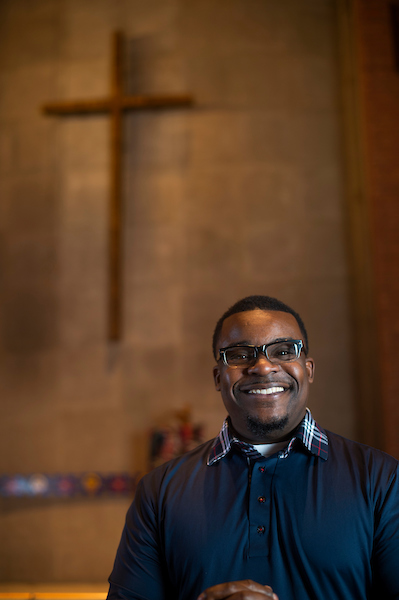 Meet soon-to-graduate M. Div. student the Rev. Lamar McIntyre. The joy of the Lord is evident in Rev. Lamar, and the Wesley Community has experienced his powerful preaching as part of the Wesley student preaching initiative.
A Washingtonian by birth, Rev. Lamar earned a BA in Christian Leadership from Faith Bible College and Seminary (Washington, DC).
Rev. Lamar experienced strong Christian leadership models in his parents, Rev. Earline McIntyre and Bishop John B. McIntyre. Together, the three of them co-founded Courts of Praise Christian Church (Upper Marlboro, MD) where Rev. Lamar is now the church's senior pastor.
When he knew "it was time for me to gain more education, both for the church and for myself," Rev. Lamar chose Wesley after participating in a Window on Wesley open house event with his wife, Keishashe.
"Upon visiting Wesley, I said 'this is it!", " said Rev. Lamar. " The love that I received, the diversity that I saw, the opportunity for funding through the Satterwhite Scholarship, was amazing," he remembers.
"That Wesley offered a scholarship geared toward educating African American students who are practicing ministry, caused me to turn down any other offers that I received," he said.
Meet the People of Wesley