The Wesley FlexMA will make it possible.
Called to both a professional plus ministerial life? Making a difference in non-profit/advocacy ministry but want more theological grounding? Looking for a graduate degree you can design?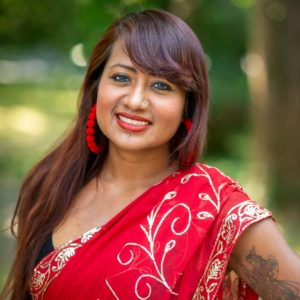 Meet 3rd year Wesley Master of Theological Studies student Arunjana Das.
Originally from Assam, the land of tea in India, Arunjana comes to Wesley after completing a B.Tech. in Mechanical Engineering from the prestigious Indian Institute of Technology in New Delhi, India, an M.A. in Journalism and Public Affairs from American University in Washington, D.C., and a  Diplôme d'Université  (University Diploma – equivalent to an M.A. in the US) in International Nuclear Law from the University of Montpellier, France.
What brought Arunjana to Wesley? "I chose Wesley primarily because Wesley encourages its students to cultivate a critical mind, a loving heart, and a faithful spirit. This is exemplified by the brilliant cadre of faculty and the exciting catalogue of courses that Wesley offers every semester," said Arunjana.
Wesley's diverse and welcoming community has deeply impacted Arunjana's journey the most during her time at Wesley.
"The most impactful component at Wesley has been the people – this includes the faculty, the administrative staff, the students, and others who have dedicated their time and energy to making Wesley a truly inclusive seminary!" shared Arunjana.
"During my time at Wesley, I have had the blessing of experiencing contextual theological teachings that have inspired me to read the Bible critically, but, at the same time, understanding the humanness of the writers and appreciating the divinity of the source. The combination of brilliance and compassion of Wesley's faculty is very difficult to find, especially in academic settings," shared Arunjana.