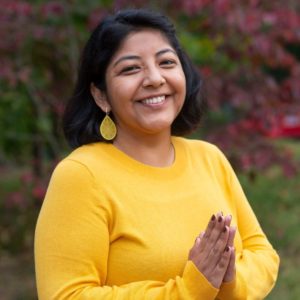 ---
---
Meet Kenia Vanessa Rodriguez, Esq., an immigration lawyer and a Wesley 3rd year M.Div. student,
anticipating graduation in May 2021. 
Vanessa is well known around campus, as one of the founders of the Gente Latinx Seminarians Association (GLSA) in 2018, a group that has been very active in their
support of Latinx students on campus and raising understanding of the Latinx Community to the Wesley Community.
Vanessa served last year as GLSA's Co-Director, and continues service to Wesley this year as Vice President of the Student Council Executive Board (2020-2021).
Vanessa was born in Bolivia but raised in Fairfax, VA from the age of 3 years. She holds a BS in Business Administration and a BS in Computer Information Systems from American University (Washington, DC) and then earned a JD from American University's Washington College of Law.
"Location was key" in Vanessa's decision to choose Wesley. She knew Wesley from studying next door at American University.
She felt welcomed when she visited Wesley and was struck by Wesley's "community and openness to diversity.
For Vanessa, community is very important. "As a Latina, community is a pillar of my being and thus, establishing that and fostering that in all my spaces and places is elemental," she noted.
As she approaches her Wesley graduation, she sees that she has been changed by her experiences at Wesley. "The most impactful experience I had at Wesley, aside from the courses and community, was the MLK immersion I did in January 2021," said Vanessa. Her field education experience – known as PMM at Wesley – was also powerfully affecting. She served in two hospital chaplaincy settings for her PMM, and she discovered a real passion for hospital chaplaincy, and hopes to be able to continue to be involved in chaplaincy in the future.
Meet the People of Wesley