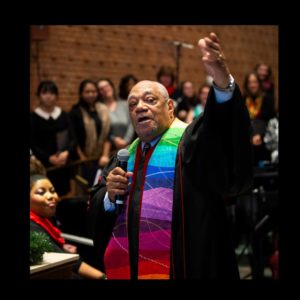 ---
---
This week, there is a Wesley community member who is uppermost  in our minds - The Rev. Dr. William Bobby McClain, Wesley Professor Emeritus of Preaching and Worship, who passed November 18, 2020. Dr. McClain taught generations of students during his 34 years at Wesley, and so many lives and ministries have been impacted by him. We felt it was fitting to have Dr. McClain as this week's Face of Wesley.
Dr. William Bobby McClain earned his B.A. degree, summa cum laude, at Clark College, Atlanta. His Master's and doctoral degrees were earned at Boston University School of Theology.
In 1978, Dr. McClain established and served as the executive director the MultiEthnic Center for Ministry at Drew University, Madison, New Jersey. There, he wrote Travelling Light: Christian Perspectives on Pluralism. 
In 1999, he was named to the Mary Elizabeth McGehee Joyce Chair in Preaching and Worship at Wesley Theological Seminary, the first fully endowed chair in the seminary's history, where he taught preaching and worship for 34 years.
Professor McClain met Dr. Martin Luther King, Jr., in Montgomery, Alabama, where Dr. King was pastoring and McClain was a teen-aged preacher in his hometown of Gadsden, Alabama.
From 1968 to 1978, Dr. McClain, an ordained minister in the United Methodist Church, served as senior pastor of the historic Union United Methodist Church in Boston. In that same period, he taught at Boston College, Harvard University, Northeastern University and Emerson College.
Meet the People of Wesley