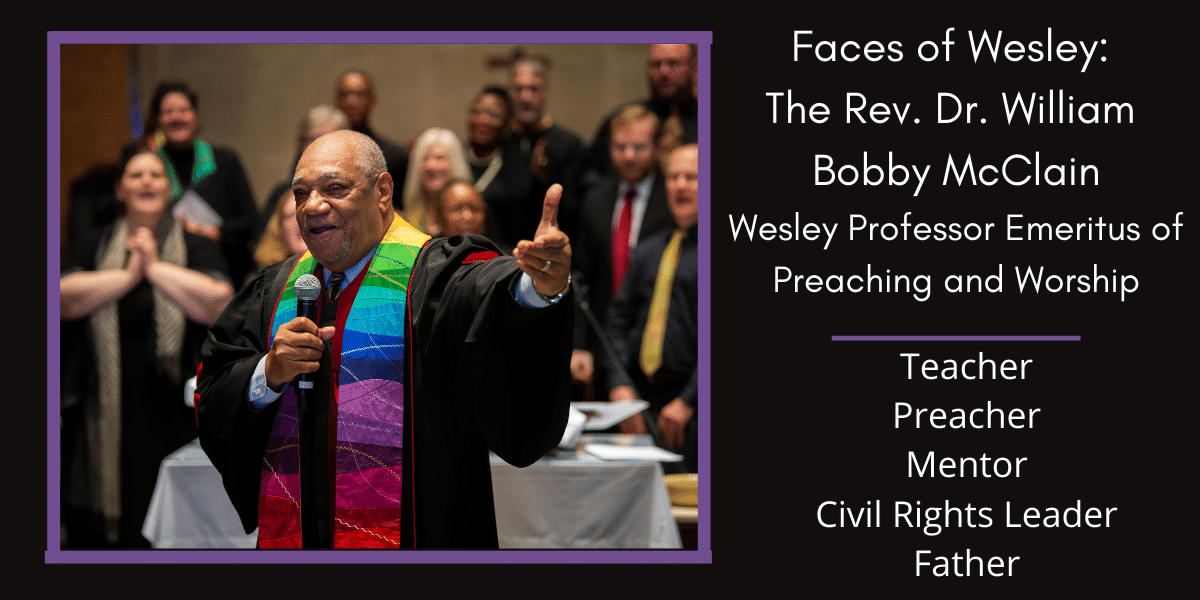 This week, there is a Wesley community member who is uppermost  in our minds - The Rev. Dr. William Bobby McClain, Wesley Professor Emeritus of Preaching and Worship, who passed November 18, 2020. Dr. McClain taught generations of students  during his 34 years at Wesley, and so many lives and ministries have been impacted by him. We felt it was fitting to have Dr. McClain as this week's Face of Wesley.
Dr. William Bobby McClain earned his B.A. degree, summa cum laude, at Clark College, Atlanta. His Master's and doctoral degrees were earned at Boston University School of Theology. He conceived of and chaired the committee which produced the hymnbook, Songs of Zion, that sold more than 2.5 million copies and changed the composition of Christian hymnals of every denomination. He then co-chaired the committee for the sequel to Songs of Zion: Zion Still Sings! For Every Generation. After the publication of Songs of Zion, he wrote Come Sunday: The Liturgy of Zion, and later completed The Preaching of Zion: The African American Church and The Bible, the third book in the Zion trilogy.
In 1978, Dr. McClain established and served as the executive director the MultiEthnic Center for Ministry at Drew University, Madison, New Jersey. There, he wrote Travelling Light: Christian Perspectives on Pluralism. He is also the author of Black People in the Methodist Church: Whither Thou Goest? and with the late Dr. Grant Shockley and Dr. Karen Collier, Heritage and Hope: African American Presence in Methodism. In 1991, his Clark Atlanta University alma mater awarded him the Doctor of Divinity degree in recognition of his achievements in religion and civil rights.
Dr. McClain joined the faculty of Wesley Theological Seminary in 1981, where he taught preaching and worship for 34 years.  In 1999, he was named to the Mary Elizabeth McGehee Joyce Chair in Preaching and Worship at Wesley, the first fully endowed chair in the seminary's history. He was the commencement speaker for Wesley's Commencement in 2013, held at Washington National Cathedral on May 13, and retired from the seminary on December 31, 2013 as Professor Emeritus.
Professor McClain met Dr. Martin Luther King, Jr., in Montgomery, Alabama, where Dr. King was pastoring and McClain was a teen-aged preacher in his hometown of Gadsden, Alabama.
After completing his seminary degree at Boston University, where King had previously received his doctorate, Reverend McClain returned to Alabama in 1962 to work with King and the civil rights movement and to serve as pastor of Haven Chapel Methodist Church in Anniston, Alabama, where he remained until returning to graduate school at Boston University in the fall of 1964. From 1968 to 1978, Dr. McClain, an ordained minister in the United Methodist Church, served as senior pastor of the historic Union United Methodist Church in Boston. In that same period, he taught at Boston College, Harvard University, Northeastern University and Emerson College.
While at Union UMC, he and the Rev. Warner Traynham of St. Cyprian's Episcopal Church in Boston organized the nation's first Martin Luther King, Jr. Memorial Breakfast on January 15, 1970. To this day, it is Boston's go-to event every January. From 2001-2003 Dr. McClain served as the Senior Pastor of Philadelphia's Tindley Temple United Methodist Church where the great Charles Albert Tindley served as pastor and wrote many of his famous and beloved Gospel songs.
Called on frequently to lecture and preach in major pulpits and universities throughout this country and abroad, he preached in Africa, Asia, the West Indies, New Zealand, and Europe. Professor McClain opened the 126th season of the New York Chautauqua Institution in 2000 as Keynote Preacher and Chaplain-in-Residence with thousands in attendance to listen to his preaching each day.
Dr. McClain is survived by his wife, the former Jo Ann Mattos, who was the executive administrator of the Council of Bishops of The United Methodist Church for more than 12 years, and his two sons, William Bobby McClain, Jr. and David Wilson McClain. Dr. McClain will live on forever in the hearts and the preaching ministry of the generations of students he taught and mentored. May his soul rest in power.
Faces of Wesley is a weekly profile of one of the members of our Wesley Community - faculty, students, alumni, staff, administration and other friends of Wesley.  You can read it weekly on our Facebook or Instagram platforms or on our website's home page.