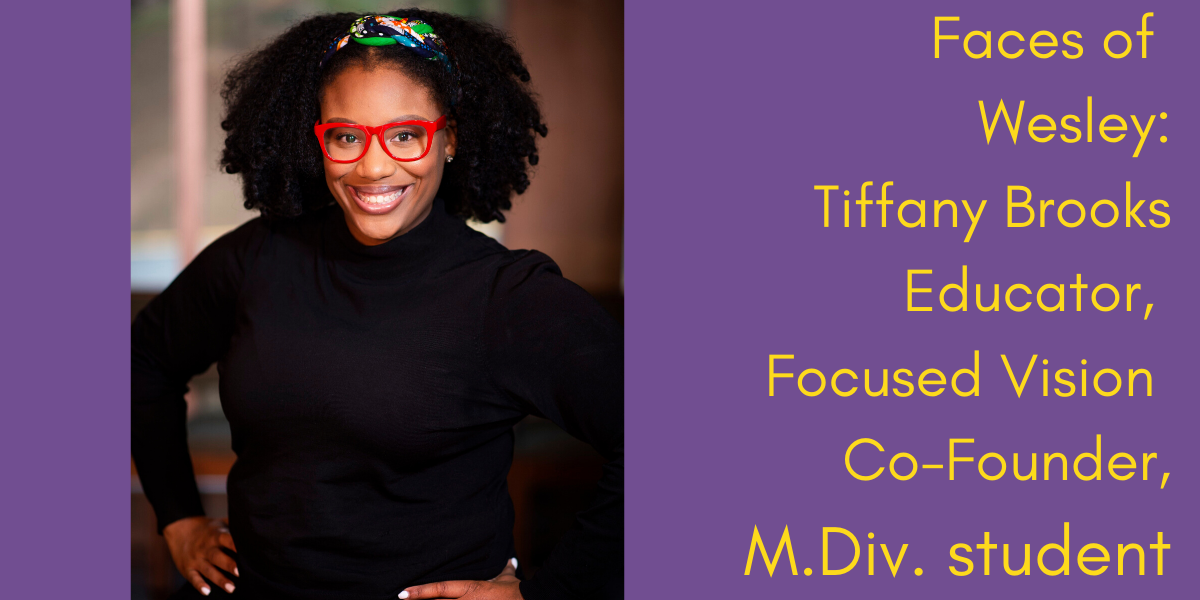 Meet 3rd Year Master of Divinity student Tiffany Brooks. While Wesley has been selected again as a Seminary That Changes The World, Tiffany is an example of a Wesley Seminarian That Is Changing the World. Tiffany is not waiting for Commencement – she is already a ministry innovator and pioneer in serving children and communities, and a woman of vision and determination.
Tiffany has earned a Bachelor of Science in Kinesiology (University of Maryland, College Park) and a Master in Education (American University). She remembers discovering Wesley while speaking with one of her mentors. "He had a map of AU on his desk, and on it, I saw Wesley. In that moment, though it was random, it drew me in. Once I did more research, I knew that Wesley was where I wanted to go," said Tiffany.
In addition to her studies, Tiffany is Minister to Young Adults at Reid Temple AME in Glendale, MD, Wesley Innovation Hub Student Research Associate and a member of the Change Makers Project.  As the Co-founder of the non-profit organization, Focused Vision, Tiffany is working to fight against Food Apartheid through education, quality curriculum development, and GIS Data analytics. "Our current focus is creating agriculturally sustainable models in communities of color with information that is native to us and combining it with new age technology like hydroponics and aquaponics," said Tiffany. Tiffany's vision is to ensure a world that is sustainable for both the marginalized and disenfranchised, and for all.
An educator with both academic formation and classroom experience, Tiffany has worked to improve education by creating culturally inclusive curriculum for students of color that focuses on the continent of Africa and African Diasporic information and history, and aligns it with the core subjects of math, art and social studies etc. Her teaching curricula and research has been presented in  North Carolina and Brazil.
Tiffany has been enriched by her degree specialization at Wesley. "The African American Church Studies program at Wesley has helped affirm who I am as a black woman, an academic and theologian," she said. Tiffany has learned how to combine and utilize both her passion for education and theology at Wesley. "I've learned at Wesley that innovation is possible and you can marry different parts of who you are, and that all of those different parts can all equally give God glory."
Something not known about Tiffany? "A lot of people do not know that I am Jamaican American, it's a huge part of who I am. I am also very artsy," said Tiffany. "I sing and I have trained in Ballet, African and Jazz dance."
Tiffany lives by Isaiah 55:10-11, "This scripture reminds me of my being as a creation of God, and it encourages me in the work that God has called me to do, so that I don't return it back to God void. This scripture gives me greater purpose," said Tiffany. Regarding the work that she has been called to, she works to hear God say, "well done, my good and faithful servant." " It's a privilege to be able to do the work of the Lord and I don't take that lightly." #Jamaica #education #FocusedVision #AfricanAmericanChurchStudies #FacesofWesley
Do you  feel called to be an innovator in ministry? Do you want your ministry to support the Beloved Community  Find a seminary that supports innovation and students following their passion while still studying at Wesley. See how Tiffany and others in the African American Church Studies specialization are creating new, community-affirming initiatives that are transforming lives. Some students are part of the Community Engagement Fellows project, providing up to $10,000 to each Fellow to help start a non-profit or ministry that can be developed while you study.  
Wesley seeks to ensure your theological education can fit your studies into your busy work, family and ministerial life.
Courses are offered in ways to make study possible for all - online, hybrid (on campus/online), weekends and evenings. Complete  intensive one- and two-week courses for credit during our J-Term each  January.  Learn more and apply by going to https://www.wesleyseminary.edu/admissions/try-a-class-2/
We are currently accepting applications for Master of Divinity, Master of Theological Study and Master of Arts programs, as well as our Doctor of Ministry degree programs.
Faces of Wesley is a weekly profile of one of the members of our Wesley Community - faculty, students, alumni, staff, administration and other friends of Wesley.  You can read it weekly on our Facebook or Instagram platforms or on our website's home page.