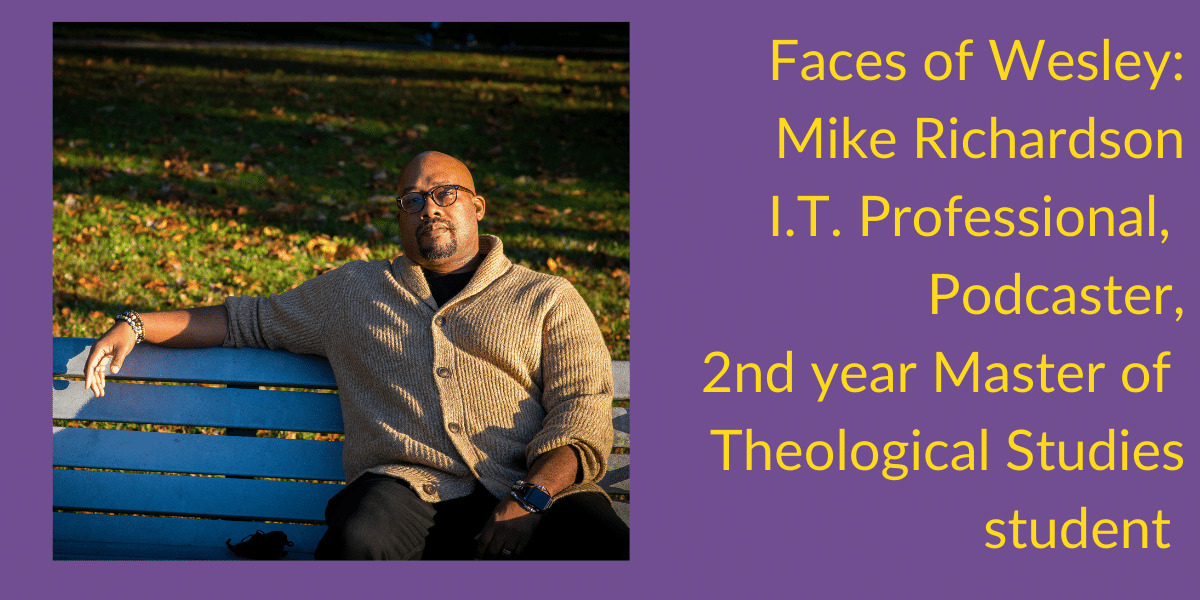 Meet second year Master of Theological Studies student and I.T. professional Mike Richardson.
A native of Washington, D.C., Mike grew up in Princes George's County, MD and earned a B.A. in Psychology (University of Maryland). With over 20 years' experience as a I.T. professional in the Federal Government, he is currently working for the U.S. military.
His podcast, a mutual friend and a conversation with The Rev. Dr. Asa Lee, Dean of Campus Life were steps on the path to Wesley.
"I was introduced to Dean Lee through a mutual friend, whom I met while creating my podcast. I shared with him my theological frustrations and musings. He listened deeply, suggested I read Moltmann and consider attending Wesley. I eventually decided to take a non-degree course with Dr. Josiah Young. The course made a huge impact on me. Two weeks into the course, I decided to enroll in a degree program," shared Mike.
Mike's acquiring of knowledge is not for himself alone. He is committed to helping others expand their theological understanding by exposing them to whole, un-harmful theology. "I am developing an education and discipleship program at the Discover Community Church plant. I plan to pursue a Ph.D. to join the chorus of academics training future faith leaders in the development of healthy and healing theologies," said Mike.
Something we don't know about Mike? "In 2016, I started the Faith Uncut podcast as a cathartic outlet to work through my personal theological development. Creating the podcast, and the relationships formed through it, led me to further my formal theological education. I came to Wesley to expand my theological formation and learn how to form theology. The outstanding faculty and the unique curriculum at Wesley have been impactful, which is why I'm always reading the textbooks of courses I may never take. If I could, I would take every class!" shared Mike.
A quote that resonates with Mike? "Fannie Lou Hamer's words, '"Nobody's free until everybody's free," are always at the forefront of all of my social justice and theological work. We may not reach this goal in my lifetime, but I want to do my part to get us closer,' said Mike. #faithseekingunderstanding #theology #IT #podcasts #FacesofWesley
Do you feel you're too busy to study at Wesley? Discover how busy professionals like Mike and many others study part-time in non-degree, certificate and degree programs at Wesley. Wesley will work with you to enable you to fit your studies into your busy work, family and professional life.
Currently, full-term Wesley courses are offered online. As well, intensive one- and two-week courses for credit during our J-Term in January 2021 will be offered online. Course registration is now open   - learn more and apply by going to https://www.wesleyseminary.edu/admissions/try-a-class-2/
We are currently accepting applications for Master of Divinity, Master of Theological Study and Master of Arts programs, as well as our Doctor of Ministry degree programs.
Faces of Wesley is a weekly profile of one of the members of our Wesley Community - faculty, students, alumni, staff, administration and other friends of Wesley.  You can read it weekly on our Facebook or Instagram platforms or on our website's home page.