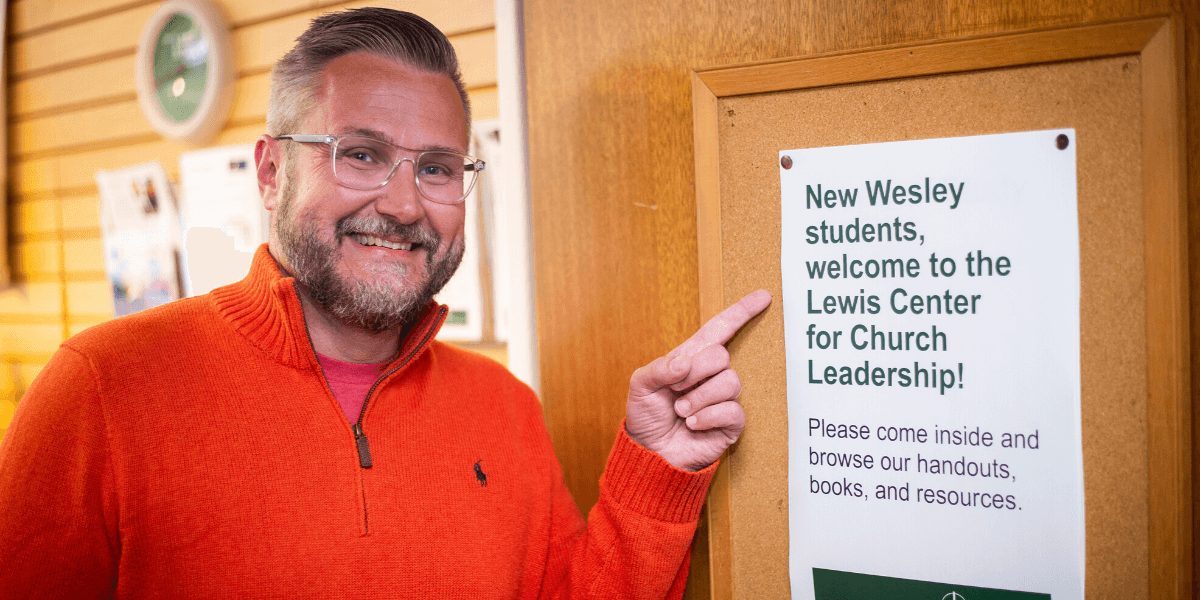 Faces of Wesley: Matt Lyons (MA, Wesley Class of 2010) Marketing Manager, Lewis Center for Church Leadership
Wesley grad Matt Lyons (MA, Class of 2010) has served as the Marketing Manager for the Lewis Center for Church Leadership since August 2010. A Parkersburg, WV native, Matt earned a Bachelor of Arts in Journalism/Advertising at Marshall University ("Go Herd!)." He discovered his major at college. "I took a marketing class, and boom, I knew I'd found my major. After graduation, I worked in marketing and advertising - It's just in my blood - up until the time I started at WTS."
As is often the case, Matt came to Wesley because of his pastor, a WTS grad. "He saw that I was yearning for more in my faith journey, so he brought me to a few "Wesley Breakfasts" in 2003 and 2004 (outreach events). I realized this was the place, and voilà — I started my first classes here in January 2005," he said.
Matt has a "called-to-work-at-Wesley story": "When I graduated in May 2010, I was SO READY to return to the "real world." The challenge was: with a MA in theology and a marketing background, how could I ever find a way to use both? Fast forward three months, and I'm the first marketing manager at the Lewis Center — very neatly tying the bow around my education and background. Wesley just wasn't ready to let me go, and I'm grateful Wesley didn't!," he said. "This place feels like home to me." "For me, the best part of my work for the Lewis Center: 1) I adore the folks I work with, and 2) I know our work is really making a difference in the world."
Matt's little-known secret vice? He is a "huge transit geek."
"I can't tell you how many transit maps I own, and every time I visit a new city, I HAVE TO ride the local rails," he admitted. "I recently added the Valley Metro in Phoenix to my list! It's a sure bet that I'll be there for the opening days of the D.C. Purple Line and Silver Line extension."
Matt "treasures" the following quote that speaks to his heart: "Do good; you will find good."
#marketingman#marketingman#transitgeek#transitgeek#doinggood#doinggood#facesofwesley#facesofWesley
Did you ever want to just try a class at Wesley? Join Matt and many others who study part-time in non-degree, certificate and degree programs. Courses are offered in ways you can fit your studies into your busy life - online, hybrid (on campus/online), weekends and evenings. Complete  intensive one- and two-week courses for credit during our J-Term in January 2020. Learn more and apply by going to https://www.wesleyseminary.edu/admissions/try-a-class-2/
We are also currently accepting applications for Master of Divinity, Master of Theological Study and Master of Arts programs, as well as our Doctor of Ministry degree programs.
Faces of Wesley is a weekly profile of one of the members of our Wesley Community - faculty, students, alumni, staff, administration and other friends of Wesley.  You can read it weekly on our Facebook or Instagram platforms or on our website's home page.