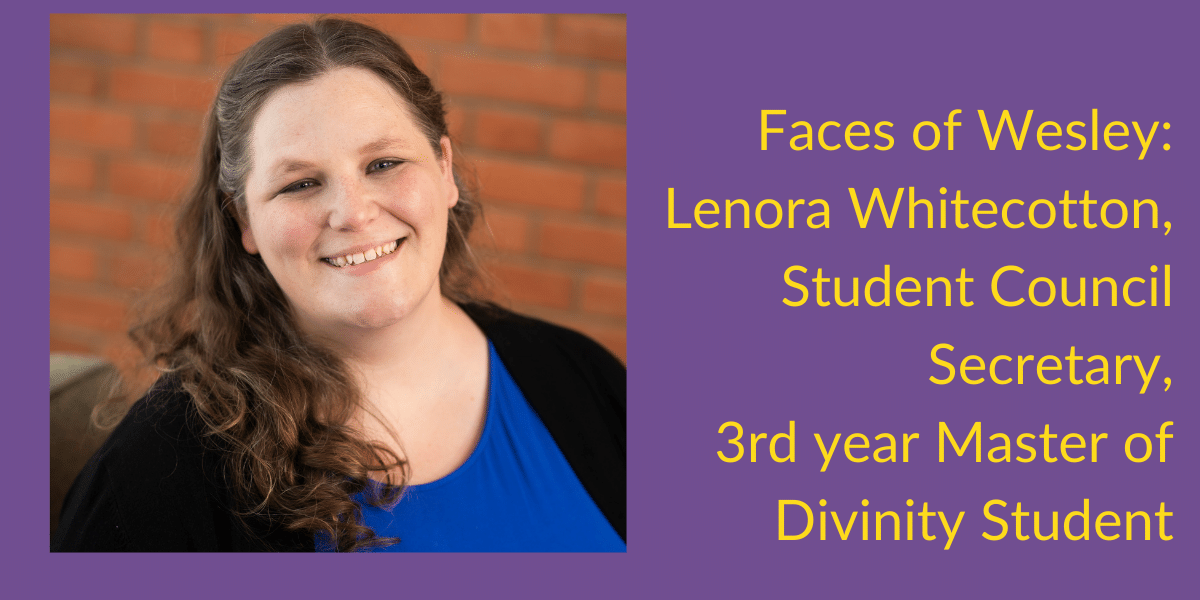 Faces of Wesley: meet third year Master of Divinity student and Student Council Secretary Lenora Whitecotton.
Hailing from Michigan, Lenora earned a Bachelor of Fine Arts in Theatre Performance from Wayne State University (Detroit, MI).
With an innate passion for artistic expression, Lenora often shares her gift of song in community worship as a member of the Oxnam Chapel Choir. Due to Covid-19 and social distancing guidelines, choir members and the Wesley community have been unable to worship in-person as Oxnam Chapel worship has been moved online. Even so, Lenora has hope that one day in-person worship will reconvene. "I've been a part of the choir since the beginning of my seminary journey; I love worshipping in community at Wesley! It is my hope with a mustard seed of faith that we might again worship together before commencement," said Lenora.
Lenora's journey to seminary back in 2018 was one that was both exciting and somewhat uncertain. She remembers having concerns after accepting the call to ministry but recalls that it was the welcoming experience of Wesley's unique community made her choose Wesley.
"Once I had decided to answer the call to ministry, I remember searching for GBHEM/UMC approved seminaries and being intrigued by Wesley. After speaking with Chip and touring the campus with Elijah from the Admissions Office ,many of my concerns were assuaged. I remember the campus tour felt like visiting with an old friend and there was an overwhelming sense of community that was attractive. Wesley's diversity and impressive and obviously caring faculty and staff solidified my decision and confirmed Wesley as the seminary for me. It also didn't hurt that one of my mentors, Rev. James J. Cox is a Wesley alum (Class of '82)," shared Lenora.
Lenora is a certified candidate for ordination as an elder for the Michigan Conference of the UMC and hopes to engagein  multi-cultural ministry, "I feel called to be an Elder and am particularly drawn to multi-cultural ministry. That being said, I will go where I am called!" shared Lenora.
"My experience at Wesley has been one of undeniable transformation," said Lenora, in reflecting on the impact of choosing Wesley for her theological preparation for ministry. " I have learned how to articulate both my theology and my call to ministry. Wesley taught me how to hone my existing skills while also developing new skills. Throughout this journey,  I have made great connections and friends that I will have for life. I am confident in the knowledge that I have obtained and am assured that wherever I end up serving, I will have the lessons, experience, and support of the Wesley community to help guide me," said Lenora.
Something we don't know about Lenora: "As a child, I wanted to be an archeologist and/or a geologist. I would often dig in the yard for 'fossils' and had a rock collection of which I was most proud. While I never pursued either field, there is still something to be said for how this desire for discovery has colored my choices and calling - from acting to exegesis, I am attempting to get to the central character," shared Lenora.
One of Lenora's favorite quotes comes from St. Augustine of Hippo: 'Men go abroad to wonder at the heights of mountains, at the huge waves of the sea, at the long courses of the rivers, at the vast compass of the ocean, at the circular motions of the stars, and they pass by themselves without wondering,'" said Lenora.
"There is a strange dichotomy in the history of humanity. We often view ourselves as the pinnacle of creation yet fail to see that same amazing creation in other human beings. Every human being, from the beginning of time until the Eschaton, has been created in the image and likeness of God. We must remember to marvel at the creation within ourselves, within those around us, and, yes, within the entirety of creation and our role within the created order." shared Lenora. #ChapelChoir #theatre #MI #FacesofWesley
Join Lenora and others who have found at Wesley a community and theological formation that will prepare them for effective future ministry.
Faces of Wesley is a weekly profile of one of the members of our Wesley Community - faculty, students, alumni, staff, administration and other friends of Wesley.  You can read it weekly on our Facebook or Instagram platforms or on our website's home page.