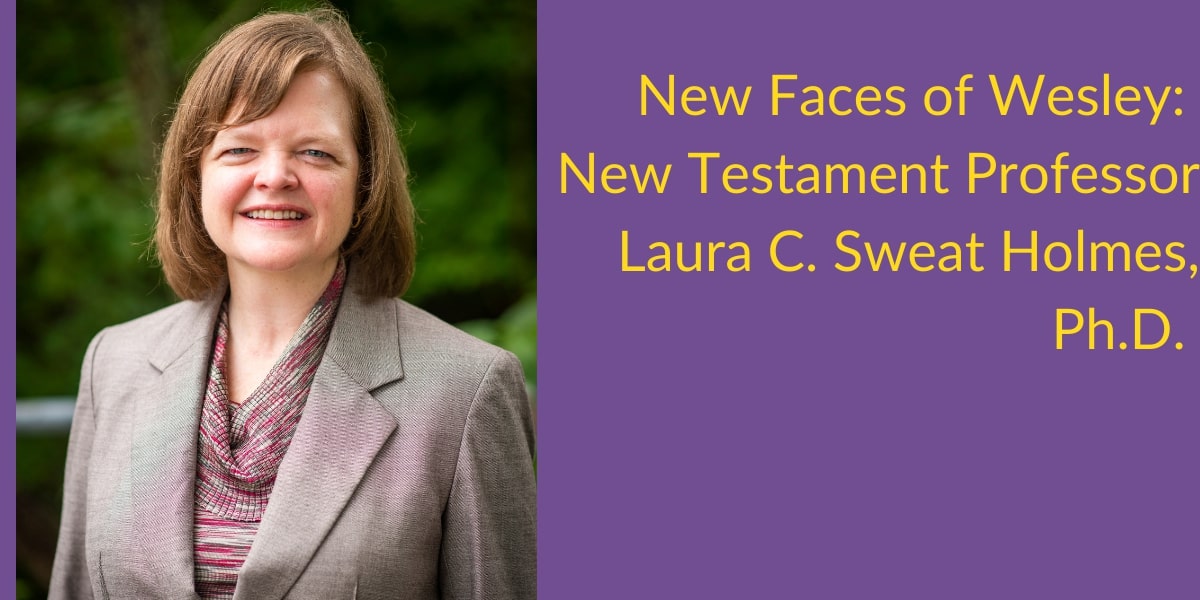 Meet Wesley New Testament Professor Laura C. Sweat Holmes, Ph.D.
New to the Wesley family, Dr. Holmes' unique narrational approach and transformative teaching methods are much liked by students, helping them to understanding the shaping of the Church's formation as they shape and form their personal theology.
Dr. Holmes joined the Wesley faculty in summer 2020. She brings over a decade of teaching experience and academic scholarship to the Wesley community. Dr. Holmes is the former dean of Seattle Pacific University and Seminary in Seattle, WA and an author of two seminal works, The Theological Role of Paradox in the Gospel of Mark (2013) that focuses on the theology of Mark and John 1-12: A Commentary in the Wesleyan Tradition.
Originally born in Texas, Dr. Holmes spent most of her childhood in Kentucky. She has since lived on both coasts, in New Jersey and Washington State.
Dr. Holmes holds a B.A. in Religious Studies and History from the University of North Carolina at Chapel Hill (Chapel Hill, N.C.) and an M.Div. and Ph.D. in New Testament Biblical Studies from Princeton Theological Seminary (Princeton, N.J.).
Dr. Holmes' passion for teaching emerged early in life; as a child, she gave her earliest lectures to her childhood friends. "To my friends' chagrin, I've always been a teacher. They're just glad that I have other students now!" said Dr. Holmes. It was within her first year of undergraduate school that Dr. Holmes realized a burning desire to teach Scripture."Initially, I thought I was going to be a chemistry major! However, I'd later find that I'd become fascinated by the similarities and differences in the Gospels, and the more I learned, the more fascinated I became," remembered Dr. Holmes.
Dr. Holmes' curiosity for and love for the Gospels is evident in her research. "My research has always been attuned to the Gospels as narratives. Though I love all four of the Gospels, Mark and John are my favorites but don't tell Matthew and Luke! I'm also passionate about teaching Scripture for the formation of the church." shared Dr. Holmes
"I find the classroom, and working with students, a space of inspiration, " says Dr. Holmes. "There is so much richness to faith and practice, and I love exploring all of it with students. It is a cliche to say that I learn as much from my students as I teach them, but I find that to be true. Teaching is a way to continue learning about God, Scripture, faith, and the world, and how we put that learning into practices of loving God and neighbor. I love partnering with seminarians in that work. This is even true when our classroom is virtual!" 
Something that we do not know about Dr. Holmes? "My family loves to travel, and we also love to compete. One of our "competitions" is to see who will be the first to visit all 50 states. I've been to 48 states so far. One of the minor consequences of the pandemic was that I didn't get to cross State 49 off my list during our move this summer, as we couldn't take a cross-country road trip from one Washington to the other. Let it be known that such a trip would have allowed my spouse to check quite a few states off his list, so I'm still way ahead (as long as you don't ask about international travel... I've got a long way to catch up there!)." shared Dr. Holmes.
Words that stir Dr. Holmes comes from American poet Emily Dickinson .
"My favorite poem is Dickenson's 'Tell all the truth but tell it slant—.' It was the epigraph to my published dissertation." said Dr. Holmes. 
"Tell all the truth but tell it slant--
Success in Circuit lies
Too bright for our infirm Delight
The truth's superb surprise"
You can read the full poem here: https://www.poetryfoundation.org/poems/56824/tell-all-the-truth-but-tell-it-slant-1263 
#Scripture #narrative #Mark #John #travel #poetry #FacesofWesley
Faces of Wesley is a weekly profile of one of the members of our Wesley Community - faculty, students, alumni, staff, administration and other friends of Wesley.  You can read it weekly on our Facebook or Instagram platforms or on our website's home page.