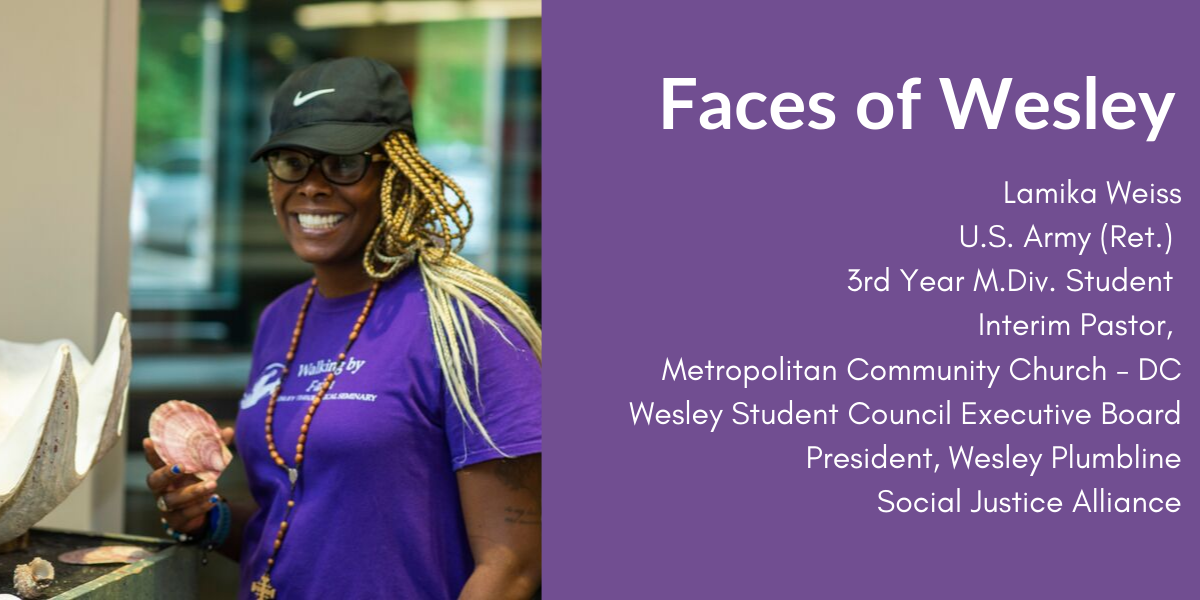 "The joy of the Lord is my strength" is Scripture that comes to mind when one meets 3rd Year Master of Divinity student Lamika Weiss. You are sure to receive a big smile and experience a spirit of joy whenever you meet her on campus.
Lamika is a native New Yorker, born in Manhattan; after a short stay in Jersey City, NJ, Lamika grew up in the Bronx. However, in recent years, she has lived all over the US and world - Texas, Washington State, Hawaii, Iraq, Kentucky, Virginia & DC – as a member of the United States Army. She retired from the US Army in December 2018 as a Logistics Specialist and Generator Power Specialist.
Due to serving our Nation, Lamika completed her undergraduate degrees via online learning. She obtained an Associate degree in General Studies from Central Texas College and her Bachelor of Science in Liberal Studies from Kaplan University. In the Army, she obtained certification in Organizational Leadership, Team Building / Conflict Resolution and Master Resilience Trainer.
Lamika came to Wesley because "Wesley chose me, and I am glad about it! Originally, I was scheduled to go to Liberty University to complete the Military Chaplaincy D.Min. Program. However, I was curious to see what seminaries were like in the DC-MD-VA area. I found Wesley online, requested information with no actual intent of enrolling. I was invited to a Wesley Window on Wesley" and the rest is history. "Today, I am a firm believer that a righteous person's steps are indeed ordered by the Lord," she said.
Raised as a Baptist, Lamika was licensed and ordained "in Protestant Full Gospel by my spiritual father, Bishop Charles Ellis, an American Apostolic Pentecostal preacher and the former Presiding Bishop of the Pentecostal Assemblies of the World, " she said. In addition to studying full-time, Lamika is serving as Interim Pastor of Metropolitan Community Church of DC. Active at Wesley, she is a Residence Manager, member of the Student Council Executive Board and is president of Wesley's student association, Plumbline Social Justice Alliance.
Something we don't know about Lamika? " During my first reenlistment in the United States Army, I was assigned to Saddam Hussein's Palace in Bagdad, Iraq -filled with an abundance of gold - shortly after he was captured."
Her hopes for ministry after graduation? "My dreams are "Wide as the Sky"; wherever the Lord leads me, I will follow! However, I can confirm those plans include helping change the World and being the arms and feet of Jesus up close, live, and personal."
Lamika's "declarations" to live by: "When God sends you out, it's always with his peace (John 20:21); when God sends you out, you will always return with joy (Luke 10:17); and when God sends you out, you will not lack for anything (Luke 22:35)! Will you go for God?"
#joyoftheLord #handsandfeetofJesus #Armystrong #faces of Wesley
Faces of Wesley is a weekly profile of one of the members of our Wesley Community - faculty, students, alumni, staff, administration and other friends of Wesley.  You can read it weekly on our Facebook or Instagram platforms or on our website's home page.