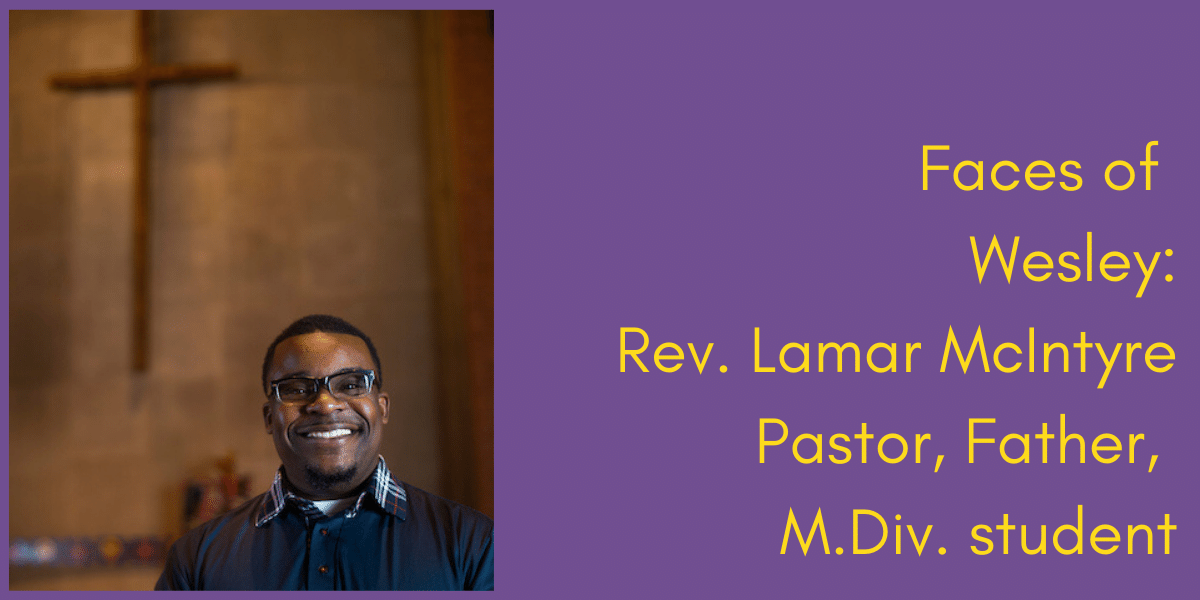 Meet soon-to-graduate M. Div. student the Rev. Lamar McIntyre. The joy of the Lord is evident in Rev. Lamar, and the Wesley Community has experienced his powerful preaching as part of the Wesley student preaching initiative.
A Washingtonian by birth, Rev. Lamar earned a BA in Christian Leadership from Faith Bible College and Seminary (Washington, DC).
Rev. Lamar experienced strong Christian leadership models in his parents, Rev. Earline McIntyre and Bishop John B. McIntyre. Together, the three of them co-founded Courts of Praise Christian Church (Upper Marlboro, MD) where Rev. Lamar is now the church's senior pastor.
When he knew "it was time for me to gain more education, both for the church and for myself," Rev. Lamar chose Wesley after participating in a Window on Wesley open house event with his wife, Keishashe.
"Upon visiting Wesley, I said 'this is it!", " said Rev. Lamar. " The love that I received, the diversity that I saw, the opportunity for funding through the Satterwhite Scholarship, was amazing," he remembers.
"That Wesley offered a scholarship geared toward educating African American students who are practicing ministry, caused me to turn down any other offers that I received," he said.
When he asked his wife, " "Can yon see me here at this school?" She looked at me and said, "yes, absolutely this is you all the way!" The rest was history!" said Rev. Lamar. Coming to Wesley, It's been the greatest decision I could have made."
Following graduation in May 2020, Rev. Lamar's future plans include "starting a doctoral program in leadership or African American Preaching and Black Rhetoric." Rev. Lamar also plans to continue helping other established churches with declining membership merge into existing churches for the sake of mission and church growth.
Something we don't know about him? "I am very musical, I used to play the drum set and sing, am a graduate of Duke Ellington School of the Arts." Rev. Lamar is proud papa to Keiara, a freshman at Bowie State University, and Essence, who studies dance and hopes to attend Duke Ellington, as well.
A schoolteacher from his early years spoke the words that stay with Rev. Lamar and inspire him every day: "Good, better, best, never let it rest, until your good is better and your better is best!"
# WesleyM.Div. #DukeEllingtonSchoolfortheArts #satterwhitescholar #preacher #proud papa #FacesofWesley
Do you feel you're too busy to study at Wesley? Discover how busy pastors like Rev. Lamar and many others study part-time in non-degree, certificate and degree programs at Wesley. It is possible to do a Master of Divinity in 5 years, to enable you to fit your studies into your busy work, family and ministerial life.
Courses are offered in ways to make study possible for all - online, hybrid (on campus/online), weekends and evenings. Complete  intensive one- and two-week courses for credit during our J-Term each  January.  Learn more and apply by going to https://www.wesleyseminary.edu/admissions/try-a-class-2/
We are currently accepting applications for Master of Divinity, Master of Theological Study and Master of Arts programs, as well as our Doctor of Ministry degree programs.
Faces of Wesley is a weekly profile of one of the members of our Wesley Community - faculty, students, alumni, staff, administration and other friends of Wesley.  You can read it weekly on our Facebook or Instagram platforms or on our website's home page.