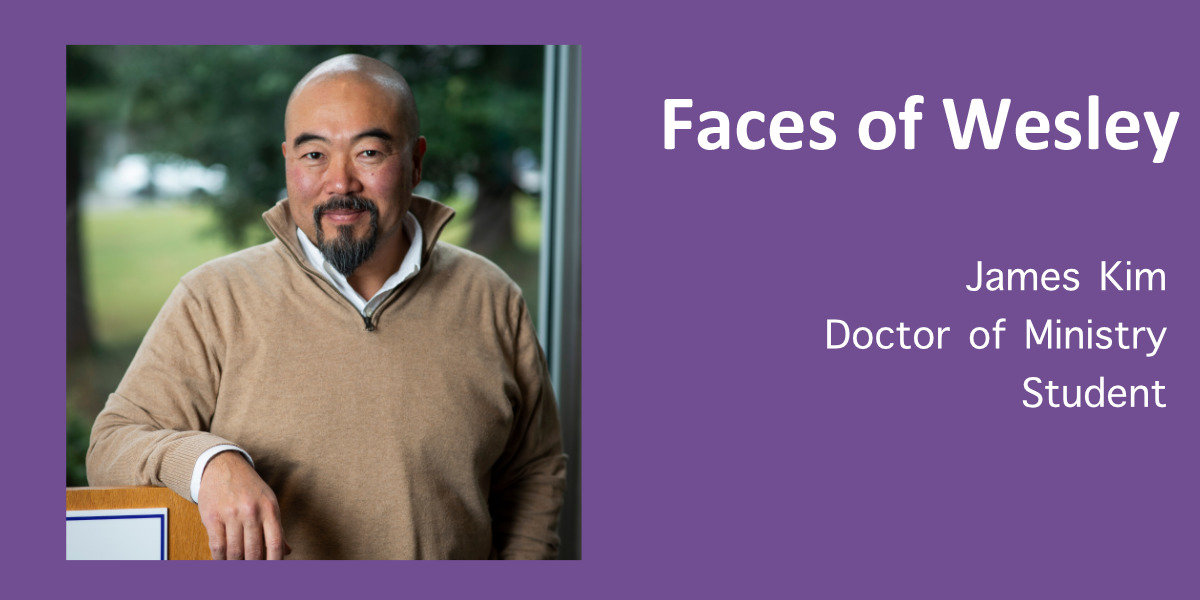 Faces of Wesley: Presbyterian (PCUSA) minister James Kim is a Doctor of Ministry student in the Church Leadership Excellence track, and serves as Senior Pastor of the Little Church on the Prairie and Lakewoodgrace in Lakewood, WA. "We are at a fun and exciting time at the Little Church on the Prairie and Lakewoodgrace. We are growing with our ministry to retirees at the main campus and to the millennials and GenX at the Lakewoodgrace site. Our hope is to launch a third campus in the next three years," he notes.
Born in South Korea, Rev. Kim moved to the US with his parents when he was 3, and grew up on the West Coast. He earned a Bachelor of Arts in Philosophy from Pepperdine University (Malibu, California), and a Master of Divinity from Union Theological Seminary (Richmond, Virginia, and was ordained at Capital Presbytery in DC. Rev. Kim then pastored in Dallas, Texas for 15 years before coming to the Little Church on the Prairie and Lakewoodgrace 10 years ago.
Often asked why he chose Wesley for his D.Min. program when there are excellent graduate schools on the West Coast, Rev. Kim is clear on his choice: "I chose Wesley because the program and the leadership were more flexible about allowing me to finish the required classes faster so I could get to my doctoral project," he said. Rev. Kim's project will focus on "growing old," an innovative outreach program to grow the church with a new targed audience: retirees. "The mainline churches are perfectly suited to reach Baby Boomers and the Builder generation, now retired" he says. "Millions of Americans are retiring every day, we are perfectly suited to reach them."
Rev. Kim shares a sobering little- known fact about himself. "I had two heart attacks when I was 38, and currently have four by-passes and sixteen stents in my heart, " he revealed. "Told my cardiologist I should get a coupon book for how many times they have operated on my heart. Every fourth one should be free!" he joked.
This reality has given him a profound sense of gratitude and purpose "Every day is a gift. Every morning I wake up, I say, "Another one! I get to live another day. Thank you, Lord! Use me!" " says Rev. Kim.
#ministry #WestCoast #thankyou,Lord #useme #WesleyDMin #Faces of Wesley