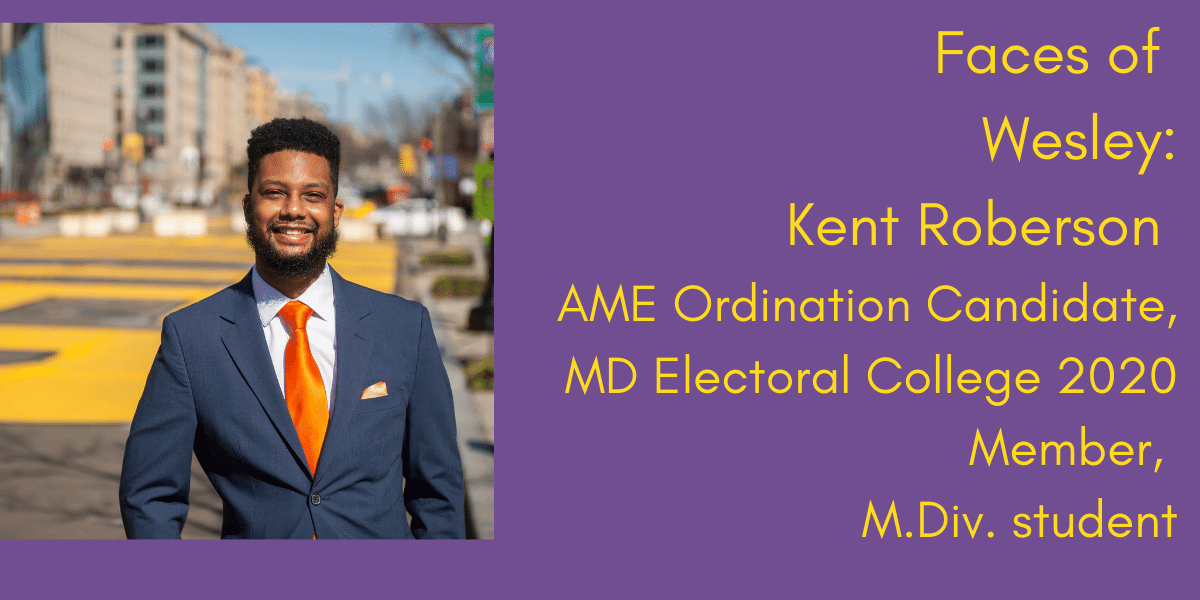 Faces of Wesley: meet 3rd year Master of Divinity student Kent Roberson. Originally from Memphis, TN, Kent spent most of his formative years in Prince George's and Montgomery County, MD. "Sometimes, my Memphis accent kicks in," shared Kent.
Kent holds a B.Sc. in Political Science and Pre-Medicine and a M.A. in Political Science from Ball State University (Muncie, ID). "I also did my coursework on my Ph.D. in Political Science at Howard University on American Government and Black Politics," added Kent.
While feeling a call to seminary, family came first for Kent, and returning to school now is something he is doing as a couple. "I'd wrestled with 'the call' for a while and instead chose to focus on my growing family. One day, shortly after receiving the approval from my AME pastors to begin the ordination process (which requires a M.Div. prior to ordination), I saw a commercial of a couple returning to college at the same time. I then realized it was time for me to start seminary as my wife begins her Counseling Psychology program!" said Kent.
With family responsibilities, a passion for knowledge and a desire to attain it affordably in an inclusive community, Kent saw Wesley as the perfect place for his theological studies.
"As an individual who has had lots of schooling, cost was important to me, and Wesley provided a scholarship to minority students who were non-United Methodists that sought a degree." He was also impressed by his WTS graduate friends' "wonderful experiences on immersions and having their faith challenged. I sought a program that responded to my needs of a diverse seminary community that would hold me accountable to complete my degree; Wesley does that for me," said Kent .
Regarding future plans, Kent would like to integrate his passion for both ministry and politics. "I would like to pursue a ministry that combines the work of the church and the public and political space. I believe our ministries miss out on opportunities because we do not leverage our relationships for the benefit of the church or community."
Something we don't know about Kent? "I was a member of Maryland's Electoral College in 2020, the only Black man and the youngest. I also currently serve as a local party elected official in Prince George's County," said Kent.
The Scripture that sustains Kent? "Greater works than these shall you do" (John 14:12) is a scripture that urged me to pursue seminary before I even knew I would attend. I truly want to follow a community-engaged ministry that parallels Jesus' idea of ministry intended in Matthew 10, bringing healing to God's community," said Kent.
#family #AME #ordination #politics #community #facesofWesley
Join Kent and our many students and graduates who have found in Wesley a seminary that supports students following their passion to serve God and others in many expected and unexpected ways.
PLEASE NOTE: Due to the COVID-19 crisis, Wesley Theological Seminary is currently offering online courses only until further notice. Please check back at this website for further information on class status.
We are currently accepting applications for Master of Divinity, Master of Theological Study and Master of Arts programs, as well as our Doctor of Ministry degree programs. If you would like to try a class, our all-online class registration for Summer 2020 will open March 15. 
Learn more and apply by going to https://www.wesleyseminary.edu/admissions/try-a-class-2/
For more information about any of Wesley's programs, contact Admissions at (202) 885-8659 or admissions@wesleyseminary.edu or chat with our Admissions staff via UChat on the Wesley website homepage, wesleyseminary.edu. 
Faces of Wesley is a weekly profile of one of the members of our Wesley Community - faculty, students, alumni, staff, administration and other friends of Wesley.  You can read it weekly on our Facebook or Instagram platforms or on our website's home page.