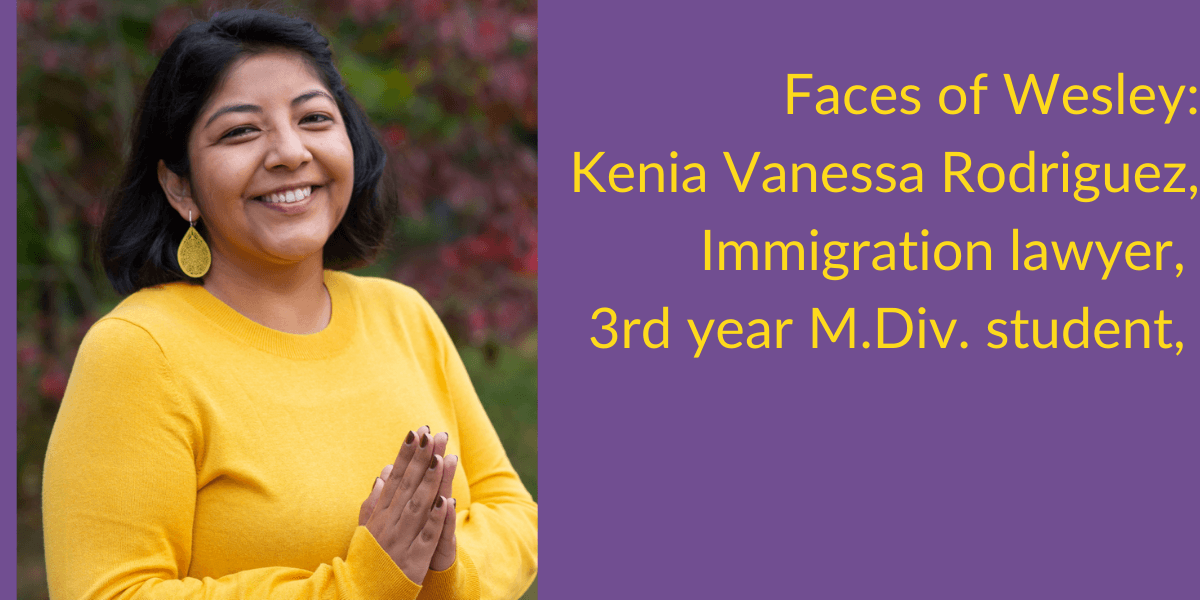 Meet Kenia Vanessa Rodriguez, Esq., an immigration lawyer and a Wesley 3rd year M.Div. student, anticipating graduation in May 2021. 
Vanessa is well known around campus, as one of the founders of the Gente Latinx Seminarians Association (GLSA) in 2018, a group that has been very active in their support of Latinx students on campus and raising understanding of the Latinx Community to the Wesley Community. Vanessa served last year as GLSA's Co-Director, and continues service to Wesley this year as Vice President of the Student Council Executive Board (2020-2021).
Vanessa was born in Bolivia but raised in Fairfax, VA from the age of 3 years. She holds a BS in Business Administration and a BS in Computer Information Systems from American University (Washington, DC) and then earned a JD from American University's Washington College of Law."Location was key" in Vanessa's decision to choose Wesley. She knew Wesley from studying next door at American University. "I reside in Fairfax, VA and wanted to attend classes in-person," said Vanessa. She felt welcomed when she visited Wesley and was struck by Wesley's "community and openness to diversity.  This was evidenced in the Latinx scholarship started in Fall 2018 when I applied and my ability to be one of the founders of GLSA."
For Vanessa, community is very important. "As a Latina, community is a pillar of my being and thus, establishing that and fostering that in all my spaces and places is elemental," she noted.   "My goal as co-director of GLSA last year and Vice President of Student Council this year is to build and foster community," a goal shared by the Student Council Executive Board, particularly in this time of pandemic.
What is something we don't know about Vanessa? "I wish I was more interesting but I guess my surprising fact could be that I love to play tennis. I also would like to learn how to say "hi" and "thank you" in every language and continue adding to my bank of languages always," she said.Words that inspire her? There are many – two favorite quotes are, perhaps not surprisingly for an immigration lawyer, about justice. "We cannot seek achievement for ourselves and forget about progress and prosperity for our community. Our ambitions must be broad enough to include the aspirations and needs of others, for their sakes and for our own." ( Cesar Chavez) and, "peace is not the absence of conflict but the presence of justice." (Martin Luther King, Jr.). Perhaps most of all, this quote: "that all being said - I hold fast to, amid it all and despite the circumstances, God is love and in control and that is where my hope comes from to continue in the daily struggle for justice. la vida es lucha." 
As she approaches her Wesley graduation, she sees that she has been changed by her experiences at Wesley. "The most impactful experience I had at Wesley, aside from the courses and community, was the MLK immersion I did in January 2021," said Vanessa. Her field education experience – known as PMM at Wesley – was also powerfully affecting. She served in two hospital chaplaincy settings for her PMM, and she discovered a real passion for hospital chaplaincy, and hopes to be able to continue to be involved in chaplaincy in the future.
"I am thankful to have found an embracing community at Wesley that will carry on, to beyond my time at Wesley, and I pray that all students can experience the same," said Vanessa.
#GLSA #community #Latina #hospitalchaplaincy #tennis #FacesofWesley
Join Vanessa and others who have found at Wesley a community and theological formation that will prepare them for effective future ministry.
Faces of Wesley is a weekly profile of one of the members of our Wesley Community - faculty, students, alumni, staff, administration and other friends of Wesley.  You can read it weekly on our Facebook or Instagram platforms or on our website's home page.