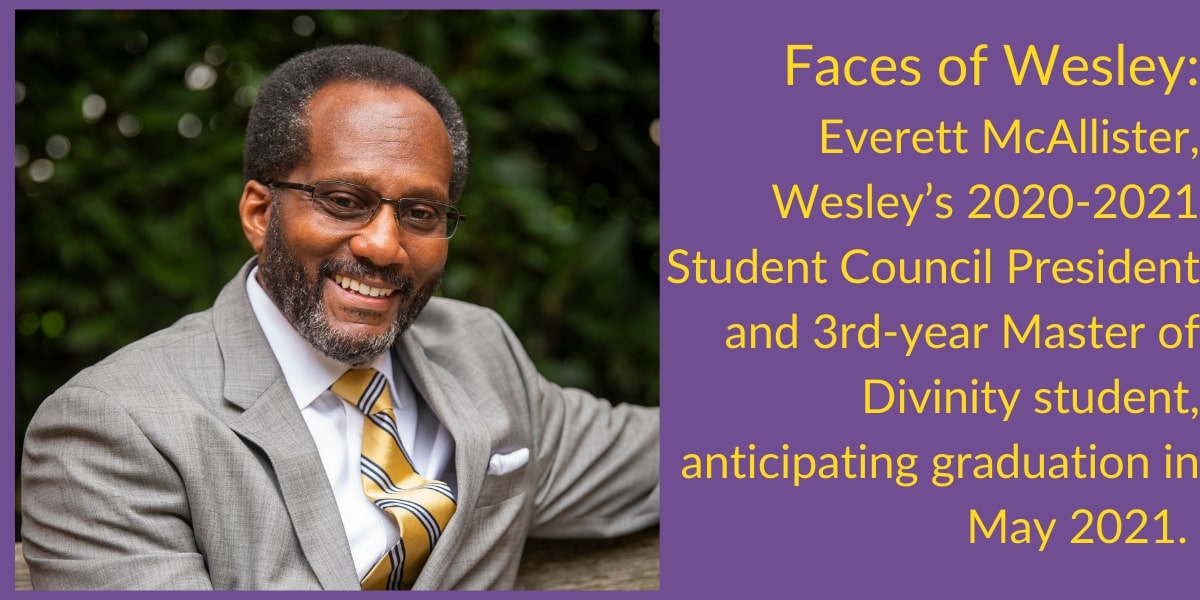 Meet Everett McAllister, Wesley's 2020-2021 Student Council President and 3rd-year Master of Divinity student, anticipating graduation in May 2021.
Everett is originally from California and holds a B.Sc. in Pharmacy ( University of South Carolina) and a Master of Public Administration from Auburn University (Montgomery, AL).
Everett is a former United States Air Force Colonel (Retired), with over 30 years of health care leadership experience. He has held senior pharmacy and executive-level positions within the United States Air Force and Department of Defense and was the Executive Director and CEO for the Pharmacy Technician Certification Board, one of the nation's leading certifying bodies for pharmacy technicians.
Everett hopes to bring his unique leadership experience to his role as W.T.S. 2020-2021 Student Council President as he partners with Wesley Student Council board members to build community amongst students during this period of social climate angst and national pandemic. 
"The year 2020 has been very unusual and unpredictable. What we knew to be normal is anything but normal. Understanding our current social climate and variations of expectations (for/of students) throughout this pandemic, The Student Council will strive to build community in a virtual environment by encouraging hope and resilience in the midst of so much chaos, fear, anxiety, and uncertainty," said Everett.
Wesley's diversity, academic program flexibility, and ability to prepare students for ministry locally and globally attracted Everett to Wesley Theological Seminary.
"I believe that effective ministry is diverse and that a diverse seminary experience is what encourages and prepares students to view ministry in aspects outside of themselves and to view ministry with a global perspective. Prior to applying to seminary, I extensively researched several schools across the country, and Wesley consistently remained at the top of my list as it was the seminary that best met my needs and goals," remembered Everett. 
"Wesley offers excellent opportunities to broaden one's exposure to a rich diversity of perspectives, cultures, faiths, and experiences.  These opportunities serve to enrich and enhance our learning so that we will be better informed and prepared to communicate and interact with the world in which we live.  The flexibility of Wesley's program, its rigor and academic reputation, facilities and faculty, and the student encounters were and continue to be attractive and confirmed Wesley as the seminary for me," shared Everett.  
Something we don't know about Everett:
"I enjoy traveling abroad. I have visited Ireland, The Netherlands, Thailand, Germany, Azores, England, and Korea.  The continent of Africa is next on my list! I just wish I had enough points to travel business class!" shared Everett. 
Words that encourage Everett:
"When confronted with trials and tribulations of this life, remembering that 'this too shall pass' encourages me and inspires me to continue this journey of life. I also love 'Give all your worries and cares to God, for he cares about you.' and 'In the midst of it all, Be strong and Be courageous for with God nothing shall be impossible," said Everett.  #AirForce #pharmacy #travel #FacesofWesley
Join Everett and others who have found at Wesley a community and theological formation that will prepare them for effective future ministry.
Faces of Wesley is a weekly profile of one of the members of our Wesley Community - faculty, students, alumni, staff, administration and other friends of Wesley.  You can read it weekly on our Facebook or Instagram platforms or on our website's home page.