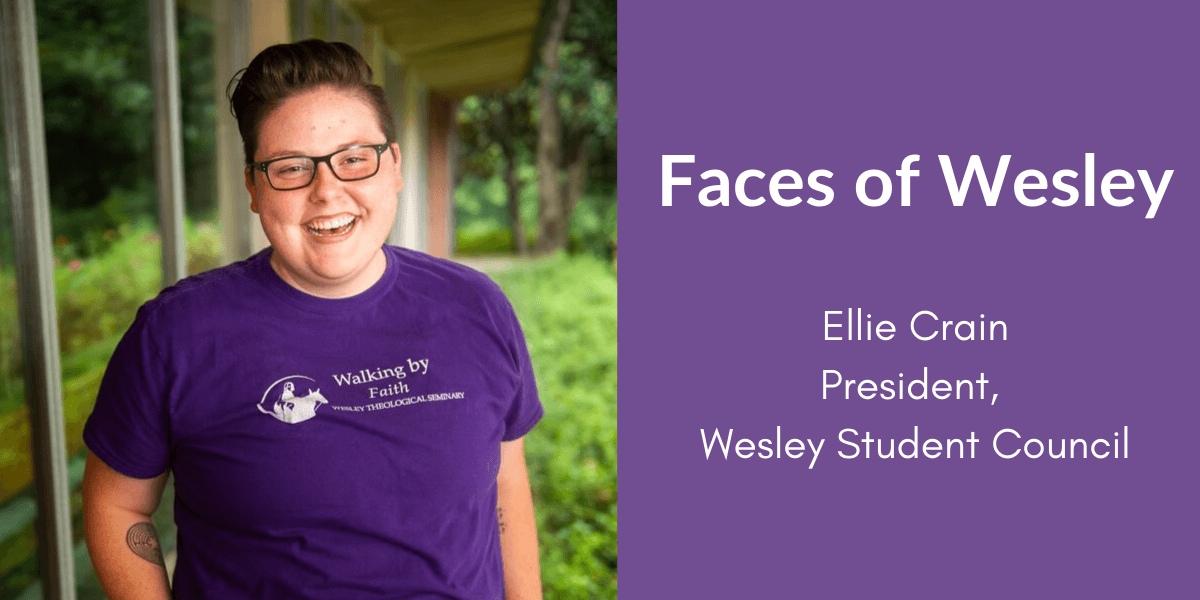 A well-known face on campus is third year Master of Divinity student and new Student Council President Ellie Crain.
Originally from Clarksville, TN, Ellie earned her undergrad from Martin Methodist College " "where I majored in Pre-Seminary - who knew that was a thing, right?," noted Ellie.
Why did Ellie choose Wesley for her M.Div.degree program? "It felt like home," she said.
 "So many things about Wesley reminded me of the things that I loved about my undergraduate experience. The Birch Intentional Community at Wesley Downtown was also a major selling point for me, as was the responsibility that Wesley takes so seriously to find the intersections between faith and politics."
 Starting the year as student council president, Ellie shared the council's vision for the coming year: "to continue to cultivate a sense of community on this campus, especially through our means of communication."
So, some may not know Ellie's passion for coffee. "I really love coffee, specifically making coffee. I made the community agree to let me rearrange part of our living room at Birch so that I could set up a little coffee shop-like corner," she admitted. The coffee brewing process seems to be meditative for her. "There is something beautifully simplistic about being able to start the process with coffee beans and form them into something people can actually consume… what I'm really trying to say is that it's nice to have an area of my life where things aren't always so deeply thought out. Coffee gives me the opportunity to step out of the gray areas of life every once in a while," Ellie observedThose of us fortunate enough to hear Ellie sing solos at Tuesday Chapel know her lovely voice. But there is another way that Wesley has helped her find and use her voice. "I am so thankful for my time at Wesley for many reasons, but a major one is because of the way this school, this community, has given me the language to talk about the hope I still see in this institution we call church. For most of college I was pretty uncomfortable talking about my faith. I talked a lot about my church and the problems in it, but I couldn't quite vocalize why I still wanted anything to do with it."
 " I think the best way to summarize this hope is through the words of a song I learned several years ago: "Hallelujah, God is forever holding us together." 
Faces of Wesley is a weekly profile of one of the members of our Wesley Community - faculty, students, alumni, staff, administration and other friends of Wesley.  You can read it on our Facebook or Instagram platforms or on our website's home page.