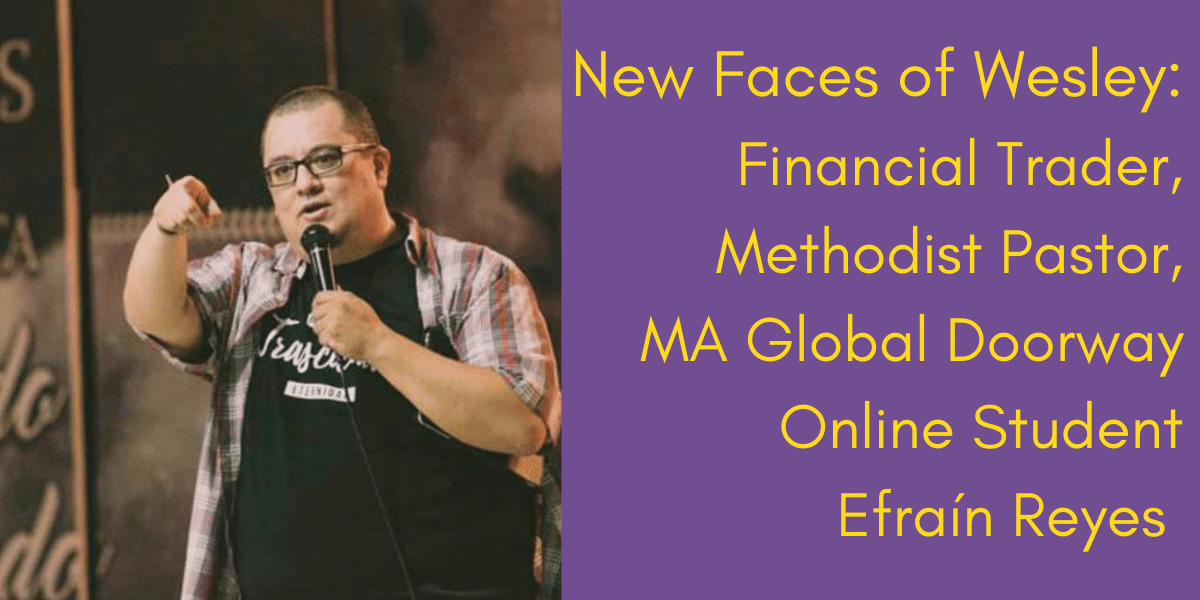 Meet WTS Global Doorway Master of Arts student Efraín Arturo Reyes Bonilla. He is an ordained Methodist minister, married with three children, and is Lead Pastor of "La Cruz" Methodist Church in Monterrey, Mexico.
Efraín is originally from Mexico City, Mexico. Efraín hold a Bachelor in Business Administration from the Autonomous Technological Institute of Mexico (Mexico City), a B.Th. and M.Th. from John Wesley Methodist Seminar (Monterrey, Mexico), and a Master in Psychology and Counseling from the Institute of Higher Studies for Family Development (Monterrey, Mexico).
Efraín is part of an exciting new program at Wesley: the MA Global Doorway degree. This fully online program enables Efraín to complete his MA degree from Mexico, so he may continue to lead his church.
"I chose WTS after receiving an invitation to participate in the Global Doorway program through my seminary in Monterrey, Mexico," said Efraín, who also teaches at the seminary.
"I welcomed the invitation to encounter a new learning experience virtually, and I am so happy that I chose Wesley! Though this pursuit has been challenging,  as English is not my native language, I am learning to navigate language barriers and adjust to the reading requirements. This experience is exciting and Wesley is so immersive, I am enjoying the experience of getting into a whole new world!" said Efraín. 
What is something we don't know about Efraín?
"Sixteen years ago, I felt called to ministry and to pursue theological studies. God called me from the business world, a career where I'd spent eleven years as a financial trader. In those days, my time was divided between business and music in the church. I still play instruments, but the business world is far away now," shared Efraín.
As we are celebrating National Hispanic Heritage Month in the US (September 15-October 15), we asked Efraín to open a window onto his native culture, and tell us what he treasures about it.
"Mexico is so unique culturally; its abundance and diversity characterize it. While there, you can experience this in its music, such as folklore, mariachi, salsa, and bachata. The food ranges in flavor from salty, sweet, sour to spicy, really spicy! Mexico has extraordinary landscapes: there, you can find cold deserts, white beaches, large cities, magic little towns, green mountains, and even snowy places!" said Efraín.
"Mexico is a vibrant country, full of hard-working people who love to connect with their loved ones. Our culture develops around the dining table and the chat that arises there. We love to laugh at everything (even death), because we find that laughter is a great remedy for our sorrows. Even so, when considering we live in the midst of all of that is happening in our world currently, I believe that God is awakening the church of Christ to be an answer for all the suffering, the pain, and the injustice as a community of love, tradition, and fellowship," shared Efraín.
A musician, it is not surprising that a song inspires Efraín. "One of my favorite inspiring songs to date is from Elevation Worship called "Rattle!" It's related to Ezekiel 37, and the phrase is simply: "¡God said live!" - This theme and declaration remind me that everything happens and grows as long as we are really alive in our connection with the Lord, but also, alternatively everything dies if we don't!" said Efraín. #Mexico #WTSGlobalDoorwayMA #culture #music #FacesofWesley
Join Efraín and our many students and graduates from across the US and around the world who have found in Wesley a seminary that supports students following their passion, to serve God and others through ordained ministry and through many expected and unexpected ways.
Faces of Wesley is a weekly profile of one of the members of our Wesley Community - faculty, students, alumni, staff, administration and other friends of Wesley.  You can read it weekly on our Facebook or Instagram platforms or on our website's home page.