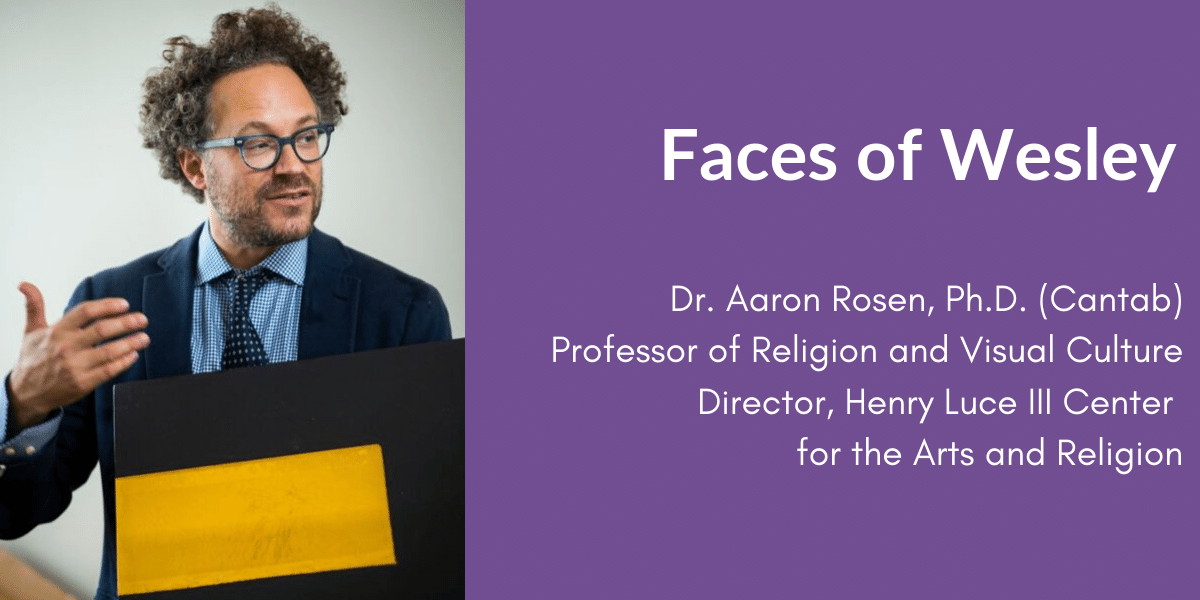 A new face on the Wesley Campus is Aaron Rosen, Ph.D., Professor of Religion and Visual Culture and our new Director of the Henry Luce III Center for Religion and the Arts (LCAR). Dr. Rosen assumed directorship July 1 following the retirement of long-time director Deborah Sokolove.
Dr. Rosen holds a Ph.D. in theology from the University of Cambridge in England, and did his post-doctoral work at Columbia, Oxford, and Yale Universities. He also completed pre-doctoral fellowships at UC Berkeley and the Graduate Theological Union.
Previously, Dr. Rosen was King's College London's Senior Lecturer in Sacred Traditions and the Arts and Deputy Director of its Centre for Art and the Sacred. He continues to supervise Ph.D. students from London as a Visiting Professor. An internationally recognized leader in religion and the arts, Dr. Rosen has lectured at museums, universities, and religious institutions across North America, Europe, and Australia.
Dr. Rosen grew up in Maine, but spent much of his early adulthood in England.  "When I'm away from either for too long, I miss them," noted Dr. Rosen.It was during his undergraduate studies that he discovered a passion for the academic exploration of art."I never really thought of pursuing art history until college, and then I was hooked after a few visits to museums of modern art.  I realized you could make a career out of being that annoying person talking loudly about a painting in a gallery."  
The author of many books and a curator of numerous exhibitions in Europe and the U.S., Dr. Rosen also loves teaching. The most rewarding thing about teaching for him? "I like when my students go on to do things that are exciting and unexpected that I couldn't possibly do myself, and then come back and tell me about it," said Dr. Rosen.
Dr. Rosen enriches Wesley's ecumenical community, as he brings a distinctive cultural experience and vantage point to LCAR and Wesley students."Being Jewish and teaching in a seminary is a bit unusual, so I hope I can draw on that in ways my students find interesting and helpful in their own journeys," said Dr. Rosen.  His wife, Rev. Dr. Carolyn Rosen, is an Episcopal priest.
Something we don't know about Dr. Rosen is that he sees himself as diasporic."I think I was supposed to be Dutch or English, I just happened to be born in America," noted Dr. Rosen. You may also wonder why his email signature says "Ph.D. (Cantab)." That is a shortened version of  Cantabrigiensis  ('of Cambridge'), a designation only added to University of Cambridge graduates' degrees. The university was founded in 1209, so the term comes from the medieval Latin name for Cambridge, Cantabrigia.
According to Dr. Rosen, his favorite—"oddly reassuring"—quote comes from Franz Kafka:  "There is infinite hope, just not for us."  
#modernart #infinitehope #facesofWesley
The study and expression of art and theology in a seminary setting is something found only at Wesley Theological Seminary. The Henry Luce III Center for the Arts and Religion and the Dadian Gallery are signs of that long-standing commitment.
Wesley and the Luce Center offers a range of options for those who wish to explore the interplay of art and theology: workshops, courses for both degree and non-degree students, a Certificate in Art and Theology and a Doctor of Ministry in Arts and Theology.
Regular Artist's Talks reveal insights into their process. Join Dr. Rosen for a discussion with German artist G. Roland Biermann, October 1, 2019, 6-7 p.m. Learn more here.
For more information, contact Admissions at (202) 885-8659 or admissions@wesleyseminary.edu or chat with our Admissions staff via iChat on the Wesley website homepage, wesleyseminary.edu. 
Faces of Wesley is a weekly profile of one of the members of our Wesley Community - faculty, students, alumni, staff, administration and other friends of Wesley.  You can read it weekly on our Facebook or Instagram platforms or on our website's home page.