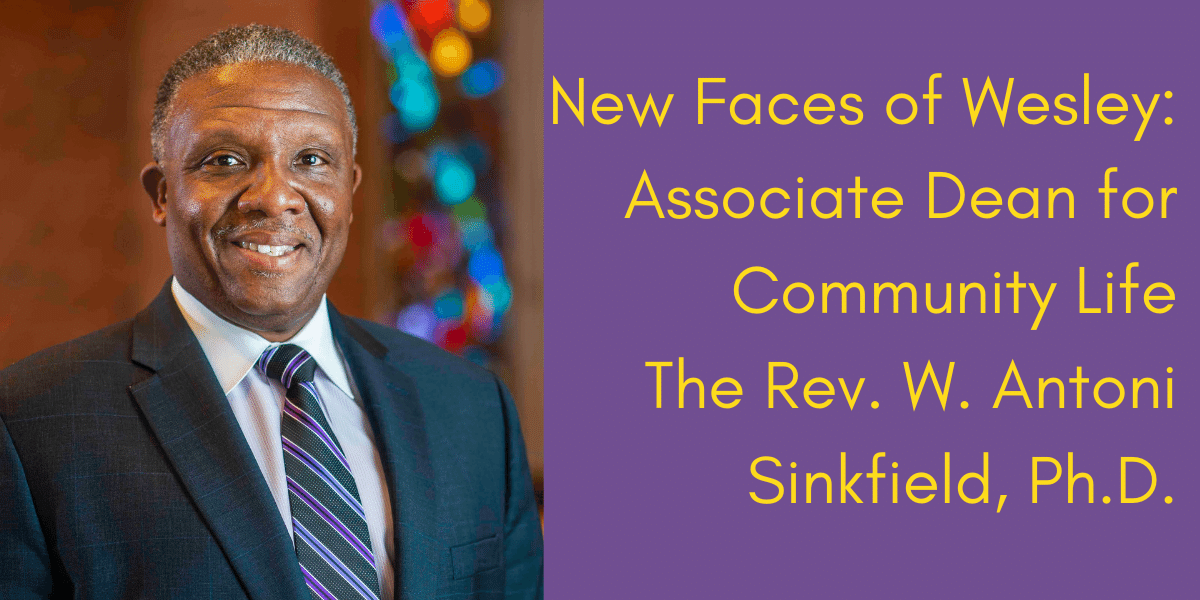 Meet our Associate Dean of Community Life, the Rev. W. Antoni Sinkfield, Ph.D.
A native of Nashville, TN, Dr. W. Antoni Sinkfield is an ordained Itinerate Elder in the African Methodist Episcopal (AME) Church and has served as Dean of Students for Allen University, a historically Black College (HBCU) in Columbia, SC.
Dr. Sinkfield holds a Ph.D. in Ethical and Creative Leadership with a specialization in Dr. Martin Luther King, Jr. (Union Institute and University), M.Div. (Vanderbilt Divinity School), and a B.Sc. in Marketing (Tennessee Technological University). He has completed post-graduate work at United Theological Seminary; Oral Roberts University; and Asbury Theological Seminary as a Beeson Pastor Scholar, where he engaged in intense immersion ministry experiences in Seoul, South Korea, Nairobi, Kenya, and the Masai Mara. Dr. Sinkfield has also ministered in Zimbabwe, Malawi, South Africa, Mozambique, and Zambia on the continent of Africa.
A recognized pastoral and community leader, he has served as Presiding Elder of the North Nashville District of the Tennessee Annual Conference of the AME Church and is a founding member of Nashville Organized for Action and Hope (NOAH), a city-wide social action organization fighting for justice for the underserved.
Affectionately known by his grandchildren as "PopTart," Dr. Sinkfield is husband to Kristy Sinkfield, M.Ed.(Associate Vice President for Diversity and Inclusion, Vanderbilt University Medical Center). They are the proud parents of Joshua (Michelle) DuBois, Anah, and Antoni, Jr.—and grandparents of August, Adelaide, and Auden.
As Wesley continues to navigate its safe return to campus, together again via on-campus, online and hybrid classes, there is a joyful and hopeful spirit unifying and extending throughout the Wesley community. Dean Sinkfield reflects that same spirit.
"It is with great excitement that I join the Wesley Theological Seminary Family as the new Associate Dean of Community Life! What a thrill it is to join this wonderful faculty and staff—and in the journey of our students as they matriculate at Wesley, seeking to acquire the training they desire in preparation for ministry. To all of our students, I cannot wait to meet you, greet you, and walk with you (as your supporter, encourager, and fan) towards the successful completion of your awesome sojourn here at Wesley Theological Seminary!", said Dean Sinkfield.
Something we don't know about Dean Sinkfield? "I am a huge lover of music and a connoisseur of music of every kind—particularly those that emphasize harmonies! In fact, as a youngster, I used to sing in a street corner group called The "Boys"! We'd sing various music selections from the Temptations to the Stylistics! I am also an extensive traveler, and I have ministered the gospel on five continents and fourteen countries", shared Dean Sinkfield.
Extra Fun Fact: Dean Sinkfield makes it a point to reach nearly 20k steps per day! "I love walking. I work toward 20k steps daily, so you might find me walking around my office and the campus quite often!", shared Dean Sinkfield. (Step challenge, anyone?)
Words that inspire Dean Sinkfield? "My favorite biblical quote is Philippians 4:13—"I can do all things through Christ that strengthens me." I also admire a quote by Rev. Dr. Martin Luther King Jr., "If a man is called to be a street sweeper, he should sweep streets even as a Michelangelo painted, or Beethoven composed music or Shakespeare wrote poetry. He should sweep streets so well that all the hosts of heaven and earth will pause to say, 'Here lived a great street sweeper who did his job well.' "
#leadership #mission #music #PopTart #FacesofWesley
Faces of Wesley is a weekly profile of one of the members of our Wesley Community - faculty, students, alumni, staff, administration and other friends of Wesley.  You can read it on our Facebook or Instagram platforms or on our website's home page.