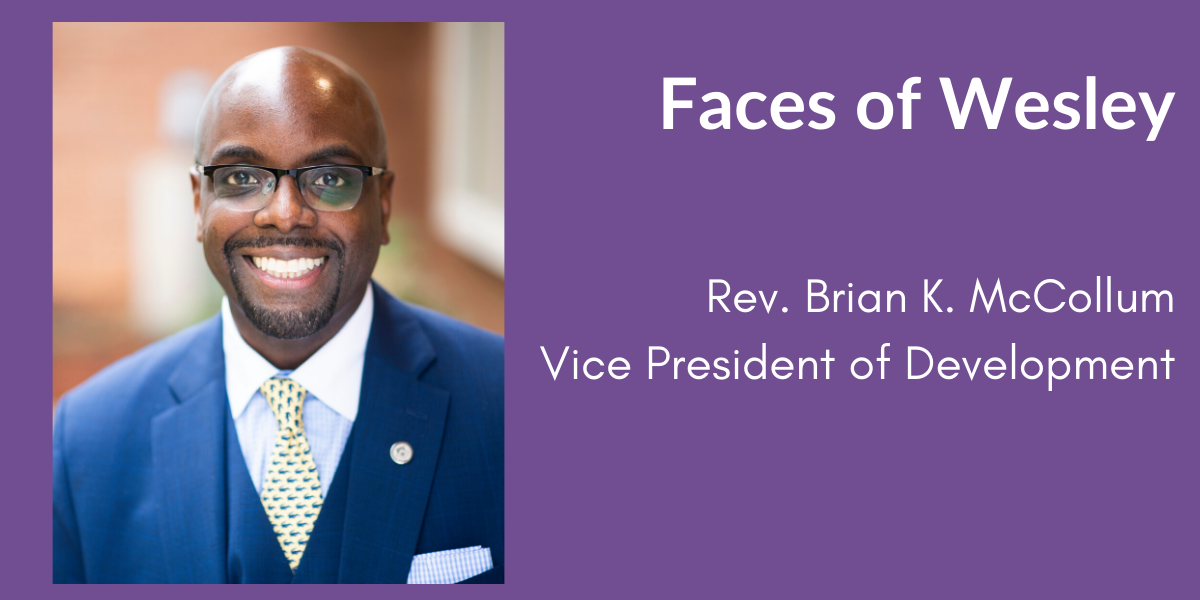 A brand-new face on campus is Rev. Brian K. McCollum, Wesley's Vice President of Development. An ordained Presbyterian Church, USA minister, he joined the Wesley community on October 21, but is no stranger to either seminary life or the ministry of advancement.
A Forestville, MD native, Rev. McCollum holds a B.A. in Business Administration (Morehouse College), M.Div. (Princeton Theological Seminary) and a M.S. in Strategic Communications (Columbia University). Rev. McCollum previously served as Director of Alumni Relations and Director of Recruitment at Princeton Theological Seminary.
Rev. McCollum knows well the circuitous route many take to seminary. "I was going to be a successful Wall Street investment banker," he said. " After Morehouse, I put on my track shoes and ran from my call to ministry. I couldn't imagine God using me for ministry, I was too much of a sinner."
Finally opening to God's call, "Seminary was a turning point in my life. I loved everything about seminary!," he said. It was at Princeton that he learned of his call to the ministry of advancement.
"Advancement is a ministry platform to help others. At the core, this work requires you to engage with people to build God's Kingdom," he said. "Helping the seminary find resources so seminarians can graduate and not worry about post-graduation debt..together, we are doing a great work!"
Rev. McCollum shares Wesley's vision and sees "clear examples of the creative and vibrant energy at Wesley. God is truly doing a new thing here."
Facts of interest about Rev. McCollum? He was a professional step dancer with the DC-based Step Afrika! dance company for 12 years,"performing and teaching step dance in over 50 countries" and "I make GREAT macaroni and cheese!"
Rev. McCollum's life is rooted in Phil. 1:6. ""He who began a good work in you will complete it until the day of Jesus Christ." That is enough for me to be thankful every day." #helpingothers #relationship #dance #mac&cheese #facesofWesley
Did you ever feel a call from God to ministry? It is possible to try a class at Wesley, with no commitment to a degree program, to help with your discernment.
 Courses are offered in ways you can fit your studies into your busy life - online, hybrid (on campus/online), weekends and evenings. Complete intensive one- and two-week courses for credit during our J-Term in January 2020. Learn more and apply by going to https://www.wesleyseminary.edu/admissions/try-a-class-2/
We are also currently accepting applications for Master of Divinity, Master of Theological Study and Master of Arts programs, as well as our Doctor of Ministry degree programs.
Faces of Wesley is a weekly profile of one of the members of our Wesley Community - faculty, students, alumni, staff, administration and other friends of Wesley.  You can read it weekly on our Facebook or Instagram platforms or on our website's home page.