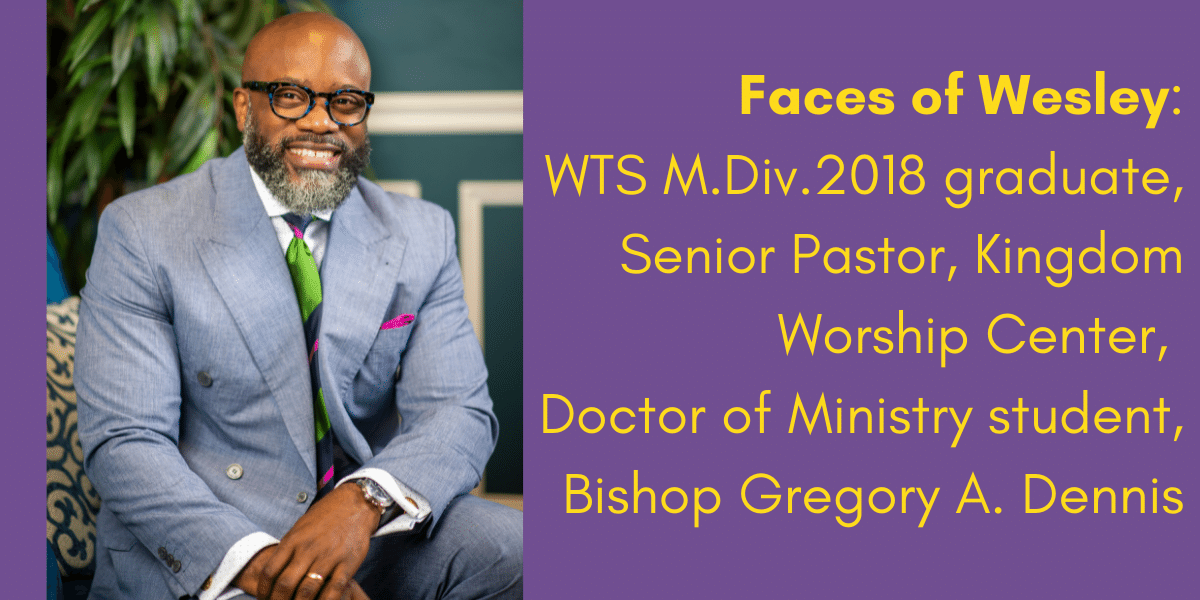 Meet Wesley graduate and current Doctor of Ministry student Bishop Gregory A. Dennis (M.Div., 2018). Bishop Dennis is Senior Pastor of Kingdom Worship Center, a non-denominational Christian Church with two campuses in Towson, MD and Columbia, MD.
Originally from Baltimore City, Bishop Dennis earned undergraduate degrees in Marketing from Morgan State University and Religious Studies from Notre Dame of Maryland University.
Bishop Dennis chose Wesley, as it met all his priorities for a seminary. "As I was already working for my church, it was important for me to go to a school that I could commute to.   I wanted to attend a school that had a great reputation for learning, had a good mixture in the student demographics, was protestant (since my undergraduate was from a Catholic school), and had scholarships that could help me afford school.   Once arriving at Wesley, the professors, students and scholarship became the unexpected bonus!  I really came to love this community, and it did not take long," said Bishop Dennis. 
Wesley proved to be an even better fit for Bishop Dennis' seminary studies than anticipated.  "Wesley aided in my pursuit of God.  Many in seminary struggle with God and their understanding of Church and at times criticize the Church without a willingness to grow the church.  Wesley does not allow the student to abandon the Church.  If there is a critique of the Church, being that we are the Body of Christ, Wesley asks what will we do to bring the Church into the future hope that has been revealed to us?  Wesley encourages its students to bring the Church into its eschatological hope," said Bishop Dennis.
"God was calling me to a deeper understanding and relationship.  Wesley was the vehicle I decided to use to go deeper with God and it proved to be the right decision."   
Two words explain why Bishop Dennis returned to Wesley for his Doctor of Ministry degree. "The professors!" he said.  "I could name several professors that are simply amazing, professors students will desire life-long relationships with ( I will not name them because I am sure I will miss someone!)"
 "I am not a young 26-year-old guy with a Masters.  I am on the other end of the spectrum in ministry.  Wesley understood my social location and made sure my needs, at my age with a vibrant church, were met and exceeded."   
Bishop Dennis appreciates that the D.Min. program has only short, in-person residencies with almost all of its remaining coursework online, making it easier to juggle church and family responsibilities.
"I have two young children, church, and still other professional aspirations, so being mainly online for my D.Min. is perfect.  It fits my life and I do not know how it could be any better.  It is not a "cakewalk" - the assignments are rigorous- but I would not have it any other way," said Bishop Dennis.  
" I have recommended Wesley with great pride to other pastors, elders, deacons and those who are looking to grow deeper in their theological understanding," said Bishop Dennis.  "Wesley has been able to hold in tension the most conservative with the most liberal positions.  I have learned from those I have disagreed with as well as from those who supported positions I have held.  In some case, my position adjusted and at other times my beliefs became more concretized... this is the gift of Wesley Theological Seminary for me."  #leadership #Baltimore #MDiv #DMin #FacesofWesley
Join Bishop Dennis and our many students and graduates from across the US and around the world who have found in Wesley a seminary that supports students to follow their passion to serve God and others through ordained ministry and through many expected and unexpected ways.
Faces of Wesley is a weekly profile of one of the members of our Wesley Community - faculty, students, alumni, staff, administration and other friends of Wesley.  You can read it weekly on our Facebook or Instagram platforms or on our website's home page.