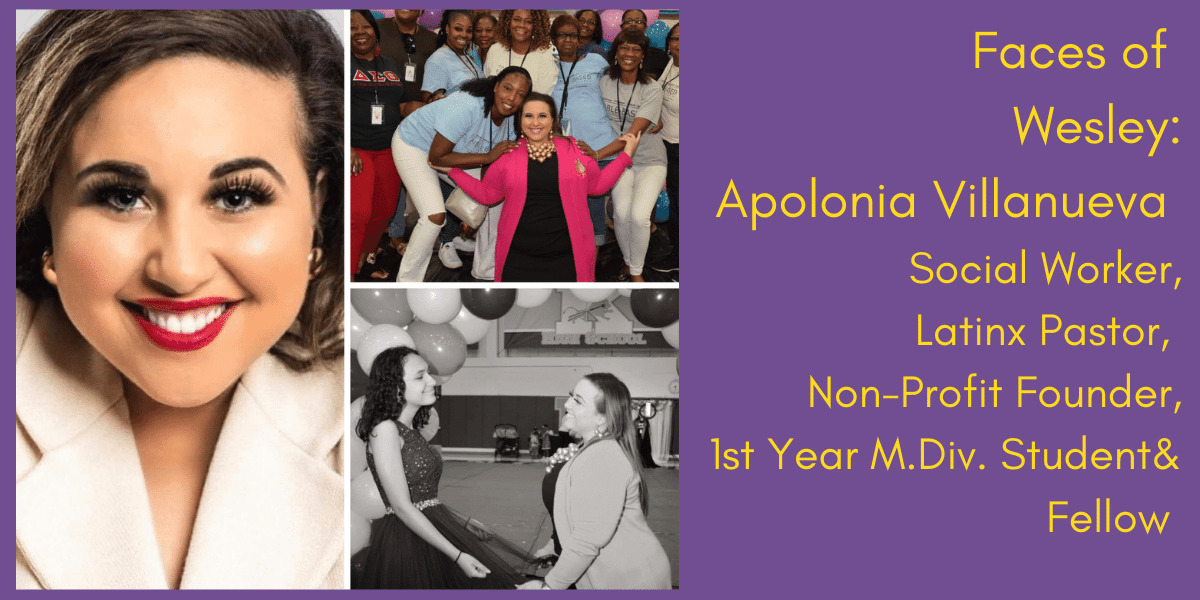 Meet Apolonia Villanueva, a First Year Masters of Divinity student, Community Engagement Fellow and incoming WTS Student Council President.
From Tampa, FL, Apolonia holds a B.A. and Masters degrees in Social Work from Florida A& M University (Tallahassee, FL). A social worker and minister, Apolonia is also the founder of www.gownsforher.com, a 501c3 with the mission of enhancing self-esteem and encouraging further academic achievement in high school girls living in underserved communities. "We bring these young women to the table by offering them attire for formal occasions that they would otherwise be unable to afford," said Apolonia.
"I chose Wesley for the reputable scholarship of its faculty and the rich diversity among the student body," said Apolonia. She was drawn to Wesley's CEI Fellows program "because I am called to work in and with underserved communities of color., and was seeking an interactive, experiential learning context that would equip me for the justice and communal work to which I feel called, and found that at Wesley," said Apolonia.
Apolonia has spent her whole first year at Wesley learning remotely, as the Wesley campus was closed in March 2020 due to the pandemic. Apolonia has come to know the importance of community at Wesley, even while connected primarily by Zoom & Blackboard from Florida. " It has been fascinating to experience the power of the Holy Spirit's connection in a virtual setting. The best part of my Wesley experience so far has been the opportunity to meet people from various backgrounds and to be able to learn with and from them, even virtually."
Looking ahead to her year as WTS Student Council president, 
"I am humbled by the confidence my colleagues have invested in me by electing me to this position and I am honored to be the first Latina president of the Student Council in Wesley's 139-year history," said Apolonia. " In this role and during these unprecedented times when remote learning challenges the normalcy of the learning process, I hope to support and advance Wesley's mission and represent the interests and needs of student body as we learn new ways of becoming a community."
Words to live by for Apolonia? "I hope to live a life that honors the leadership mandate given to King Lemuel by his mother in Proverbs 31:8-9 (NRSV), "Speak out on behalf of the voiceless, and for the rights of all who are vulnerable." My desire is to use my voice, as a Latina pastor, preacher and advocate, in service to the marginalized. I hope to contribute to the construction of "help" systems to engage, support and empower the communities in which people of color live and at times, languish," said Apolonia.
#LatinxStudents #gownsforher #socialwork #heartforthemarginalized #FacesofWesley
Join Apolonia and our many students and graduates who have found in Wesley a seminary that supports students following their passion to serve God and others in many expected and unexpected ways.
PLEASE NOTE: Due to the COVID-19 crisis, Wesley Theological Seminary is currently offering online courses only until further notice. Please check back at this website for further information on class status.
We are currently accepting applications for Master of Divinity, Master of Theological Study and Master of Arts programs, as well as our Doctor of Ministry degree programs. If you would like to try a class, our all-online class registration for Summer 2020 is now open.
Learn more and apply by going to https://www.wesleyseminary.edu/admissions/try-a-class-2/
For more information about any of Wesley's programs, contact Admissions at (202) 885-8659 or admissions@wesleyseminary.edu or chat with our Admissions staff via UChat on the Wesley website homepage, wesleyseminary.edu. 
Faces of Wesley is a weekly profile of one of the members of our Wesley Community - faculty, students, alumni, staff, administration and other friends of Wesley.  You can read it weekly on our Facebook or Instagram platforms or on our website's home page.