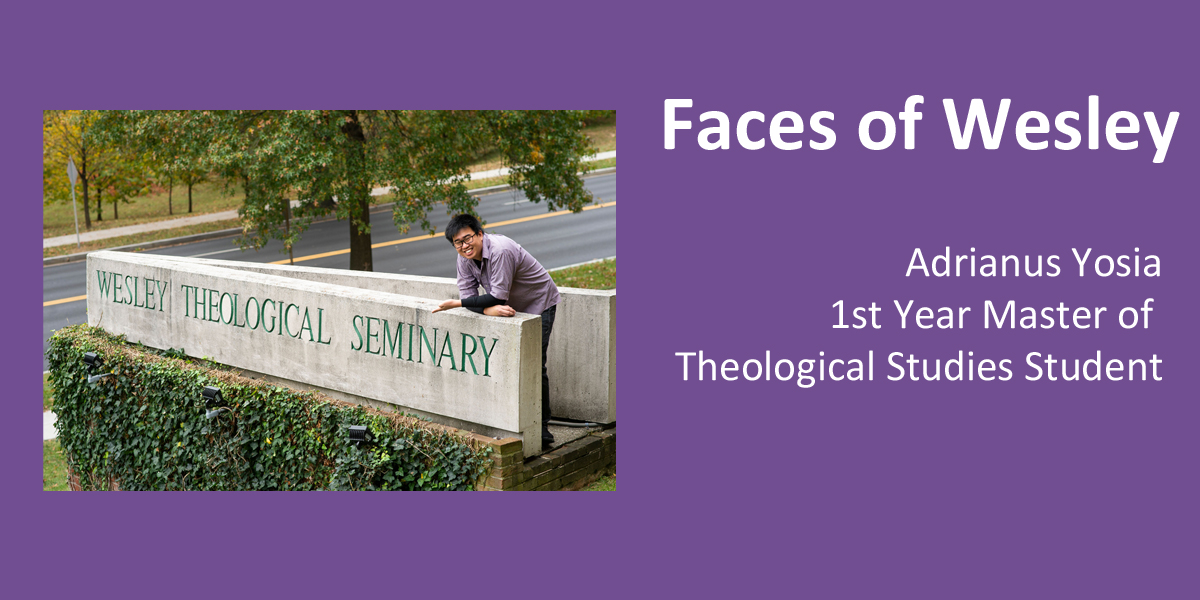 Faces of Wesley: If you've stepped foot in the library this semester, it's likely that you've experienced the smiling face of 1st  year Master of Theological Studies student Adrianus Yosia. 
Originally from Indonesia, an archipelago in Southeast Asia, Adrianus' hometown is Bandung, West Java. Adrianus holds a bachelor's degree in Mathematics from Bandung Institute of Technology and a M.Div. degree from Southeast Asia Bible Seminary, Indonesia. 
Adrianus' strong passion for theology and teaching has already manifested itself in his ministry thus far, which has included serving as Pastor of Gereja Kristen Kalam Kudus (Holy Word Christian Church) and as editor for Asosiasi Teologi Indonesia (Indonesian Theological Association). At this point in his life and ministry, Adrianus wants to give back. "I want to contribute in Indonesia through education and research, as a teacher in university or seminary and research about Indonesia from a theological perspective," said Adrianus. 
Adrianus came to Wesley though meeting Wesley alumni Jennifer Gillyard and Wesley Professor Dr. Sathianathan Clarke while attending YATRA (Youth in Asia Training in Religious Amity) in Jakarta, Indonesia. "For me, meeting them was a divine appointment, " says Adrianus.  
"In 2016, I had a plan to study and I asked God for guidance . At that time, I wanted to study about world religion and also public theology." After he met Jennifer and Dr. Clarke, he learned more about Wesley "When I saw the Wesley Theological Seminary profile  I knew that God had answered my prayer." 
When taking a break from the library and wanting to relax,  "I like to spend my time in nature," said Agrianus. "I like to go to the beach and enjoy the scenery." A favorite pastime at home was to share his love of mathematics . "I also taught Mathematics in SMA Kristen Kalam Kudus Ambon (Senior high school of Holy Word Christian School)," said Adrianus.  
A favorite quote for Adrianus? "I like the quote from Anselm of Canterbury: 'For I do not seek to understand in order that I may believe, but I believe in order to understand.' " #apassionfortheology #indonesia #facesofWesley 
Faces of Wesley is a weekly profile of one of the members of our Wesley Community - faculty, students, alumni, staff, administration and other friends of Wesley.  You can read it weekly on our Facebook or Instagram platforms or on our website's home page.