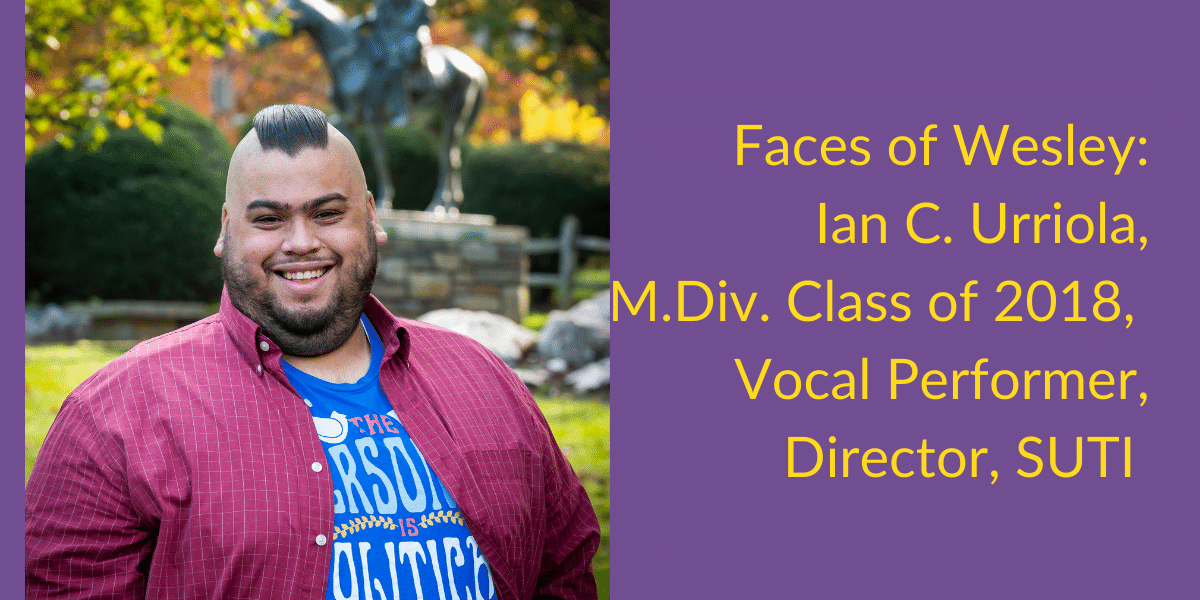 Meet Wesley graduate Ian Carlos Urriola (M.Div., Class of 2018), currently serving as the Director of the Shenandoah University Youth Theology Institute in Winchester, VA.  Anyone who attended Tuesday Chapel while Ian was a member of the Wesley Chapel Choir have heard his powerful voice, and many have great memories of his amazing solo work on the South African hymn, "Jaylo," under the direction of Professor Emerita of Church Music, Dr. Eileen Guenther.
It is not surprising then to learn the Rochester, NY native earned a B.A. in Music with a concentration in vocal performance (American University, Washington, D.C.) (AU) prior to attending Wesley.
Ian recognized his call to ministry early. "I knew before I went to college that I would be going to seminary, having felt a call to ministry at the age of fifteen," said Ian. "Since I did my undergrad at a school that literally shares a fence with Wesley, I was exposed to Wesley pretty early on in my education."
Numerous encounters with Wesley occurred during his undergrad studies. "I was very involved with the United Methodist-Protestant campus ministry at AU and our chaplain was a Wesley alum and we were a PMM site for a number of Wesley students during my undergrad career. When I was a sophomore, I took Music and Social Justice at Wesley with Dr. Guenther through cross-registration."
"Nevertheless, I was reluctant to apply to Wesley," said Ian. "I felt like Wesley would be too comfortable, too easy and close to what I was used to. Chip [Aldridge, then Dean of Admissions] finally wore me down and got me to apply, and while I was participating in the scholarship weekend, I had a realization at the Tidal Basin. I had fallen in love with DC; DC became home for me. I found a community in DC … so I chose Wesley."
Ian says Wesley made him ready for ministry upon graduation. "I am the Director of the Shenandoah University Youth Theology Institute, which Wesley immensely prepared me for. Wesley taught me how to think, act, and lead with an eye for systems; of coming up with systemic solutions for systemic problems. Wesley's world-class faculty taught me that nothing—no person, no text, nothing—exists in a vacuum. I use that principle all the time in my teaching and in my mentoring of youth and college students," said Ian.
Things we don't know about Ian? "My first job was a Little League umpire," he admits.
What words move Ian?  You need look no further than the tattoo on his arm. "In 2017, I went on a choral tour of Poland with the AU Chamber Singers (that trip also served as my intercultural immersion requirement). On that trip, we sang René Clausen's setting of a prayer attributed to Mother Teresa: 
"Help me spread Your fragrance wherever I go. Flood my soul with Your spirit and light. Penetrate and possess my whole being so utterly, that my life may be only a radiance of Yours. Shine through me and be so in me that every soul I know will feel Your presence in my soul. Let them look up and see no longer me, but only You." 
"I've carried that prayer with me ever since, even getting part of it tattooed on my arm. It has come to be foundational to my understanding of what it means to be a disciple of Jesus Christ," said Ian. #music #SUTI #tattooedprayer #FacesofWesley
Join Ian and our many students and graduates who have found in Wesley a seminary that supports students following their passion to serve God and others in many expected and unexpected ways.
PLEASE NOTE: Due to the COVID-19 crisis, Wesley Theological Seminary is currently offering online courses only until further notice. Please check back at this website for further information on class status.
We are currently accepting applications for Master of Divinity, Master of Theological Study and Master of Arts programs, as well as our Doctor of Ministry degree programs. If you would like to try a class, our all-online class registration is now open.
Learn more and apply by going to https://www.wesleyseminary.edu/admissions/try-a-class-2/
For more information about any of Wesley's programs, contact Admissions at (202) 885-8659 or admissions@wesleyseminary.edu or chat with our Admissions staff via UChat on the Wesley website homepage, wesleyseminary.edu. 
Faces of Wesley is a weekly profile of one of the members of our Wesley Community - faculty, students, alumni, staff, administration and other friends of Wesley.  You can read it weekly on our Facebook or Instagram platforms or on our website's home page.