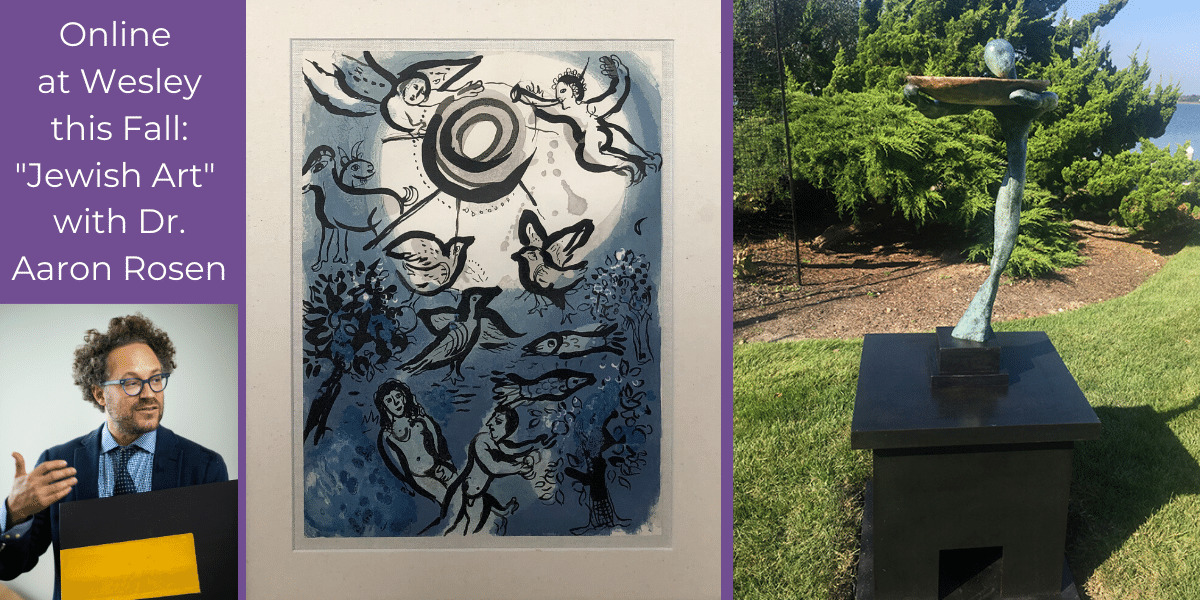 (images above: Jewish art from Wesley's permanent collection. Center: Marc Chagall, "The Creation," signed lithograph - Ralph & Birgitta Peterson Collection of Modern Religious Art at Wesley.  Right: YUKA, bronze sculpture by Tobi Kahn. 
Aaron Rosen, PhD (Cantab), is Director of Wesley's Henry Luce III Center for the Arts and Religion. In addition to overseeing the seminary's Dadian Gallery, studio residencies, and research, Dr. Rosen is   Professor of  Religion and Visual Culture at Wesley.
This fall, Dr. Rosen will offer a new online course entitled "Jewish Art." He offers some insights into the upcoming course below.
WTS: What can Christians learn from a course on Jewish art?
Dr. Rosen: Tons!  Actually some of the most important, creative, and theologically engaging images of Jesus made in the modern period are by Jews, including Chagall.  So one thing that will be interesting for students is to see Christian subjects in different ways.  But it will also be interesting to see Jewish artists working with Jewish subjects and questions, providing an exciting and accessible way to deepen students' knowledge of Judaism.
WTS: What do you think will surprise people the most about Jewish art during the semester?
Dr. Rosen: That there's so much of it!  People tend to assume that Jews don't make art, or that they are hamstrung by the Second Commandment from being visually experimental.  That couldn't be further from the truth.
WTS: Do you have any special plans to engage people online?
Dr. Rosen: Last semester, I did an exhibition with students as our final project once we moved online due to the pandemic.  I was thrilled by the results, and hope folks listen to their podcasts. I'm looking forward to doing that again this semester.
WTS: What have you written about Jewish art?
Dr. Rosen: Quite a bit. I continue to write about many Jewish artists, and have a forthcoming book from Cambridge University Press on Jewish, Muslim, and Christian artists together.  But my first book, Imagining Jewish Art, focused entirely on modern Jewish painters.
WTS: I know you collect art. What kinds of pieces of Jewish art do you have?
Dr. Rosen: I've been fortunate to collect work by many talented contemporary Jewish artists who are friends, including the amazing Leni Dothan.  And I have works by Leonard Baskin, RB Kitaj, Raphael Soyer, Ben Zion, and lots of others.
WTS: Who is your favorite Jewish artist?
Dr. Rosen: I won't name a contemporary artist because I love all my Jewish art friends!  But, my favorite modern Jewish artist is Philip Guston, unequivocally.
Join Dr. Aaron Rosen for his online Fall 2020 course, "Jewish Art." Registration is now open - this course is available to non-degree students as well as degree students.Learn more about all our online Fall 2020 classes and to apply: https://www.wesleyseminary.edu/admissions/try-a-class-2/
To learn more about the Luce Center's research, its Master Degree Specialization in Art and Theology and  the new Doctor of Ministry track (Curating Community Through The Arts - starting January 2021), go to https://www.luceartsandreligion.org/dmin-track.
For more information about any of Wesley's programs, contact Admissions at (202) 885-8659 or admissions@wesleyseminary.edu or chat with our Admissions staff via UChat on the Wesley website homepage, wesleyseminary.edu. 
PLEASE NOTE: Due to the COVID-19 crisis, Wesley Theological Seminary is currently offering online courses only until further notice. Please check back at this website for further information on class status.